Subscribe by RSS
PTRC Round Table
Fri., Oct. 7, 2022 2:00 p.m. - Fri., Oct. 7, 2022 4:15 p.m.
PTRC Round Table
October 7, 2022
2:00pm – 4:15pm
EA 106.2 Education Auditorium Wing
All are welcome and attendance is free but registration is required.
---
2:00-2:05pm              Opening Remarks and Greetings from Raman Paranjape (ADR)
2:05-2:30pm              Ranjith (Ran) Narayanasamy and Majid (Matt) Nasehi (PTRC) – PTRC – UofR Research Collaborations
2:30-2:45pm              Jacob Muthu (Petroleum) –CO2 Transportation and the Major Obstacles
2:45-3:00pm              Yasser Morgan (Software) – Big data and IoT
3:00-3:15pm              Yili (Kelly) Tang (Environmental) Net-Zero Transportation
3:15-3:30pm              Zhanle Wang (Electronics) – Green house modelling
3:30-3:45pm              Liming Dai (Industrial) – Combination of Solvent and External Vibration Stimulation on Subsurface Fluid Mobilization and EOR
3:45-4:00pm              Amr Henni (Industrial) – Produced water treatment and Advanced CO2 capture technologies
4:00-4:15pm              Jinkai Xue (Environmental) – Towards Circular Economy: Non-Traditional Resource Recovery and Low GHG Oil and Gas Production
4:15-4:20pm              Raman Paranjape (ADR) – Open Discussions & Closing remarks
---
Raman Paranjape
Ph.D., P.Eng.
Associate Dean (Research and Graduate Studies), Professor, Electronic Systems Engineering
Research interests: Mobile Agents Systems – E-commerce, Medical Data Retrieval, Graphical Representation of Agent Societies, Sonics and Ultra-Sonics for underground and non-destructive visualization and testing, Fibre Optic sensors for oil and liquid sensing, Robotic sensor systems – vision, touch, sonar, Biomedical Signal and Image Processing, Fundamentals of Signal and Image Processing
E-mail: raman.paranjape@uregina.ca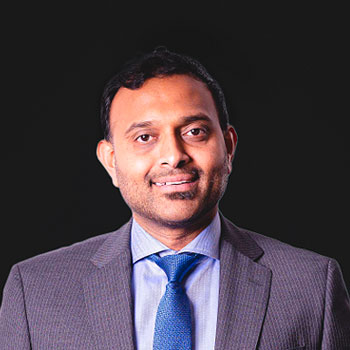 Ranjith (Ran) Narayanasamy
M. ENG, MBA, P. ENG.
Chief Executive Officer and President
Ran has strong board governance experience and has served on the Board of Gradworks Inc (Crown Investment Corporation) as vice-chair and as a Board member for Government of Saskatchewan's Community Investment Fund (CIF). He has also served on boards for non-profit organizations including as President of the India Canada Association of SK and President of the Regina Hindu Temple. At present he is serving on the Computer Engineering Technology - Program Advisory Committee for Saskatchewan Polytechnic, and on the University of Regina's Engineering Advisory Board.  Ran was elected to the Board of the province of Saskatchewan's largest credit union - Conexus - in March of 2022.

Ran has a Masters in Electronic Systems Engineering and a Masters in Business Administration from University of Regina, as well as a Masters Certificate in Project Management from York University's Schulich School of Business. He is a registered professional engineer with the Association of Professional Engineers and Geoscientists of Saskatchewan (APEGS).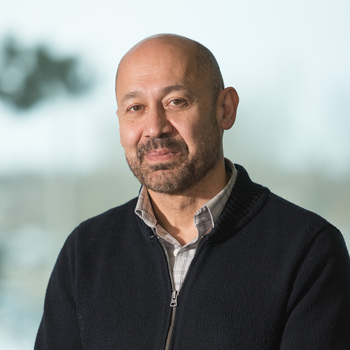 Majid (Matt) Nasehi
M.Sc., P. ENG.
Manager of Operations
Matt has over 20 years of experience in engineering and management, energy research, GHG emissions management, as well as environmental and energy-related policy and regulatory development.  He studied Industrial Engineering at the University of Massachusetts, and completed his Master of Science in Petroleum Systems Engineering at the University of Regina.  For the past 12 years, his work has been mainly focused on sustainable development of energy resources, GHG emissions reductions, carbon capture utilization and storage (CCUS), and CO2 applications in enhanced oil recovery.  Matt has also been actively involved in the development of Canadian and international CCS standards since 2010.  He is a member of the ISO Technical Committee (ISO/TC-265) developing the international standards for CCS, and currently serves as the vice-chair of the Canadian CCS Technical Committee.  
SD Jacob Muthu
Ph.D., P.Eng.
Assistant Professor, Petroleum Systems Engineering, University of Regina
Research Interests: Nano and hybrid composites, Composite repairs, Piping engineering and materials, Fretting fatigue and fatigue analysis, Slam load analysis of rigid guided mineshaft conveyances, Finite element analysis, Multiscale modeling and simulation
E-mail: Jacob.muthu@uregina.ca
Yasser Morgan
Ph.D., P.Eng.
Professor, Software Systems Engineering
Research Interests: Wireless MESH Networks, Mobile Ad-hoc Networks, MAC layer and Service Discovery algorithms, Mobile Applications and Middleware, Location-Aware Applications and Mobile Agent, Vehicular Communications specially DSRC and VII, Distributed and Pervasive Computing, Software Engineering Models
E-mail: yasser.morgan@uregina.ca 
Website: http://uregina.ca/~morgan2y/
Yili (Kelly) Tang
Ph.D.
Assistant Professor, Environmental Systems Engineering, University of Regina
Research Interests: Analysis, modeling and optimization of the transportation system (Mobility-As-A-Service, public transport, ride-sharing, and emerging transportation technologies), travel behavior and transport economics, data mining and decision analytics (statistical model, machine learning/deep learning), mechanism design and game theory.
E-mail: yili.tang@uregina.ca
Website: https://www.mobility-tech.net/
Zhanle (Gerald) Wang
Ph.D., P.Eng.
Assistant Professor, Electronic Systems Engineering
Research Interests: Computational Methods for Smart Grids; Demand Response; Simulation and Modeling Optimal Control of Electricity Usage; Vehicle-to-Grid Systems (V2G); Renewable Energy Integration; Solar/Wind power; Optimization Theory and Applications; and Multi-Agent Systems
E-mail: zhanle.wang@uregina.ca
Website: http://uregina.ca/~wang233z
Liming Dai
Ph.D., P.Eng., ASME Fellow
Professor, Industrial Systems Engineering
Research interests: Linear and non-linear vibrations/oscillations and the control of vibrations subjected to static and dynamic loadings; Numerical simulation of nonlinear dynamical systems, sound and wave propagation; Enhanced Oil Recovery (EOR) with seismic wave and vibration stimulation; Industrial noise, traffic noise, and noise control with acoustic design for industrial and domestic facilities; Analysis with Finite Element Method, Non-linear Dynamics, and Fracture Mechanics for assessment of crack initiation and propagation in materials under cyclical loading, high pressure, and high temperature; Metallurgy, microstructures, and property aspects of engineering materials and welding of engineering materials; Design (CAD, FEA) and manufacturing (CAM) aspects of pressure vessels, piping, and LPG transportation vehicles used in petroleum industries; Strategies and analysis of engineering and operations management
E-mail: liming.dai@uregina.ca
Website: http://uregina.ca/~dailimli/
Amr Henni
Ph.D., P.Eng., ASME Fellow
Professor, Industrial Systems Engineering
Research interests: Acid gas removal from natural and flue gases, Calorimetry Mass transfer with chemical reactions, Solubility of gases in liquids, Vapor-liquid-equilibria and PVT studies, Pressure swing and temperature swing adsorptions, Physical and transport properties measurements, Process plant simulation, Renewable energy (wind and solar), Water desalination, Biotechnology (proteins and cells), Polymer Engineering (thermodynamics and heat transfer), Chemical education
E-mail: amr.henni@uregina.ca
Website: http://uregina.ca/~henniea/
Jinkai Xue
Ph.D., P.Eng.
Assistant Professor, Environmental Systems Engineering
Research interests: Drinking water treatment, sustainable municipal and industrial wastewater treatment and reuse, membrane technology, biological processes, membrane bioreactors, advanced oxidation, environmental impact of nano-materials, biodegradation of recalcitrant organic pollutants, etc.
E-mail: Jinkai.Xue@uregina.ca
Website: http://uregina.ca/~jxv982/
Event Registration