John Nugent
---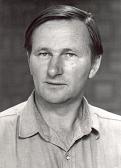 NUGENT, John (1921 - 2014)
Artist
John Nugent was born in Montreal on January 5, 1921, and studied at St. John's University (Collegeville, Minnesota). Nugent taught at the University of Regina from 1970 to 1985.
In 1948, he moved to Lumsden, Saskatchewan and in the 1960's he began accepting liturgical commissions. While expressive, his simple forms were being met with some resistance from parishioners as well as church officials.
After a trip to New York in 1961, where Nugent visited the studio of an American sculptor named David Smith, Nugent's work was influenced toward welded steel abstractions.
Examples of controversy induced by Nugent's work include commissions by then Premier Ross Thatcher and also the Canadian Grain Commission. Nugent had proposed an abstract monument of Louis Riel, which was rejected in favor of a more detailed, representational approach. Nugent then submitted a heroic nude figure but was forced to add clothing. This figure was unveiled in 1968 and was removed from the Saskatchewan Legislature grounds in 1991. Nugent's #1 Northern (1976) was also removed in 1978 from its site in from of Winnipeg's Canadian Grain Commission building, but was restored in 1997.
The Banff Centre, the National Capital Commission in Ottawa, and the CBC Broadcast Centre in Regina, all have commissions by Nugent and in 1983 a major retrospective, "John Nugent: Modernism in Isolation" was organized by the MacKenzie Art Gallery.
In the 1990s this artist refocused his attention from sculpture to photography and his photography is also found in collections of the MacKenzie Art Gallery, the Robert McLaughlin Gallery (Oshawa), Saskatchewan Arts Board, the University of Regina, Winnipeg Art Gallery and many others. His studio has been designated as Provincial Heritage Property in recognition of his reputation as an important Saskatchewan artist and also as an astute example of modernist architecture designed by renowned architect Clifford Wiens.
John Nugent died in March 2014.
Written with information
from Karen Nugent
Archival Collections (Finding Aids in PDF format)
---
97-43 - Material Related to Sculptures: "No. 1 Northern" and "Riel". 1967-1997
2000-32 - Slides of John Nugent's Works of Art. 1955-1981