Jeanie Wagner
---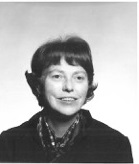 WAGNER, Jeanie MacNair (1922-2016)
Professor
Jeanie Wagner (nee Shaw) was born in Kingussie, Scotland in March, 1922.  She moved to Regina at the age of two.  She returned to Scotland with her mother and sister for one year when she was eight, and enjoyed many visits there in later years, including years of sabbatical studies spent in England and Scotland.
Jeanie attended Scott Collegiate in Regina, Luther College (for first year university studies) and the University of Saskatchewan where she attained a Bachelor of Arts degree and a teaching diploma in 1942.  She taught high school English in Grenfell and at Central Collegiate prior to her marriage in 1947 to Fred Wagner.  After that time, she did some part time teaching and music coaching at Luther College prior to raising her family.
As a young adult, Jeanie was an accomplished singer.  In 1951 she completed an ARCT diploma (Associate of the Royal Conservatory of Toronto) in vocal performance and pedagogy, for which she received the highest mark in Western Canada that year.
Jeanie completed a Master of Arts degree in 1966.  She joined the English Department, initially on a part-time basis, and taught there for over 25 years.  Her research interests were varied, beginning with D.H. Lawrence on whose work she did her Masters Thesis and subsequently several published articles.  Other research interests included American writers, Mark Twain and William Faulkner in particular, and Canadian poet A.M. Klein.  In her last years of teaching, and springing from her own heritage, Jeanie dedicated much effort to exploring the works of, and building a collection of novels and poetry by early and mid-20th Century Scottish writers, as well as associated literary analysis and criticism.  The period came to be known as the Scottish Renaissance.
Jeanie Wagner took a keen interest in her natural surroundings, and in their preservation.  She edited numerous articles for the Blue Jay magazine and similar publications in Saskatchewan and Canada, particularly in her retirement.  As an analytical reader and editor, she also assisted friends with their own literary efforts.  Most notable among these were Saros Cowasjee's short story collection Strange Meeting and other stories and R.B. Fleming's 2010 biography of Peter Gzowski.
Jeanie Wagner died on July 5, 2016 at the age of 94.
Written by Elisabeth Wagner, 2017
Photo Credit: Goertz Studios, Regina
Archival Collections (Finding Aids in PDF format)
---
2016-32 - Personal and Professional papers from Jeanie and Fred Wagner, 1951-1991