Peter Woroby
---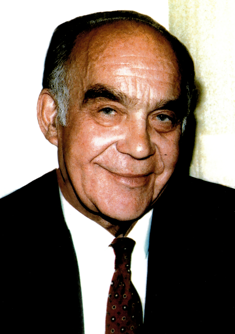 WOROBY, Peter  (1920 - 2002)
Economist, Educator
Dr. Peter Woroby was born in Starhorod, Ukraine to parents Dmytro and Warwara (Muzychuk).  He began teaching in 1939 and attended university in Berlin where he received a Diploma in Economics in 1944 and from 1948 he received a Doctoral degree in Economics, magna cum laude, while at the University of Goettingen.
In 1948 he married Nadia Cherniak before immigrating to Canada where he took a position at the University of Manitoba in 1949 until 1951.  In 1952 Woroby became Director of Economic Research for the Saskatchewan Power Corporation and in 1957 attained a Master of Science degree in Economics from the University of Manitoba.  Woroby was interested in the area of resource economics; those involving energy, water and agriculture, he was also interested in urban research and in 1965 Woroby began teaching at the University of Saskatchewan, Regina Campus as a Professor in the Department of Economics specializing in Urban Economics.
Woroby wrote numerous scholarly publications and was a contributor to two royal commissions, in 1963 he founded the Ukrainian Canadian Professional and Business Club, Regina Chapter, and served at the executive and national levels of the Ukrainian Canadian Congress.
Woroby was fluent in five languages and an active member in organizations such as the Ukrainian Free Academy of Science, the Canadian Association of Slavists, both the Canadian and American Economics Association and was appointed special advisor to the government of Saskatchewan on Ukraine from 1990 to 1995 and traveled internationally to lecture on economic reform or to consult with government or with academic institutions.  Closer to home Perter was very involved in his community holding positions  on Boards for the City Planning Commission, the Regina Symphony Orchestra and the Regina Welfare Council.  Woroby is also credited with initiating significant opportunities for Canada and the Ukraine to work together on various projects.
At the University of Regina the Dr. Peter Woroby Memorial Scholarship is awarded to a student who is registered in a Bachelor of Arts or Bachelor of Science degree majoring in Economics with a combined/double major in Economics.
Woroby became Professor Emeritus in 1987 and passed away in May, 2002.
Elizabeth Seitz, 2017 with information from
Tania Woroby, 2017
Photograph courtesy of Tania Woroby
Archival Collections (Finding Aids in PDF format)
88-61 - Personal and Professional Papers, 1947 - 1978
99-35 - Reports and Publications, 1925 - 1971
---