Ron Bloore
---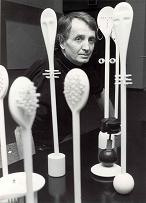 BLOORE, Ron (b. 1925-2009)
Artist
Ronald L. Bloore was born May 29, 1925 in Brampton, Ontario. He studied art and archaeology at the University of Toronto (1949), the Institute of Fine Arts, New York University (1949-51), Washington University in St. Louis (1953), Belgian-American Art Seminar in Brussels and Antwerp (1955), and the Courtault Institute, University of London, England (1955-57). After brief teaching stints at Brixton Day College in England and the University of Toronto, Bloore became an Instructor of art and archaeology at the University of Saskatchewan, Regina College and the Director of its Norman Mackenzie Art Gallery.
Bloore was based in Regina for only a brief period of time, from 1958 to 1966, but while there he made a deep and lasting impression. As Director of the Gallery he was noted for his energy and determination to bring the art world to the prairies. He sponsored and contributed to the infamous "Win Hedore" exhibit at the Mackenzie in 1961, where car parts and buckets of sand challenged viewers' notions of art, and enraged the more conservative. He acquired the sculpture "Mother and Child" by Jacques Lipshitz - a bold and farsighted move.
Bloore exhibited with Ken Lochhead, Art McKay, Ted Godwin, and Doug Morton in the National Art Gallery's "Five Painters from Regina" show in 1961. By 1964, however, the group had split up. Two years later Bloore left Regina to teach visual art and art history at York University in Toronto where he remained for the rest of his working career. Ron Bloore died on September 4, 2009.
Archival Collections (Finding Aids in PDF format)
---
86-72 - Personal and Professional Papers. 1942-1986
94-50 - Personal and Professional Papers. 1967-1992
95-34 - Personal and Professional Papers. 1968-1995
2001-51 - Mark Wihak Video A World Away: Stories from the Regina Five. 2001