Ted Godwin
---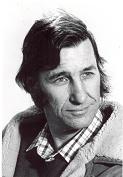 GODWIN, Ted (1933 - 2013)
Artist, Writer
Ted Godwin was born in Calgary, Alberta in 1933 studying at the Alberta Institute of Technology and Art in Calgary from 1951 to 1955.  He also attended several Emma Lake Artists Workshops, including those led by Barnett Newman (1959), John Ferren (1960), Jules Olitski (1964), and Lawrence Alloway (1965).  From 1955 to 1964 he worked in the commercial art field as Art Director for CJLH Channel 7 in Lethbridge, and a neon designer, winning 2nd prize at an international neon design competition, N.E.S.A. in 1958.
In 1962-63 he spent the year sketching and painting in Greece on a Canada Council grant and was hired by the University of Saskatchewan, Regina Campus to teach at the School of Art in 1964.
Godwin remained at what became the Visual Art Department at the University of Regina for the rest of his working career.  He exhibited with Ken Lochhead, Art McKay, Ron Bloore, and Doug Morton as one of the Regina Five.  Following the Regina Five years he became known for his large Tartan paintings.  A heart condition (which eventually forced him to retire in 1985) produced the Dying Orchids series in 1974.  From the mid 1970s to the present, Godwin has produced several series of large and vivid landscape paintings. 
In 1991 Godwin mounted exhibitions of new work simultaneously in four Canadian cities: Vancouver, Calgary, Regina, and Toronto.  The show was known as the Lower Bow project and Ted was present to open each of the exhibitions; Calgary Thursday evening, Regina Friday, Toronto on Saturday, and Vancouver on Monday.  In 1999, The Nickle Arts Museum of Calgary mounted and toured a major examination of Godwin's Tartans and in 2008 the Nickle mounted a major touring exhibition of Godwin's Regina Five Years, 1957 to 1967.
Ted Godwin was elected to the Royal Canadian Academy in 1974, and was awarded the Queens Silver Jubilee Medal 1978.  For his Messages from the Real World  A Handbook for the Emerging Artist, (1999) Ted won the Sask Book Award for best new publication (Educational).  He was awarded the Alberta College of Art and Design Board of Governors Award of Excellence and was also awarded an Honorary Doctorate from the University of Regina in 2001.  In 2004, for his excellence in the field of visual arts, Ted was made an Officer of the Order of Canada and in 2010, he was chosen Artist of the Year by Trout Unlimited.
Ted Godwin has been exhibiting his work since 1955 and has had more than 60 solo exhibitions.  He currently resides in Calgary where he devotes himself to writing, painting, fishing, Tai Chi, and Alcoholics Anonymous.
Written with information
from Ted Godwin
Archival Collections (Finding Aids in PDF format)
---
87-41 - Personal and Professional Papers. 1949-1986
99-1 - Personal and Professional Papers. 1959-1999
2000-36 - Ted Godwin video interview of Art McKay. 2000
2001-51 - Mark Wihak Video A World Away: Stories from the Regina Five. 2001
2006-46 - Personal and Professional Papers. 1965-2004
2010-3 - Slide Collection. n.d.
2011-16 - Bakers's Dozen, 1962-1963
2012-5 - Personal and Professional Papers.  1963-2009
2012-29 - Compact Disk: 1955-1967 The Days Were Kinda Like That, The Nights I Don't Remember
2013-2 - The Days Were Kinda Like That, The Nights I Don't Remember. 1955-1967
2018-21 - Artists Lapel Pins:  Ted Godwin and Phyllis Godwin, n.d.
2018-21 - Artists Lapel Pins: Ted Godwin and Phyllis Godwin, n.d.
2019-56 - Publications by and about Ted Godwin, 2002, 2008