Art McKay
---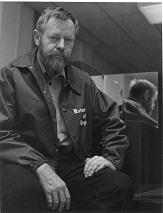 MCKAY, Art (1926-2000)
Artist
Arthur (Art) McKay was born on September 11, 1926, in Nipawin, Saskatchewan.  He studied in Calgary at the Provincial Institute of Technology and Art from 1946 to 1948 and later studied at the Academie de La Grande Chaumiere in Paris, France, at Columbia University in New York and at the Barnes Foundation in Merion, Pennsylvania.
Returning to Canada, Art McKay was hired as a Special Lecturer in Art with the School of Fine Arts at Regina by Ken Lochhead.  He became Associate Professor of Art in 1956 and served as the Director of the School of Art from 1964 to1967.
McKay spent a term teaching art at the Nova Scotia College of Art in 1967-68, and taught at the University of Regina as an Associate Professor until his retirement in 1987.
He attended and helped plan the Emma Lake Artists' Workshops in 1955 (with Jack Shadbolt), 1957 (with Wil Barnet), and 1959 (Barnett Newman).
McKay is known as one of the Regina Five who exhibited at the National Gallery in 1961. These five artists were considered to be leaders of the Canadian abstract art movement.  McKay's work has been shown all across Canada and in the United States, he was included in the Los Angeles exhibition organized by the New York art critic, Clement Greenberg entitled "Post-Painterly Abstraction" in 1964. Only three Canadians were to be included in this show.
McKay is most noted for his "mandalas" (scraped enamel using circular and rectangular formats creating highly contemplative images which reflect his interest in Zen Buddhism).
Archival Collections (Finding Aids in PDF format)
---
89-66 - Satish Kapoor Papers (Finding aid not available)
2000-36 - Ted Godwin Videos: Interviews of Art McKay. 2000
2000-44 - Art McKay Sketchbook. n.d.
2001-51 - Mark Wihak Video A World Away: Stories from the Regina Five. 2001
2005-25 - Art McKay Materials. 1964-1984