IWD: Celebrating female Canadian artist Mary Filer
In celebration of International Women's Day, the Dr. John Archer Library and Archives is honoured to announce the launch of the online Mary Filer Artist's Archive. Mary Filer (1920-2016) was a prolific female Canadian visual artist who began her training in Regina. Filer embodied the ethos of change throughout her long and productive career as a visual artist.
Through the generous donation of David Lemon, a long-time friend of Filer and her family, and his wife, Sylvia L'Écuyer, the Dr. John Archer Library and Archives acquired the archival materials of Mary Filer in 2020. The physical collection contains over 4,500 items documenting Filer's artwork, demonstrating the development of her artistic processes and style over 50 years.
The dynamic online exhibit showcases some of the range from the physical collection, including Filer's series of watercolours documenting Regina in the 1940s, linocuts and charcoals from the 1950s and 1960s, and abstract works produced in the 1980s. New artwork will continue to be added to the exhibit on a regular basis.
We are excited to share some of Filer's works with the University community and beyond. This collection will also serve as our flagship digital exhibit as Archer moves towards making more of its archival collections available online. By profiling and promoting our collections online, we can create research synergies within our University community and provide opportunities for a wider audience to engage with our collections.
Researchers who are interested in a deeper dive of the physical Mary Filer Collection or have questions about the online Artist's Archive are encouraged to email archives@uregina.ca.
About Mary Filer
Mary Filer is remembered as a talented artist and master of several mediums, including drawing, painting, glass sculpture, and mural work. Born in Edmonton (AB) in 1920, she was a gifted student with a love for music, acting, art and costume design. She moved to Regina (SK) and attended Balfour Technical School, where she was encouraged to develop artistic skills from 1939-1941.
Filer's educational background included completing her nursing studies at Regina General Hospital in 1944 and then trained at McGill University's Neurological Institute (QC) while simultaneously studying at the Montreal Museum of Fine Arts' School of Art and Design. She received a Bachelor of Fine Arts degree at McGill in 1950 and a Master of Education from Pennsylvania State University.
Filer taught at McGill University, Pennsylvania University and New York University before living in England for several years. Filer then returned to Canada where she resided on the west coast. Filer became a member of the Royal Canadian Academy of Arts in 2005, was awarded an honorary degree from Simon Fraser University and received recognition from the Royal Canadian Architectural Institute for her glass design. She died in Vancouver (BC) in 2016.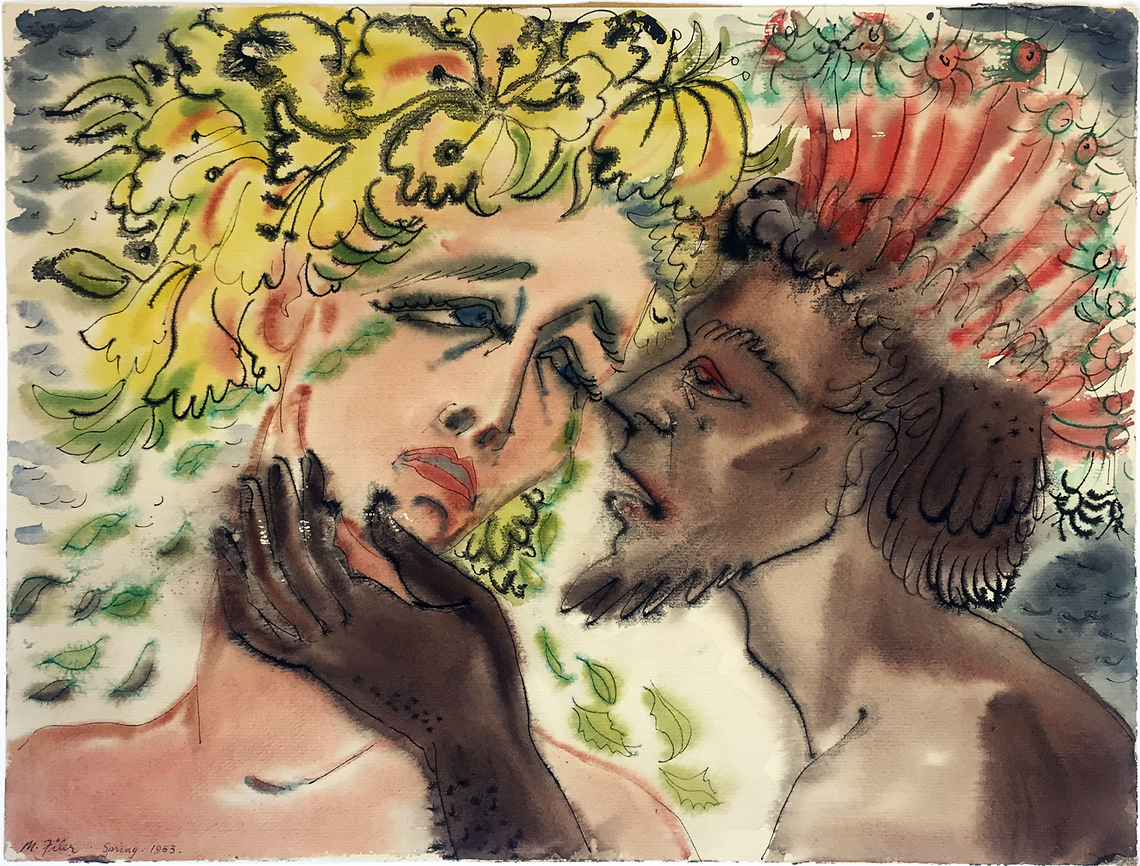 Artist: Mary Filer
Title: Spring
Archives Control #: Watercolour 1953 to 54-1
Photo Credit: Jason Cawood