Neutral Ground
---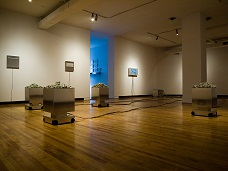 NEUTRAL GROUND
Contemporary Art Forum
Neutral Ground is an artist run centre whose mission emphasizes new art and new ideas. Working in the disciplines of visual and new media art, it creates and presents work that emphasizes critical and conceptual innovation or interdisciplinarity. The centre has a diverse programming history.
Neutral Ground also has a vibrant Web presence, http://neutralground.sk.ca and http://soilmedia.org, new media production and research facility, (Soil Digital Media Suite) and co-produces several public art projects throughout the year.
Neutral Ground was the first artist run centre in Regina.
Archival Collections (Finding Aids in PDF format)
---
94-2 - Professional Papers Related to Gallery Operations. 1982-1990
2018-48 - Professional Papers Related to Gallery Operations, 1989-2005