Victor Cicansky
---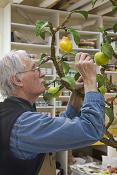 CICANSKY, Victor (b. 1935)
Sculptor, Educator
Victor Cicansky (Czekanski) was born and raised in Regina, Saskatchewan. He completed a Bachelor of Education degree at the University of Saskatchewan in Saskatoon in 1964, and a Bachelor of Arts degree at the University of Saskatchewan, Regina Campus in 1967. In 1970 Cicansky received a Master of Fine Arts degree from the University of California at Davis. Cicansky also studied at Haystack Mountain School of Art at Deere Isle, Maine.
In addition to teaching at the University of Regina for over 20 years, Cicansky has taught courses at the Nova Scotia College of Art and Design, the University of California at Davis and the Banff Centre of Fine Arts. He has also presented various workshops, lectures and slide presentations across Canada.
Cicansky's sculptures and wall murals have been shown in numerous solo and group exhibitions in public and commercial galleries across Canada, the United States, England, France and China. He has been a member of several Canada Council and other art competition juries and has also served on the Saskatchewan Arts Board, the Norman Mackenzie Art Gallery Board, the Wascana Centre Arts Advisory Committee, and the Applied Arts Advisory Committee of the Saskatchewan Institute of Applied Science and Technology, Woodland Campus in Prince Albert.
Vic Cicansky retired as Professor Emeritus from the University of Regina Department of Visual Arts in 1994 and in 2007 received an Honorary Doctorate from the University of Regina.
Victor Cicansky's work has been exhibited in solo and group exhibitions across Canada, the United States, Japan, and Europe.
His clay and bronze sculptures, often describing cultural, agricultural and historical circumstances of the Canadian prairies, are represented in collections at the Mackenzie Art Gallery, the National Gallery of Canada, the Museum of Fine Art, and the Museum of Modern Art in Tokyo — just to name a few.
Some of his commissioned works have include pieces created for the City of Regina, Government of Saskatchewan, Canadian Broadcasting Corporation, the 1976 Olympic Games and in 1989 for the provincial visit of their Royal Highnesses the Duke and Duchess of York.
Victor is the recipient of many Canada Council grants and has won awards such as the Victoria and Albert Award for Ceramic Sculpture, the California Kingsley Annual Award for Sculpture and the Saskatchewan Order of Merit.
In 2009 his many contributions to the arts, as a sculptor, an educator and mentor were recognized as he was named a member of the Order of Canada.
Written with information
from Vic Cicansky
Photo courtesy of Victor Cicansky
Photo credit: Dona Stobert
Archival Collections (Finding Aids in PDF format)
---
90-96 - Personal and Professional Papers. 1970-1989
91-68 - Personal and Professional Papers and David Zack Materials. 1972-1974
2001-26 - Sculpture and Correspondence. 1965-1995
2002-50 - Sculptures. 1974-1995
2005-53 - Personal and Professional Papers. 1953-2000
2018-64 - Digital Correspondence and Photographs, 2013-2015
2019-16 - Personal and Professional Papers, 1971-2019
2020-4 - Publication: Victor Cicansky The Gardener's Universe, 2019