Community Resources
Saskatchewan Health Authority
Saskatchewan Health Authority's (SHA) greatest priority and commitment is ensuring the safety of its patients, residents, employees and physicians across the province. Patient, employee and physician safety are not mutually exclusive; good working conditions help prevent patients and providers from experiencing physical, emotional or psychological harm.
The Saskatchewan Health Authority (SHA) is the largest organization in Saskatchewan, employing over 40,000 employees and physicians responsible fo​r the delivery of high quality and timely health care for the entire province.
We are driven by the commitment to improve frontline patient care for Saskatchewan people, and we are working together to better coordinate health services across the province to ensure patients receive high quality, timely health care, wherever they live in Saskatchewan.
Canadian Mental Health Association - Saskatchewan Division


The Canadian Mental Health Association, Saskatchewan Division – CMHA SK – is one of the oldest and largest community-based human services organizations in Saskatchewan. We are proud to be part of CMHA National, connecting us with branches all across Canada.
Our purpose is to:
fight to reduce the stigma of mental illness through public education
provide educational opportunities to help the public understand mental health issues
provide services to schools, communities and individuals promoting Mental Health for everyone
advocate for consumers of mental health services
CMHA Branches offer social and vocational programs to people with mental illness, unlocking the door to a better quality of life. We depend on volunteers to provide leadership and guidance in all areas of the association.
Family Services Regina
At Family Service Regina, we work with seniors, adults, children, and pregnant and parenting teens to help strengthen individuals, and families to create a safe, inclusive and vibrant community in which all people are resilient, confident, and filled with hope.
RAPID COUNSELLING SERVICES
The right support, at the right time!

Mental healthcare in-person or from the comfort of your home.  We offer rapid access to mental health services for individuals, couples, and families.  We can help with concerns such as anxiety, depression, addictions, suicidal ideation, stress, relationship conflict, separation and divorce, domestic violence, and parenting.
To book an appointment, click here

If your situation is urgent, or you feel at risk, please contact Mobile Crisis Services 306-757-0127 or proceed to the nearest emergency room.
Regina Immigrant Women's Centre


Mission Statement
We provide opportunities, programs and services for immigrant and refugee WOMEN and their families to facilitate and support their smooth integration into our local communities.
Vision Statement
We aspire to empower, support and champion opportunities for immigrant and refugee WOMEN and their families through a nationally recognized suite of community centered and integrated services.
Values
At Regina Immigrant Women Centre, we value:
Inclusion of immigrant and refugee women and their families
Empowerment of immigrant and refugee women to build confidence, community networks, and work-related skills and knowledge, in a safe and supportive environment.
Equality by advocating equal rights and access to health, housing, and employment opportunities for immigrant and refugee women and their families.
Diversity and rich diverse cultural perspectives and experiences
Transparency & Accountability with stakeholders through open and transparent communication.
Collaboration with individuals, groups and organizations to advance the promotion of and support for immigrant and refugee women and their families.

Regina Immigrant Women's Centre website
Regina Sexual Assault Centre
The Regina Sexual Assault Centre is a progressive an inclusive organization that is dedicated to reducing and preventing all forms of sexual violence towards all individuals. This goal is accomplished through affective counselling, public education, and advocacy. The centre provide supportive services and referrals to anyone, including family, who has been impacted by sexual violence.

Regina Sexual Assault Centre website
Healthy Campus SK

Healthy Campus Saskatchewan (HCSK) is a Community of Practice that includes 19 post-secondary institutions and two community organizations across the province of Saskatchewan. This group was born out of a desire to collaborate to support the health and wellbeing of students enrolled in post-secondary education programs.
Their vision is to create healthy, resilient campus communities where students feel safe, supported, and have the knowledge, tools, and resources they need to achieve their personal, academic, and future career goals.
HCSK is passionate about student health and wellbeing and is using this provincial platform to:
Share information and resources

Build relationships and innovative partnerships to align strategies

Improve collaboration and problem-solving between campuses

Celebrate successes and overcome challenges

Use resources efficiently and effectively to achieve maximum impact on measurable goals
Find out more about this Community of Practice by visiting their webpage here
211 Saskatchewan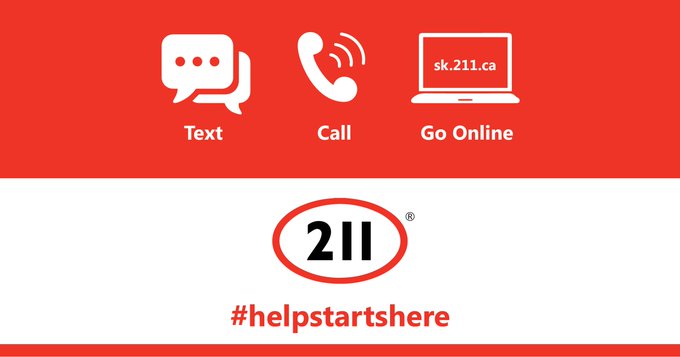 211 Saskatchewan is a free and confidential service that is available 24 hours a day, 7 days a week.  It connects individuals in Saskatchewan to over 5,000 listings of social, community, non-clinical health and government services by telephone, text or web chat. 
In addition to using the 211 Saskatchewan website, individuals can now call
2-1-1
, text
2-1-1
or chat online with trained professionals to help find services they need.
This service is available, by phone, in over 175 languages, including 17 Indigenous languages
Farm Stress Line and Rural Support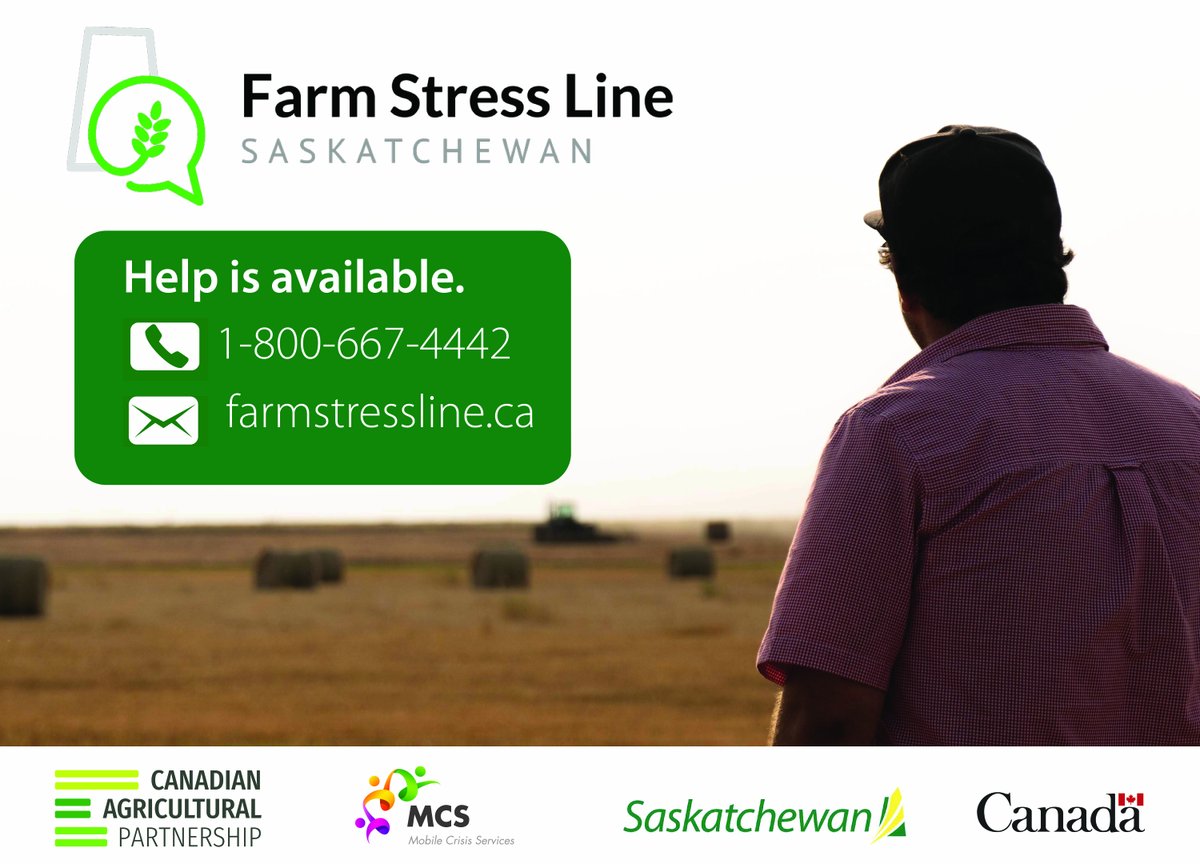 The Farm Stress Line & Rural Support provides confidential crisis telephone counselling, support, information and referral services that respond to the needs of individuals, youth and families living on in a rural Saskatchewan community.

Providing support when you need it the most - 24 hours a day, 7 days a week!  Click here
BounceBack©
The Canadian Mental Health Association's
BounceBack©
program is offered free to residents of most provinces, including Saskatchewan.
BounceBack
is a guided self-help program effective in helping adults and youth manage low mood, mild to moderate depression, anxiety, stress or worry.
Through telephone coaching and a selection of skill-building workbooks to choose from, participants can customize their own program, learn ways to overcome their symptoms and improve their mental well-being now and in the future.
For more information, click
here
BounceBack
©
counselling with a Mental health coach [and workbooks] click
here
Wellness Together Canada
Wellness Together Canada was created, with funding from the Government of Canada, in response to an unprecedented rise in mental health and substance use concerns due to the COVID-19 pandemic.  We are facing challenges such as social isolation, financial insecurity, and substance use concerns at a scale we have not seen before. Wellness Together Canada believes that wellness is a journey not a destination and each of us can take steps toward our own well-being.

Wellness Together Canada is here to support you on that journey by providing free mental health and substance use support and is completely confidential.  This service is available 24/7 and allows you to keep track of your wellness journey by creating an account.  You can set up your account here.


Access live free counselling with a trained crisis responder:

PHONE.  Call:  1-866-585-0445 (Adults) or 1-888-668-6810 (Youth)

TEXT (SMS).  TEXT WELLNESS to 741741 (Adults) or 686868 (Youth)
Kids Help Phone
"It's not always this obvious when you or someone you know is in distress"
Kids Help Phone is Canada's only 24/7, national support service. They offer professional counselling, information and referrals and volunteer-led, text-based support to young adults in both English and French.
Whether by phone, text or through their website, you can connect with Kids Help Phone whenever you want, however you want.
Their service is completely confidential — you don't even have to tell them your name if you don't want to.

Are you or someone you know looking for someone to talk to? Someone to talk to about something on your mind? Maybe it's about school, family, work or friends, and you just don't want to say it out loud. Kids Help Phone's crisis responders are here for you 24/7.
Crisis Line Powered by Kids Help Phone

Get professional support right now! 24/7
1-800-668-6868 or Text "UofR" to 686868

 

 

Mental Health Chats With Friends:  You're Not Alone



Click Here
Addiction Services
Addiction Services provides a wide range of community-based programs for people with addictions.
Some programs are specifically for people dependent on alcohol or drugs, and include support, education and counselling for their family members. These programs range from individual or group education and treatment, to harm reduction approaches, such as methadone. Other programs provide treatment for individuals with pathological gambling problems, or provide education and support to their families and friends. Community development, prevention, promotion and educational programs are also available for members of the public or other professionals in human service areas.

For more information click here