Myrna Kostash
---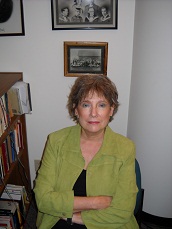 KOSTASH, Myrna (b.1944)
Journalist, Writer
Myrna Ann Kostash is a journalist, essayist and writer of regional and national acclaim. She was born in Edmonton, Alberta in 1944. She attended the University of Alberta, receiving a Bachelor of Arts in 1965 with a major in Russian. She then pursued graduate studies in Slavic language and literature at the University of Washington and the University of Toronto where she received a Master of Arts in 1968.
Kostash is the author of several books, All of Baba's Children, Long Way From Home: The Story of the Sixties Generation in Canada, No Kidding: Inside the Life of Teenage Girls, Bloodlines: A Journey into Eastern Europe, The Doomed Bridegroom:  A Memoir, The Next Canada: In Search of the Future Nation, Reading the River:  A Traveller's Companion to the North Saskatchewan River, Locating the Past/Discovering the Present, The Frog Lake Reader, Slice Me Some Truth, Prodigal Daughter, Unbound:  Ukrainian-Canadians Writing Home and more recently, The Seven Oaks, a companion volume to The Frog Lake Reader.
Her articles and creative non-fiction have appeared in several anthologies, and extensively in periodicals such as Chatelaine, Maclean's, Geist, Border Crossings, Literary Review of Canada and Canadian Geographic.  She has contributed radio, television, and film scripts to the CBC and the National Film Board, and has written stage plays.  She has lectured widely in Canada and Europe and has taught courses, workshops, and seminars across the country.  Kostash was Max Bell Professor at the School of Journalism, University of Regina for 1989 and 1990.
Kostash has recived numberous awards for her writing:  in 1989 she received the Alberta Achievement Award, in 2008 the Writers Guild of Alberta presented her  with the Golden Pen Award for lifetime achievement. She was inducted into the City of Edmonton's Cultural Hall of Fame in 2009 and in 2010 she was awarded the Writers' Trust Matt Cohen Award: In Celebration of a Writing Life.  Kostash accepted the Wilfred Eggleston Award for Nonfiction at the Writers Guild of Alberta awards gala in 2011, where Prodigal Daughter, won for Best Nonfiction Book.  In 2012 Kostash was shortlisted for the Kobzar Literary prize.
Myrna Kostash resides in Edmonton.
Edited with information
from myrnakostash.com, 2016
Photo courtesy of Myrna Kostash
Photo credit: David Cheoros
Archival Collections (Finding Aids in PDF format)
---
90-81 - Personal and Professional Papers. 1972-1990
94-55 - Personal and Professional Papers. 1970-1994
2000-39 - Personal and Professional Papers. 1973-1999
2008-71 - Personal and Professional Papers. 1990-2007
2012-3 - Personal and Professional Papers. 1982-2011
2014-47 - Personal and Professional Papers. 1958-2014
2016-21 - Personal and Professional Papers, 1960s-2015
2018-43 - Personal and Professional Papers, 2011-2017