Ken Mitchell
---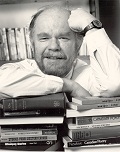 MITCHELL, Kenneth Ronald (b. 1940)
Writer, Educator
Kenneth Ronald Mitchell was born in Moose Jaw, Saskatchewan and has lived in Regina since 1969.
In 1958-59 he enrolled at Ryerson Polytechnical Institute (School of Journalism) but failed the course, upon which he obtained a job at the Regina Leader-Post.  He worked for some time as a journalist and proofreader at Regina, Toronto, and London England, before returning to Regina in 1965.  He then took up studies at the University of Saskatchewan, Regina Campus, earning earned a Bachelor of Arts in 1965 and a Masters of Arts in 1967.
Mitchell taught Introductory English, Canadian Literature and Creative Writing workshops in the Department of English at the University of Regina; he has also conducted senior and Honours classes in Modern Canadian Literature and Creative Writing. He retired in 2005 as Professor Emeritus.
Besides his professorship in the Department of English at the University of Regina, he has been appointed Visiting Professor, University of Victoria 1975-76; Instructor, Banff School of Fine Arts 1977, 1978 and 1980; Scottish-Canadian Exchange Fellow, University of Edinburgh, Scotland 1979-80; Foreign Expert, University of Nanking, China 1980-81; and Foreign Expert, Foreign Affairs College, Beijing, China 1986-87; he was also Director of Creative Writing at the Saskatchewan Summer School of the Arts from 1970 to 1975.
Ken Mitchell's stage play Heroes was produced over 50 times in Canada, the United States, England, Germany, New Zealand, Turkey and Scotland.  Other poems, plays, stories and articles have been published in at least 40 collections and anthologies.  Published works include Wandering Rafferty, The Meadowlark Connection, Cruel Tears, Sinclair Ross:  a Reader's Guide, Ken Mitchell Country, The Shipbuilder, The Plainsman, and Stones of the Dalai Lama.  Film scripts have also been produced for The Hounds of Notre Dame, The Shipbuilder, The Giant, and The Dream Seekers.
Ken Mitchell was founding chairman for professional associations such as the Saskatchewan Writers' Guild 1969 to 1971; Grain 1973 and the Saskatchewan Writers' Colony 1978.  He was a member of the National Council, Writers' Union of Canada, 1974-75; Edinburgh Playwright's Workshop 1980 and Saskatchewan Playwright Centre 1982; Mexico-Canada Writers' Colloquium, Guanajuato, Mexico 1982; National Board, Guild of Canadian Playwrights, 1982 – 1984; National Board, Playwrights Canada, 1983 – 1984; he later served as Vice-president, Saskatchewan Writers' Guild 1987 – 1989, and as President  in 2004-2005.
Written with information
from Ken Mitchell
Archival Collections (Finding Aids in PDF format)
---
85-89 - Personal and Professional Papers. 1958-1986
89-79 - Personal and Professional Papers. 1970-1989
90-8 - Artifact: A New Democrat for the Nineties" campaign button. 1990
94-51 - Personal and Professional Papers. 1976-1994
2005-23 - Personal and Professional Papers. 1969-2004
2012-9 - Personal and Professional Papers. 1961-2011
2015-63 - Personal and Professional Papers, 1969-2013