Ken Lochhead
---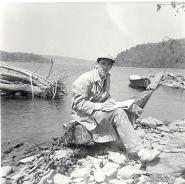 LOCHHEAD, Ken (1926-2006)
Artist, Educator
Kenneth Lochhead was born in Ottawa in 1926. His major art training came from the Pennsylvania Academy of the Fine Arts, Philadelphia (1945-1949). At the same time, Lochhead studied at the Barnes Foundation, Merlon, Pa., from 1946 to 1948. Several scholarships allowed him to study in England, Holland, Belgium, France, Spain, Italy, Switzerland and western Canada. After several short assignments, Lochhead was hired by the University of Saskatchewan, Regina College, in 1950 to direct the School of Art. He was also charged by Dean Riddell to develop what became the Norman Mackenzie Art Gallery.
Under Lochhead's guidance, both the School and the Gallery flourished, attracting vibrant personalities and generating excitement. At this time Lochhead developed a distinctive style, producing such notable works as "The Kite" (1952), "The Dignitary" and "The Bonspiel" (1954). As well, he began to win major commissions, completing an enormous wall mural at Gander Airport in Newfoundland in 1957-58.
It was Lochhead's influence on the Emma Lake Artists' Workshops, however, that attracted the most attention to the prairie region. With the summer series led by such New York artists as Herman Cherry, Barnett Newman, Kenneth Noland, and Jules Olitski, international attention was suddenly focused to the north.
With Art McKay, Ron Bloore, Ted Godwin, and Doug Morton, Lochhead displayed his paintings at the National Gallery of Canada in 1961 in the show "Five Painters from Regina". In 1964, however, he was the first to leave Regina, accepting a teaching position with the University of Manitoba. He did not stay there, but went on to York University in Toronto and finally to the University of Ottawa.
Archival Collections (Finding Aids in PDF format)
---
86-29 - Personal and Professional Papers. 1953-1985
87-98 - Sketchbooks. 1953-1981
98-1 - Mural Studies. 1947-1994
99-42 - Slides of Art Works. 1979-1999
2000-18 - Correspondence with Art Galleries and Publishers. 1953-1984
2001-51 - Mark Wihak Video A World Away: Stories from the Regina Five. 2001.
2006_2 - Personal and Professional Papers. 1962-2004
2006-52 - Autographed Publications. 1975-2001.
2008-17 - Personal and Professional Papers. 1911-2008.
2010-1 - Personal and Professional Papers. 1942-2007
2010-2 - Slide Collection. n.d.
2013-8 - Personal and Professional Papers, 1937-2011
2014-71 - Oversize Material related to 2013-8, 1943-1990