Office of Indigenous Engagement
The University of Regina's Office of Indigenous Engagement serves the entire University community, including its three federated colleges, the First Nations University of Canada, Campion College, and Luther College.
Located on Treaty 4 lands, these are the territories of the nêhiyawak (nay-hi-yuh-wuk, Cree), Anihšināpēk (uh-nish-i-naa-payk, Saulteaux), Dakota, Lakota, Nakoda, and the homeland of the Métis/Michif Nation. Today, these lands continue to be the shared territory of many diverse peoples. The nêhiyawak originally referred to Regina as oskana kā-asastēki (os-kuh-nuh-kaa-us-us-tay-kih), Cree for "the place where bones are piled up." This is why Regina's nickname is "Pile O'Bones" and is the origin of the name Wascana Park, where the University's Regina main campus is located.
The Office is a leader of Indigenous excellence on campus and is responsive to and seeks direction from various partners and community members throughout Regina and the province of Saskatchewan.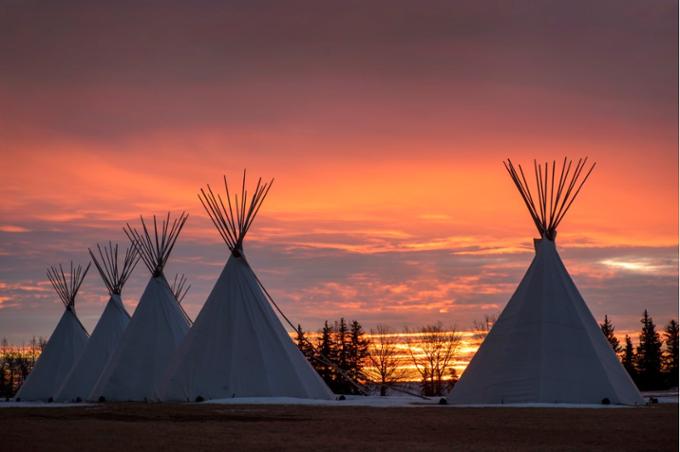 The Indigenous Advisory Circle's (IAC) Strategic Plan and the University of Regina's Strategic Plan 2015-2020 developed five main focus areas:
Academic Indigenous excellence
Indigenous-centered research
Governance and administration
Student success
Community engagement
Provide leadership on strategic and policy development related to Indigenous initiatives
Support campus-wide Indigenous activities
Coordinate the truth and reconciliation strategy
Write policy on Indigenous-related matters
Develop Indigenous-centered strategies
Build relationships with Indigenous communities throughout Regina, Treaty 4, and the province of Saskatchewan
Assist faculty with the implementation of Indigenous-centered research methods, methodologies, and ethics and continously guide staff and students to build relationships with Elders/Knowledge Keepers
Feature Story
Commemorating Remembrance Day

Each year, November 11 is set aside in Canada as Remembrance Day so we can recognize the sacrifices of those who have served in our country's military during times of both conflict and peace – including the more than 118,000 Canadians who have given their lives in the course of that service from the First World War to the present.
To further commemorate Remembrance Day, the flag will be lowered to half mast on November 8 for Indigenous Veterans Day, and again on November 11.
Indigenous Engagement Strategic Plan
Building on the University of Regina's history as a leader in Indigenous engagement and education, the Office of Indigenous Engagement, led by Lori Campbell, Associate Vice-President, has developed an Indigenous Engagement Strategic Plan.
The strategic plan identifies actions to break down barriers and empower Indigenous peoples and communities by reviewing university practices, policies, and process.
Reconciliation
The Reconciliation Action Committee (RAC) came into existence when the TRC Working Group decided to reorganize itself as a sub-committee of the University Executive Team in 2019. This group includes faculty and staff from across several faculties and units. RAC strives to recognize the conciliatory actions of many other units and individuals at the University, while also providing a platform to lead and support truth and reconciliation throughout the University of Regina and its federated colleges as well as in the many communities with which we collaborate. Ultimately, RAC encourages everyone, regardless of their units or positions, to think of different ways of contributing to reconciliation
More recently, RAC is focused on truth and reconciliation education and mutual education, with a view to concrete action as an outcome of events, advocacy, and collaborations. They are also committed to work alongside the Office of Indigenous Engagement. U of R community members are encouraged to inform Scott J. Wilson (chair of RAC) of relevant initiatives, projects, and activities so that they can offer help, volunteers, promotion, and, budget permitting, financial support. 
4 Seasons of Reconciliation
As part of the University's continued commitment to move the process of Reconciliation forward on our campuses and in the wider community, thanks to Human Resources, the Office of Indigenous Engagement, and several other units, the previous web-based English and French "4 Seasons of Reconciliation" training programs have now been transferred into UR Courses.
Housing the programs within UR Courses will enhance ease of use for faculty and staff in several ways, but perhaps more importantly, it will allow instructors to incorporate the post-secondary education version of the program into curriculum, free of charge, for students.
4 Seasons of Reconciliation Contacts
Should you have any questions about the "4 Seasons of Reconciliation" programs, please contact us:
Faculty and Staff English Professional Development Program: Kayla Stefan, Office of Respectful University (kayla.stefan@uregina.ca)

French Professional Development Program: Dr. Jerome Melançon, La Cité (jerome.melancon@uregina.ca)

Post-Secondary Students Program: Rebecca Sparvier, Office of Indigenous Engagement (rebecca.sparvier@uregina.ca)
The direct link for the faculty, staff and the post-secondary program can be found at URCourses
Buffalo Winter Count Robe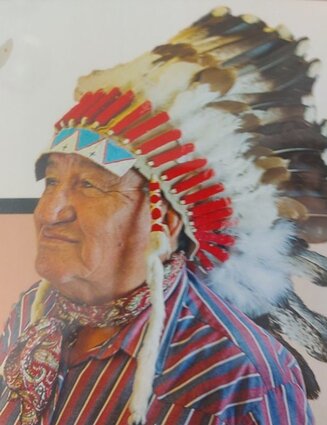 The Office of Indigenous Engagement was honoured to ceremonially welcome a traditional Buffalo Winter Count Robe painted by Elder Wayne Goodwill, a Knowledge Keeper from the Standing Buffalo Dakota Nation and one of the last known robe painters in the province. We offer the robe to be used as a teaching tool for classrooms and other groups on campus to help support the university to move forward on the path of reconciliation.
Resources
Eagle Staff
Elder Roy Bison and his son Teddy Bison, a student in the U of R Faculty of Media, Art, and Performance, presented U of R President and Vice-Chancellor Dr. Vianne Timmons with an Eagle staff in 2017.
With this honour comes great responsibility for the appropriate care of the Eagle staff. The Office of Indigenous Engagement is responsible for this care.
Honoraria
When inviting Indigenous Elders, Traditional Knowledge Keepers, or Old Ones onto campus to provide in-class presentations on Indigenous cultures, traditions, or histories, to perform ceremonies, or for other university business, it is expected that their time be compensated and their knowledge be recognized.
Please refer to Respectful Engagement with Elders for guidance in regard to engaging in these traditions and Indigenous knowledge systems.
Territorial Acknowledgement
The University of Regina and its federated colleges are on Treaty 4 and Treaty 6 territories — the homelands of the nêhiyawak, Anihšināpēk, Dakota, Lakota, Nakoda peoples, and Michif/Métis nation.
We recognize that, as an institution founded by settlers, we benefit from being on this land. We are grateful for the privilege to learn, teach, and work here. We demonstrate our commitment to reconciliation by incorporating Indigenous knowledge and world views in our research, teaching, and studies to ensure that there are increased economic, social, and creative opportunities for current and future generations. It is our responsibility to strengthen relationships with Indigenous communities and build a more inclusive future.
Tobacco
Tobacco is a sacred medicine for Indigenous peoples and it has many uses. It is often used in ceremony, for prayer, or to request guidance, teachings, or the sharing of knowledge and instructions from an Elder/Knowledge Keeper. In academic Indigenization, the protocol of offering tobacco is regularly practiced when making a request to an Elder/Knowledge Keeper. For these purposes, tobacco should be offered, if appropriate, when a request is made of an Elder/Knowledge Keeper to share their knowledge. This can include the ancestral, traditional, or Indigenous-centered knowledge that can be shared through teachings, story-telling, prayers and a feast.
When an offer of tobacco is made, it demonstrates that the request is genuine, respectful, and sincere. It is an act of appreciation and dedication to the Elder/Knowledge Keeper and their vast knowledge. When an offer of tobacco is made and accepted by an Elder/Knowledge Keeper, a verbal contract has been made and both the requestor and the Elder/Knowledge Keeper ought to follow through with the agreement.
It is recommended that ceremonial tobacco be purchased. Please speak with the Elder/Knowledge Keeper if they would prefer tobacco be purchased at a local store. Should you choose to gift organic tobacco, you can contact the Office of Indigenous Engagement for information about organic suppliers.
Terms
nêhiyawak - nay-hi-yuh-wuk (Cree)
Anihšināpēk - uh-nish-i-naa-payk (Saulteaux)
Contact Us
Associate Vice-President (Indigenous Engagement)
Lori Campbell
Email: Lori.Campbell@uregina.ca
Executive Administrator
Rebecca Sparvier
Email: Rebecca.Sparvier@uregina.ca
Office of Indigenous Engagement
Research and Innovation Centre (RI 118)
University of Regina
3737 Wascana Parkway Regina, SK S4S 0A2
Phone: 306-337-2944