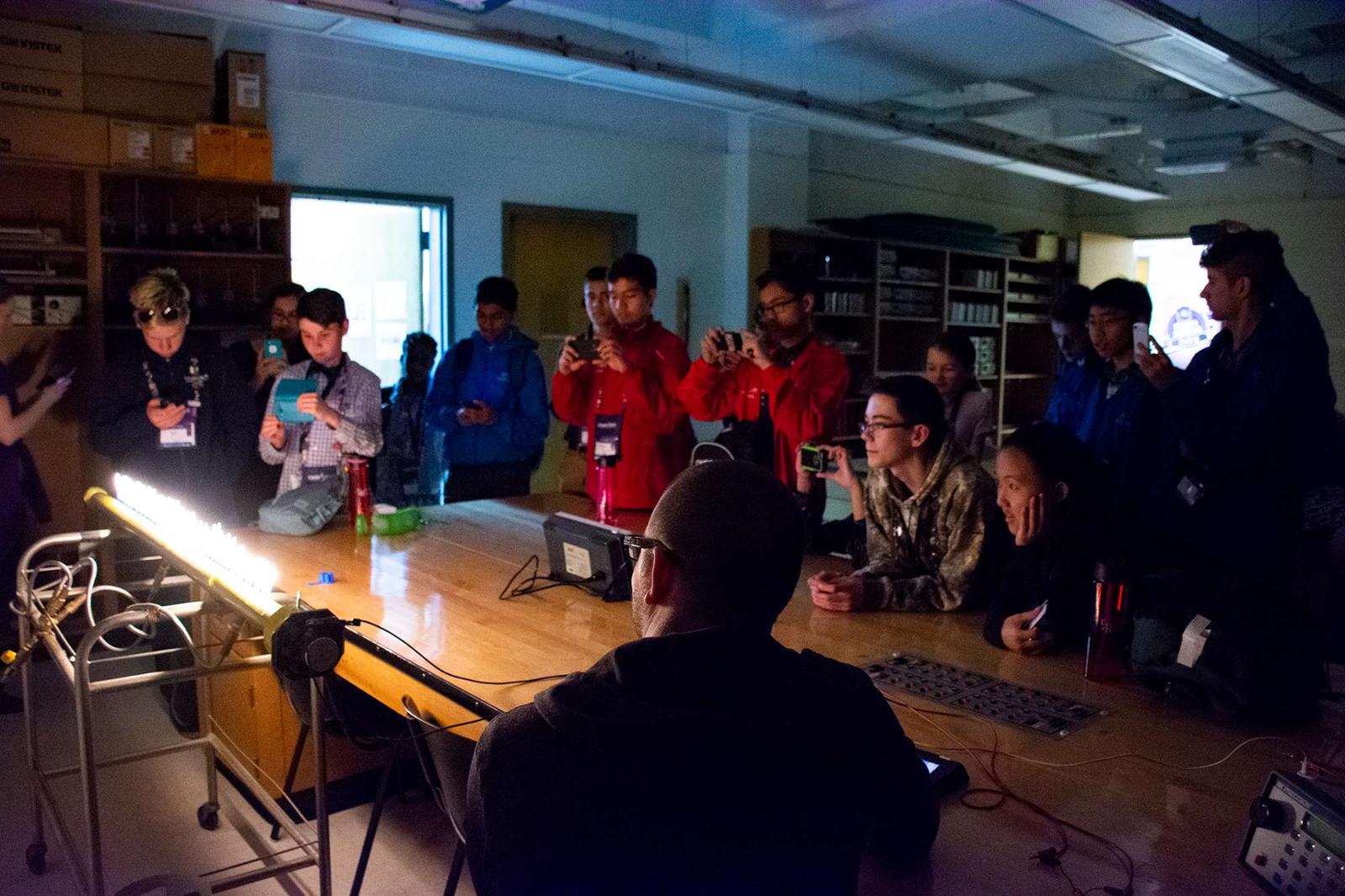 Bachelor's Degree Programs
Physics
Programs in physics at the University of Regina encompass the study of pure and applied physics, and medical physics.
Studying Physics at the University of Regina
The Department of Physics at the University of Regina offers programs leading to the B.Sc. and B.Sc. Honours degrees in Pure and Applied/Industrial Physics, and the M.Sc. and Ph.D. degrees in Experimental and Theoretical Subatomic Physics. Co-operative Education programs with local industry play an important role in our undergraduate degree programs.
Faculty members and graduate students pursue their research locally, and at locations elsewhere in Canada, the United States, Europe and Japan.
The University is a member of the TRIUMF subatomic physics laboratory in Vancouver, and has a close relationship with the Jefferson Laboratory in Newport News, Virginia, USA. As of January 1, 2010, the University became a member of the Southeastern Universities Research Association. This honour was in recognition of two decades of productive research by U of R physicists at Jefferson Lab.
Research
Our programs offer experiential learning in the classroom and lab. Our students spend time at TRIUMF and the Jefferson Lab, gaining experience with large, experimental physics facilities. Undergraduates have the opportunity to do their own, independent research projects, learning alongside graduate students and experienced faculty, while our graduate students can build their skills working closely with supervisors who will guide and support their growth as researchers.
Sample courses
Astronomy
Heat and Thermodynamics
Atomic Physics
Health Physics
From Quarks to the Cosmos
Physics of Energy and the Environment
Electricity and Magnetism
Nuclear Physics
Quantum Mechanics
Physics
Meet Your Faculty
Scholarships
The Faculty of Science has a number of entrance and continuing scholarships available to students at all levels of study.  Recognizing the financial challenges facing many students, we also have a large number of bursaries available to support students as they progress through their studies.  A select number of these scholarships are listed below.
Entrance Scholarships
Science 10th Anniversary Entrance Scholarship
UR Scholars Entrance Scholarship (graduate students only)
Academic Achievement Scholarships
Dean of Science Scholarly Achievement Award
Faculty of Science Indigenous Scholar Award
Stantec Equity & Diversity Scholarship

June and Jack Krogan Women in Science Scholarship
Graduation Scholarships
Dean's Medal
University Prize in Science
Student Awards & Financial Aid
Scholarships, bursaries, and more
Quick Facts
Program:
Bachelor of Science (BSc) in Physics
BSc Honours in Physics
BSc in Applied Physics
Bachelor of Medical Radiation Technology
Master of Science (MSc)
Doctor Philosophy (PhD)
Length:
BSc: 4 years
MSc: 2 years
PhD: 4 - 6 years
Offered Through:
University of Regina
Campion College
First Nations University of Canada
Luther College
Request Information
What Can You Do With a Physics Degree?
Here are some of the careers you can look forward to with your Bachelor of Science degree in Physics.
To explore minors that may be available in this program area, please visit the Academic Calendar or meet with your faculty advisor in the Academic Advising Office after you are admitted.
Aeronautics & space industries
Health/Medical physicist
Quality assurance
Research physicist
Astronomer
Biophysicist