Master's Degree and PhD Programs
Clinical Psychology (MA, PhD)
The clinical psychology graduate degree program at the University of Regina in Saskatchewan trains students in the scientist-practitioner tradition.
Designed to work in tandem, the master's and PhD programs allow you to make steady, seamless progress toward your educational and career goals:
The Master of Arts in Clinical Psychology establishes an academic and practical foundation for personal and professional growth.
The PhD in Clinical Psychology builds upon that foundation with opportunities to acquire clinical skills and to pursue advanced study and research.
To have the best chance of achieving their career goals, students typically complete both degrees. (More on why this is important in the FAQ below.)
Please consider how the integration of the two graduate degrees matters to your future.
One of the major reasons students choose U of R is because our doctoral program in clinical psychology is accredited by the Canadian Psychological Association (CPA).
Graduating from an accredited PhD program gives you a competitive advantage for top clinical psychology jobs, and helps you smoothly transition into the registration process necessary to practice psychology.
What Do Clinical Psychologists Do?
Clinical psychologists work in research, education or clinical settings in communities throughout Canada and around the world.
Quick Facts
Program:
Master of Arts (MA) in Clinical Psychology
Doctorate Degree (PhD) in Clinical Psychology
Length:
Master's Degree: 2 years, thesis required
Doctorate: 4 years, thesis and comprehensive exams required
Accreditation:
Doctoral program in clinical psychology is accredited by Canadian Psychological Association (CPA)
Offered Through:
University of Regina
Request Information
Clinical Psychology
Meet Your Faculty
Why Earn Your Master's and PhD in Clinical Psychology From the University of Regina?
The University of Regina welcomes students from all over Canada and the world into the master's degree in clinical psychology, who typically continue into the accredited clinical psychology doctoral program. Using the scientist-practitioner model and mindset of service to others, we train and empower students to use their influence and creativity in their chosen fields.
Accreditation by the Canadian Psychological Association
U of R's clinical psychology doctoral program is accredited by the Canadian Psychological Association (CPA). This distinguishes our program among others in Canada.
U of R commits to the rigorous accreditation process and meets standards of training set forth by the professional psychology community. It's a demonstration of our mission to provide high-quality, significant scholarly experiences and to give our graduates a professional advantage.
Clinical psychology research and scholarship
Complete your master's degree and PhD in clinical psychology under the instruction and mentorship of faculty with national and international reputations for research and scholarship that furthers the field.
Research opportunities at the University of Regina have grown significantly in the last 10 years as faculty saw a dramatic increase in outside funding sources for their work.
Faculty research specialties cover topics such as:
Anxiety disorders
Health psychology
Interventions provided through our internet-based cognitive behavioural therapy (ICBT) clinic for a variety of mental health conditions (depression, anxiety, trauma, alcohol misuse). Each year, more than 2,200 Saskatchewan residents use these services. No other ICBT clinic like it exists in Canada.
Internships, practicums, and residency in clinical psychology
U of R clinical psychology program graduation requirements include internships, practicums and a year-long residency, totaling a minimum of 2,700 hours of clinical training across both the master's degree and the doctoral programs.
Master's degree:
Four-month internship (minimum of 600 hours)
Doctoral program:
Minimum of two practicums (150 hours each)
Year-long, full-time pre-doctoral residency (minimum of 1,600 hours)
Clinical psychology training clinic
Students in the doctoral program have the opportunity to gain experience at the SunLife Financial Psychology Training Clinic on the University of Regina's main campus in Saskatchewan.
The training clinic features several spaces for the effective delivery of care as well as for observations and training that strengthens your clinical practice competencies:
Assessment and treatment rooms, soundproof for client privacy
Spaces for individual, family or group appointments
Rooms that provide observation windows and digital recording equipment to assist in review and feedback
Specific rooms for charting session notes
Clinical Psychology Frequently Asked Questions
Do you offer scholarships and funding to clinical psychology graduate students?
Yes! Once you have been accepted as a fully-qualified graduate student with no conditions or holds on your admission, then you are eligible to apply for our scholarships, awards, or graduate teaching assistant positions.
Clinical Psychology Scholarships and Awards
Some funding for clinical psychology graduate students comes from the Faculty of Graduate Studies and Research. Eligible students also can apply for available scholarships, including:
Faculty of Arts Graduate Entrance Scholarship
University of Regina Graduate Scholarship
Women in STEM Entrance Scholarship
Faculty of Arts Thesis Only Scholarship
Faculty of Graduate Studies and Research Indigenous Entrance Scholarship
Dean of Arts Building Dreams and Futures Scholarship
Apply for these scholarships, and more, by visiting our Graduate Awards Portal (GAP), the U of R online graduate scholarship application system.
Please note that U of R expects students to pursue external funding for their Master of Arts and PhD in Clinical Psychology.
Our average levels of graduate funding are extremely competitive. For example, 66 per cent of the 2020 cohort of master's in clinical psychology students obtained Tri-Council funding for their studies.
All Graduate Funding Opportunities
Visit our
Faculty of Graduate Studies and Research website
to learn about all graduate funding opportunities including:
National Scholarships (including Tri Council funding)
Awards to Study Abroad
FGSR Funding/Special Awards
Funding for Indigenous Students
Funding for International Students
Other Awards and Scholarships
External Scholarship Opportunities
External Student and Faculty Awards
How does Canadian Psychological Association accreditation of the doctoral program help me?
Accreditation is an assurance of high quality training that is recognized by the profession. For example, the Saskatchewan College of Psychologists requires PhD psychologists from non-accredited programs to do an extra year of supervised training before being registered.
Some employers of PhD psychologists may also require graduation from an accredited doctoral program, and it can benefit you in other ways:
Regulatory agencies often fast-track applicants with degrees from accredited programs.
Accredited degree programs themselves primarily hire graduates from accredited programs.
Note: The Canadian Psychological Association does not accredit master's degree programs, only doctoral programs.
Why should I earn both the master's degree and the PhD?
Professional consensus throughout North America strongly encourages the completion of advanced training at the doctoral level.
Therefore, U of R expects graduates of the master's in clinical psychology to apply to the PhD program and to maintain full-time student status to meet required progress and timelines.
Note: University of Regina typically requires students with a master's degree from elsewhere who want to apply to the clinical psychology PhD program to complete coursework in our master's degree program first. That's how important the integration between the two degree programs is
What kinds of clinical psychology courses are required?
University of Regina designed the clinical psychology master's degree and PhD programs to provide you with a seamless academic experience. That means each required course builds toward your educational and career goals.
In the master's program, you'll complete course work in year one:
Research Design and Methodology in Psychology
Applied Multivariate Statistics
Ethics and Standards of Professional Practice
Advanced Psychopathology
Psychological Assessment I
Psychological Interventions I
Then, you'll use year two to complete your thesis research and the required four-month internship (600 hours).
For the doctoral program, you'll complete advanced course work such as:
History, Theory and System in Psychology
Psychometrics
Psychological Assessment II
Psychological Intervention II
An elective of your choice
You'll spend at least three years of the PhD program on campus, with another year completing your pre-doctoral residency.
Which theoretical orientations can I study?
During the doctoral program and with guidance from faculty and community supervisors, you'll have opportunities to learn the theoretical orientations that most interest you, including:
Cognitive behavioural therapy (CBT)
Acceptance and commitment therapy (ACT)
What student groups can I join?
Ask about our active Psychology Graduate Students Association (PGSA), which includes all psychology graduate program students at the University of Regina. Together, members seek additional and effective ways to engage and aid the University's community.
Clinical Psychology Graduate Program Concepts and Goals
From University of Regina's main campus in Saskatchewan, the master's and PhD degree programs in clinical psychology cultivate the scientist-practitioner tradition. You'll graduate with the competencies needed for both research and clinical practice.
Flexible
Earning your master's and doctorate of clinical psychology gives you career flexibility. Whether you're drawn to clinical practice, educational or academic settings or primarily research, you can choose to fill all or some of these roles as your interests grow and change.
Effective
Through at least 2,700 hours of clinical psychology experience completed through the master's and PhD degree programs, you build skills and perspectives that increase your effectiveness. Make the most of your time working inside U of R's training clinic on campus as well as your internship, PhD clinical placements and pre-doctoral clinical psychology residency.
Ethical
In addition to gaining both clinical and scientific competencies, the curriculum integrates core professional ethics into academic and experiential clinical psychology graduate degree requirements. These ethical standards include respect for colleagues and clients, integrity in all work and communication and a value for true service to your community. Note as well that the University of Regina specifically focuses its mission on the values of inclusion, equity and diversity for all.
What Can You Do With a Clinical Psychology Degree?
Graduates from top clinical psychology doctoral degree programs compete for prestigious clinical psychology jobs with not-for-profit and governmental organizations, in private practice and at top universities.
U of R doctoral program graduates wishing to pursue clinical practice have found careers in top mental health facilities in Canada including:
Acute Care, Waterford Hospital, St. John's, Newfoundland
Adult Mental Health, Saskatchewan Health Authority, Regina, Saskatchewan
Edmonton North Primary Care Network, Edmonton, Alberta
Oshawa Psychological and Counselling Services, Oshawa, Ontario
St. John Psychology Centre, St. John, New Brunswick
Child and Youth Services, Saskatchewan Health Authority, Regina, Saskatchewan
Ottawa Institute for CBT, Ottawa, Ontario
U of R doctoral program graduates who sought academic positions have been hired as professors in top universities across the country including:
Concordia University, Montréal, Québec
University of Saskatchewan, Saskatoon, Saskatchewan
University of New Brunswick, Fredericton, New Brunswick
University of Manitoba, Winnipeg, Manitoba
McMaster University, Hamilton, Ontario
St. Thomas More College, Saskatoon, Saskatchewan
University of Regina, Regina, Saskatchewan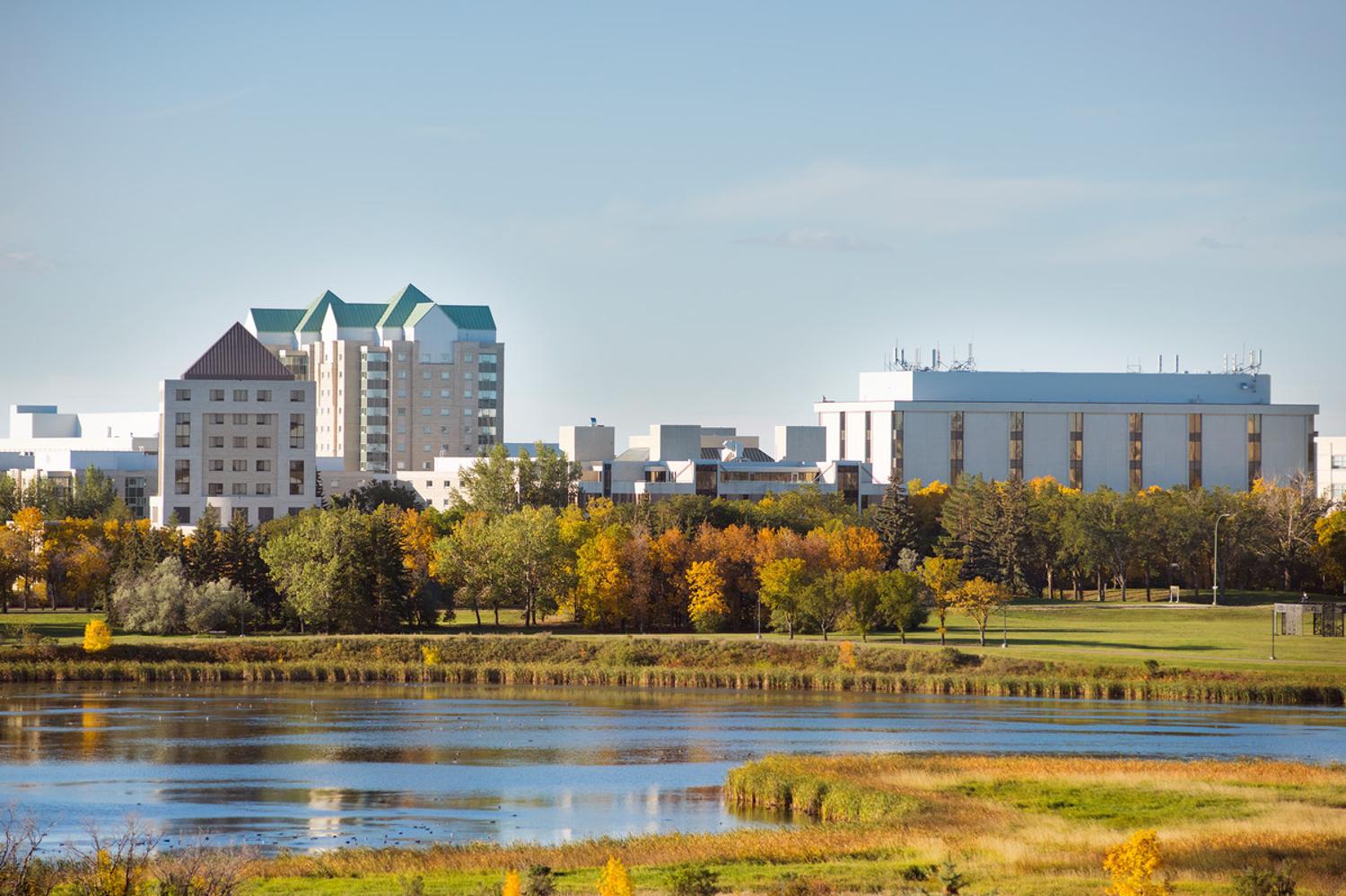 Request More Information
Loading...