iPrint/Papercut Setup for macOS
Computing Services Technote #556 v5
Title: iPrint/Papercut Setup for macOS Catalina
Applies to: Macintosh Users needing to print to printers/copiers managed by Papercut
Section: Network
Owner: Network Manager, Network & Communication Services
Last updated: Feb 3, 2022
Procedure to setup an iPrint Printer
1. Open your web broswer, navigate to http://iprint.uregina.ca/ipp/
2. If this is your first time setting up an iPrint printer. Click on 'Install iPrint Client'.

3. Save the installation file.
4. Double click the 'iprint.dmg' disk image. Double click the 'iPrint.pkg' installer.
5. Click Continue, select your installation disk, click Continue, click Install.
6. You will be required to enter your macOS username/password (Note: This is not necessarily your uregina.ca username/password).
When the installation finishes, click Close.
7. Return to your web browser. Navigate back to http://iprint.uregina.ca/ipp/
Select your desired printer from the list.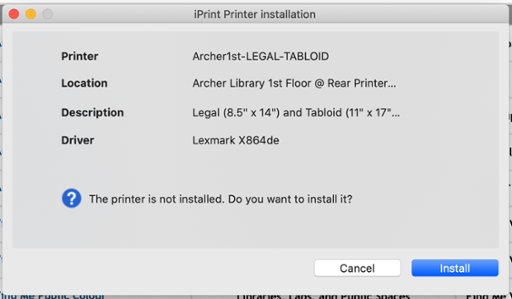 8. If you have not installed the printer before, you will be prompted to install. Click OK. Your printer is now installed. You can select it from the print menu in any application.
Procedure to install PaperCut Client
If you will have multiple financial accounts to choose from(almost all staff will) then you need to also install the PaperCut client as follows:
Download the latest PaperCut client from macOS downloads
 Unzip he installer and run 'client-local-install.app' or copy PCClient.app to Applications.
                                                                              
Launch PCClient.app from the Application folder, login with your urgina.ca credentials.                                                                                                                                                                                                                                       

 
Now add the Papercut application to automatically open at startup:
Open System Preference... from the Apple menu.
Select Users and Groups (icon of people)
Select your login account
Click the Login Items tab
Click the + button and browse and locate the PCClient application
Test by restarting the computer. The client should automatically after the reboot and login is complete.
Conclusion
Installing the iPrint client, iPrint printers, and Papercut client on macOS is described.
Revision History
v0, 2010-09-28, Initial version authored by Drew Baldock
v1, 2010-10-29, Added procedures for papercut installation
v2, 2015-08-20, Updated instructions for Yosemite by IT Support
v3, 2017-01-03, Refreshed for macOS 10.12 Sierra
v4, 2020-06-03, Refreshed for macOS 10.15.4 Catalina
v5, 2022-02-03, Update download instructions for PaperCut