Master's Degree Program
Social Work (MSW)
The social work master's degree from the University of Regina is accredited by the Canadian Association for Social Work Education (CASWE-ACFTS). It is the only accredited Master of Social Work program in Saskatchewan.
U of R's social work master's program underscores the relationships between many aspects of social work, including social research, direct social work practice, social policy development and social administration.
You build deeper understanding of social work through both opportunities for research and real-world practice.
As you get closer to graduation, Regina's Master of Social Work program flexes for your interests — letting you choose between completing a practicum or researching and writing a thesis:
Practicum
Practicum (which is another word for internship) involves working in the field to demonstrate the integration of social work theory and practice. Completion options include a field practicum, a supervised practice experience, or a research practicum, which may include activities such as doing applied community-based research, program development and evaluation or policy analysis. Each practicum is a unique partnership between social workers in the field and faculty, built upon your learning goals.
Thesis
Thesis topics vary widely based on your interests. The thesis is original research evaluated on the written content and orally defended before a thesis examination committee. With centralized institutional ethics approval in Saskatchewan, thesis research can have potential for impact in health systems.
No matter which program stream you choose for your Master of Social Work degree, you benefit from mentoring from faculty members. As an MSW student, you'll also have the opportunity to apply for a social work graduate teaching and research assistant positions. Many faculty members hold positions as research associates with our Social Work Research Centre [SWRC] and conduct research into child welfare, gerontology, immigration and settlement, harm reduction, 2SLGBTQ+ human rights, and other areas.
In addition, social work faculty members maintain close relationships with community-based, clinical, and policy organizations throughout Canada.
What is a Master of Social Work Degree?
A Master of Social Work degree gives you advanced knowledge of theory and practice methods in human service delivery, social policy analysis and social welfare research.
Quick Facts
Program:
Master of Social Work (MSW)
Length:
30 credit-hours, must complete within 5 years. Full-time, degree requirements can be completed in 1-2 years.
Accreditation:
Canadian Association for Social Work Education (CASWE-ACFTS)
Offered Through:
University of Regina
Request Information
Why Study Social Work at the University of Regina?
Simply put, the University of Regina's social work faculty dedicate themselves to your educational experience and professional success. They connect you with real-world social work opportunities to complete your practicum or thesis and broaden your career opportunities. Many of our Master of Social Work students register with the Saskatchewan Association of Social Workers (SASW) after graduation and work in all areas of social work and human service.
Successful social work students care deeply about diversity, making the U of R the ideal place to study given our emphasis on
equity, diversity and inclusion
. The Faculty of Social Work works closely with the
School of Indigenous Social Work (SISW)
 at the First Nations University of Canada.
Accreditation
The U of R's Master of Social Work program is accredited by the Canadian Association for Social Work Education and is the only accredited Master of Social Work program in Saskatchewan.
Practicum or thesis
Beyond your MSW courses, you get to choose between completing a thesis or a practicum. Both will give you the real-world experience you need to advance your social work knowledge, skills and career and have a positive impact in Saskatchewan communities and Canada at large.
Engaged professors
University of Regina's social work professors promote diversity, social justice and empowerment in our education, research and community involvement.
Close connections
U of R professors connect you to the research and organizations you need to complete your degree. You benefit from their close ties with volunteer agencies, government departments and national and international research groups — as well as the Faculty of Social Work's own Social Work Research Centre [SWRC]).
Frequently Asked Questions
What degree do I need to enter the University of Regina's social work graduate program?
You must hold a Bachelor of Social Work degree.
Do you offer scholarships?
Yes! Once you have been accepted as a fully-qualified graduate student with no conditions or holds on your admission, then you are eligible to apply for our scholarships, awards, or graduate teaching assistant positions.
Social Work Scholarships and Awards
E.B. Elaine Meadows Memorial Bursary in Social Work
John R. Kowalchuk Scholarship in Social Work
The Faculty of Social Work Dr. Judy White Equity and Inclusion Award
Apply for these scholarships, and more, by visiting our Graduate Awards Portal (GAP), the U of R online graduate scholarship application system.
All Graduate Funding Opportunities
Visit our Faculty of Graduate Studies and Research website to learn about all graduate funding opportunities including:
National Scholarships (including Tri Council funding)
Awards to Study Abroad
FGSR Funding/Special Awards
Funding for Indigenous Students
Funding for International Students
Other Awards and Scholarships
External Scholarship Opportunities
External Student and Faculty Awards
What are some examples of social work theses and practicum reports?
Examples of past master of social work degree theses and practicum reports  include:
Feminizing the Spectrum: Raising Awareness of Females with Autism Spectrum Disorder

The Experiences of People with Schizophrenia or Schizoaffective Disorder in Accessing Non-Psychiatric Health Care

Building equitable, culturally safe & trauma-informed health care: mending a broken system

Indigenous Adoptees' Experiences of Racism in Transracial Adoption in Saskatchewan
Counselling in Child and Youth Mental Health
Engaging Older Adults in Walk-in Counselling
Providing for the Needs of Youth with Suicidal Behaviours in Governmental Care
In the Words of Grandmothers: Stories from Indigenous Grandmothers about Their Experience Raising Their Grandchildren
Reading Between the Lines: A Critical Examination of Social Work Education in Viêt Nam Through the Eyes of the Educators
Phenomenological Exploration of Death Doulas in Saskatchewan
What campus events and social work networking opportunities does U of R offer?
Graduate Social Work Student Society
Graduate Studies Committee Student Representative
MSW Seminars
Workshops
Events organized by MSW Student Representatives
Panel discussions and research training hosted by Social Work Research Centre [SWRC]
Social Work Master's Degree Concepts and Goals
U of R's social work master's degree prepares you for wide-ranging social work practice with diverse populations.  Dive into topics like end-of-life, addiction and mental health and current Indigenous issues using qualitative and quantitative research methods. Explore the interrelationship between social work practice, social policy development and social administration.
Learn
The principles of Indigenization, sustainability and social justice inform each of the University of Regina's social work courses. This foundation of equity gives you the knowledge, skills and values required to confront inequalities and the ability to empower people to realize their full potential — no matter their past or current circumstances.
Practice
To integrate theory with practice, you'll have the option of completing a social work field practicum, research practicum or thesis. In addition, you will make strong connections within the profession with guidance from U of R's experienced professors.
Succeed
You'll be prepared for advanced direct social work practice, such as providing clinical counselling in private, community and government agencies.
What Can You Do With a Social Work Master's Degree?
Upon successfully completing your Master of Social Work degree, you will be prepared for the next step of your career. Our graduates have gone on to jobs such as these:
Research and Consulting Services
Program Evaluation
Counselling
Social Policy and Public Service
Private Practice
Human Service Administration
Health Care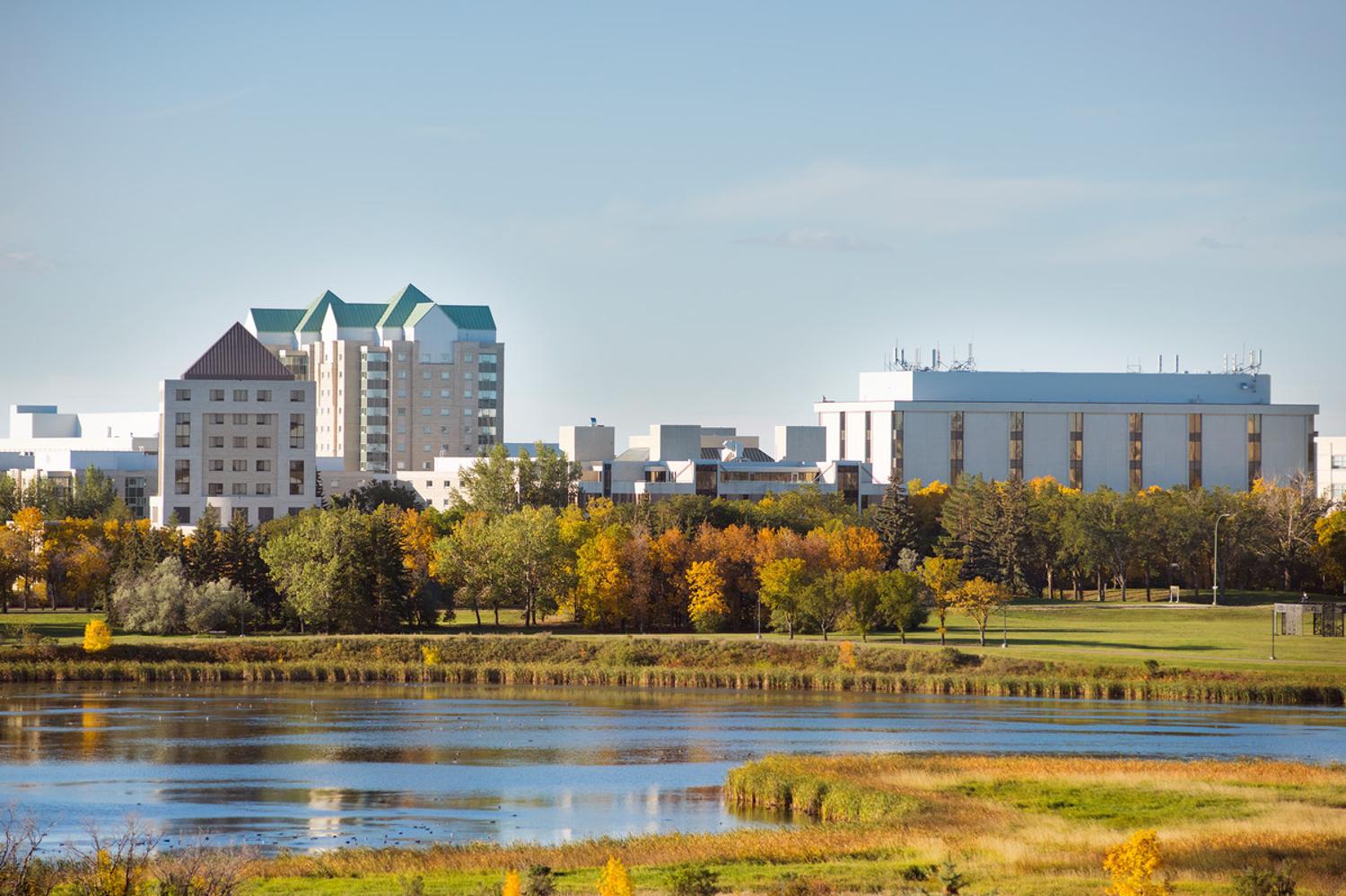 Request More Information
Loading...