After months of fierce, but friendly, top-tier varsity sporting competition fueled by fans, the inaugural U-Prairie Challenge presented by SaskMilk between the University of Regina Cougars and Rams and the University of Saskatchewan Huskies has come to a close.
"I have always believed in the power of sport to bring people together, and to that end, the U Prairie Challenge has enhanced our school spirit by giving a common cause for many in our University community to rally around," said Dr. Jeff Keshen, U of R president and vice-chancellor. "This will only increase as the competition continues in future years."
The U-Prairie Challenge, or UPC, brought the province's two universities together in an annual points-based competition across 11 different men's and women's events, including: soccer, football, hockey, volleyball, basketball, track and field, and cross country. Following a weekend of festivities around varsity hockey in Saskatoon, USask was declared this season's winner on Sunday.
The competition has been a boost to the profile of varsity sports in the province, said Lisa Robertson, U of R's director of sport, community engagement and athlete development.
The official UPC launch event, a Rams home game against the Huskies on September 17, brought 7,055 spectators to Mosaic Stadium, according to the box score. It's the biggest crowd U of R's football team has seen on home turf since the facility opened.
"All of our teams went to that football game," Robertson said, referring to the breadth of student-athletes who make up the Regina Cougars.
"Student athletes are coming out and supporting each other more," she said. "That has been the coolest thing."
Christian Katende, third-year business student, and Rams running back, said he's really appreciated the fans in the stands and like the other members of the football team, has made an effort to attend Cougars' home games.
"I love supporting the other teams because I know how much effort it takes to get to where they are, how much preparation it is for every single game," Katende said. "We all need to support each other as much as we can."
And it's not just student-athletes in the bleachers.
Compared to last season, U of R's athletics' database shows the average general attendance at Cougars' home games went up 24 per cent. When the Huskies were in town, the increase in average general attendance was an even more significant 63 per cent jump. The number of U of R students in the crowd more than doubled.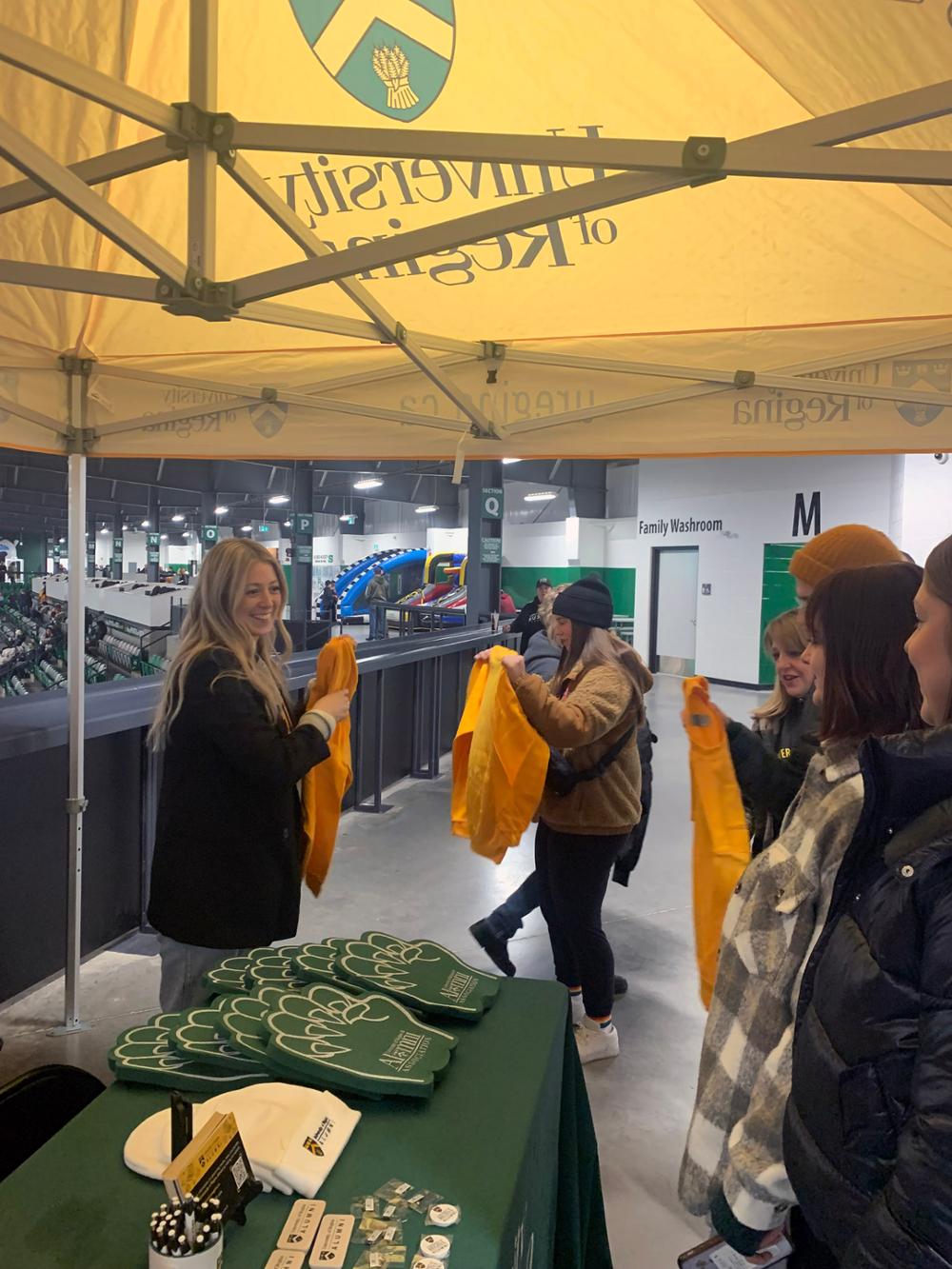 "It's nice having that support and nice having fans in the stands who are cheering for us, hoping we do win the game. And I feel like the more games we do win, the more fans that we're going to put in the seats," Katende said.
Banner image: Piper Sports Photography
About the University of Regina
Set in the heart of the Canadian prairies we are a comprehensive, mid-sized university where the opportunities are as limitless as the horizon. Our campuses are on Treaty 4 and 6 - the territories of the nêhiyawak, Anihšināpēk, Dakota, Lakota, and Nakoda peoples, and the homeland of the Michif/Métis nation. It is our responsibility to strengthen relationships with Indigenous communities to build a more inclusive future for all. Our three federated colleges, 10 faculties, 25 academic departments, and 18 research centres foster innovative research with practical and theoretical applications. We are committed to cultivating the potential of our 16,000 students and supporting their health and well-being. We take learning beyond the classroom through work and volunteer experiences to develop career-ready graduates.
Let's go far, together.
Related Posts
Community,
Teaching & Learning,
Campus Life
Teaching & Learning,
Community,
Research