The University of Regina's Media, Art, and Performance (MAP) offers a wide range of degree programs and graduate studies in creative technologies, film, music, theatre, visual arts and interdisciplinary programs. It also provides an opportunity to learn from and work with highly regarded faculty who are themselves renowned artists, creators, and performers.
Take, for example, David Garneau, recently-announced as this year's recipient of the Governor General's Award for outstanding contribution to contemporary visual arts, media, arts, or fine crafts. He is also MAP's Visual Arts Department Head. A Métis painter, curator, and critical art writer, Garneau is representative of the caliber of faculty students can expect to develop their craft with at the U of R.
"I've led a really privileged life, where ideas that I have get published, paintings that I make get presented in art galleries, ideas that I have or pieces I want to show get into exhibitions, so I've really had good steady recognition - but this is extraordinary," says Garneau about receiving the Governor General's award. "I've been very lucky to be so well supported, so it means something to me, but also that all those people who have supported me are recognized as well. I'm not very separate from all those folks.
"Students are central to my practice, grad students, fourth-year students, third-, second-, and first-year students have had an impact on my life. We have our studios on campus so our art life, our life as professional artists, isn't separated from our teaching. If I'm working on some acrylic technique I can bring them right in or if they're coming for counselling, they can see the art. To me, that's very influential on their practice but, at the same time, their feedback can let me know if I'm going off the rails.  I can't really separate teaching from making they are all of a piece."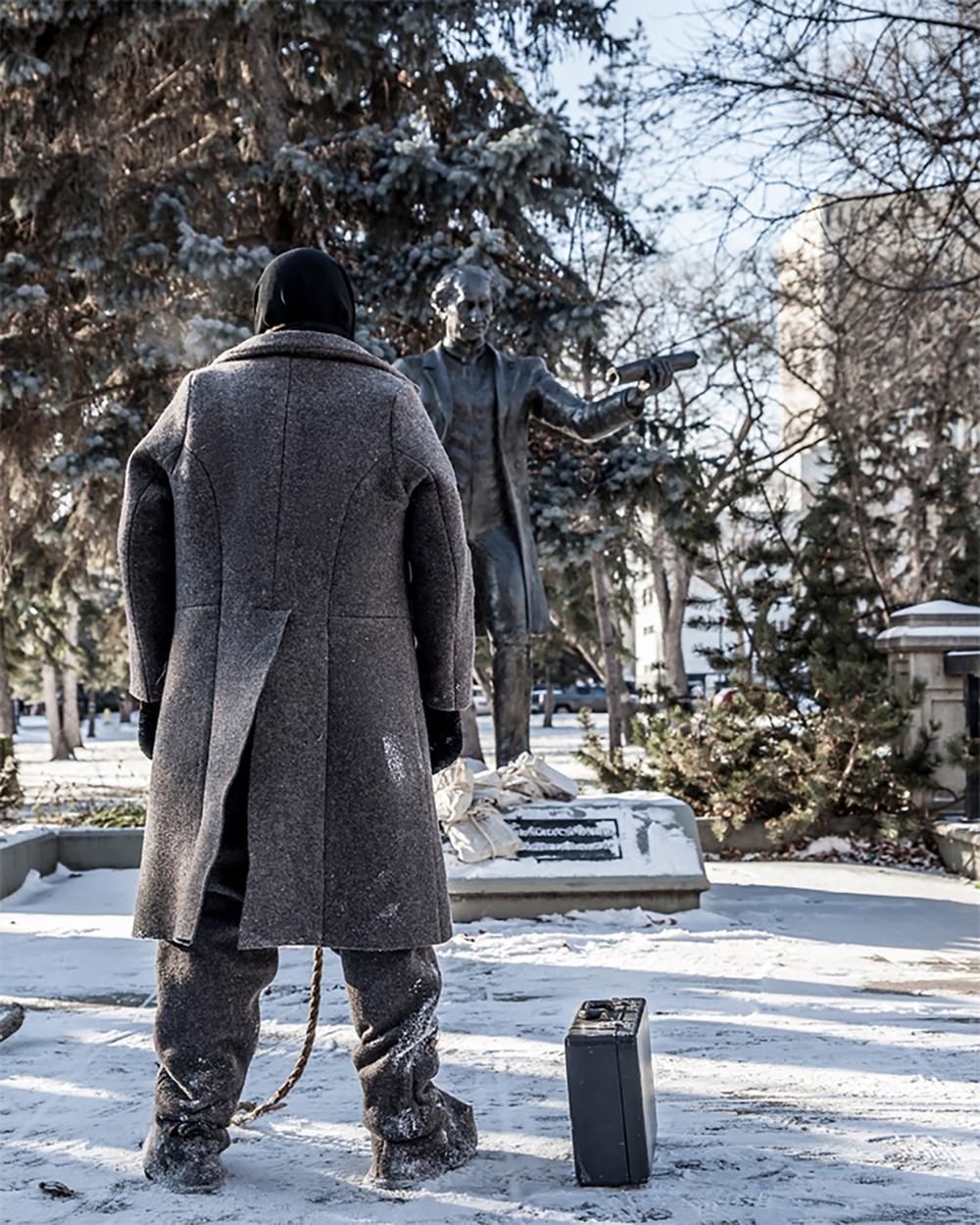 Fourth-year visual arts student William Bessai-Saul, is currently enrolled in Garneau's 400 level drawing class says, "David is inspirational, he has a unique method of teaching in which he will very simply ask you: 'What is the best thing here? What do you like the most?' And as you're struggling to find the answers to these questions that should be completely obvious to you but you've never considered before, he has this way of being able to tease the learning out of you instead of simply telling you. It's really quite remarkable.
"I really respect him as an artist as well, his paintings themselves are really great. His whole career is fascinating. It's quite an honour to be taking classes from him, it's like taking writing classes from Tolkein."
Brooke Moar, a fourth-year visual arts student who is also taking Garneau's 400-level drawing class, says, "It's been a very interesting experience taking a class from David, he's been very accommodating and it has definitely improved my artistic ability. I would greatly encourage students to take a 400-level class from David. It gives you a chance to have a lot more individual attention into your projects and David's input really does help – it's a lot more hands-on work, you get to work on individual projects rather than just projects assigned to the class."
I really respect him as an artist as well, his paintings themselves are really great. His whole career is fascinating. It's quite an honour to be taking classes from him, it's like taking writing classes from Tolkein.
William Bessai-Saul, 4th - year visual arts student
For students thinking about a career in the fine arts, Garneau says, "I'm going to be pragmatic. Learning how to write well was central to my practice. Rather than working at McDonalds or as a waiter, I was able to write articles or write reviews to make money when I was getting started. Also, I've done a whole bunch of different things, so if something is successful one time and another is not, then I could still survive. Also I really don't have writer's block or artist's block because if I'm bored or stuck I can just move to another thing. I would say having a variety of things you're interested in and keeping them going is a good way of keeping motivated and not losing faith."
Find out how you can learn your craft under the guidance of highly qualified and widely recognized Media Art and Performance faculty such as David Garneau.
The Governor General's Awards in Visual and Media Arts awards were created by the Canada Council for the Arts and the Governor General of Canada to celebrate the vibrant arts community in Canada and recognize remarkable careers in the visual and media arts. Up to eight awards are distributed each year: six awards for artistic achievement, one award recognizes an exceptional fine craft artist and one award recognizes an outstanding contribution to contemporary visual arts, media arts or fine crafts.
About the University of Regina
Set in the heart of the Canadian prairies we are a comprehensive, mid-sized university where the opportunities are as limitless as the horizon. Our campuses are on Treaty 4 and 6 - the territories of the nêhiyawak, Anihšināpēk, Dakota, Lakota, and Nakoda peoples, and the homeland of the Michif/Métis nation. It is our responsibility to strengthen relationships with Indigenous communities to build a more inclusive future for all. Our three federated colleges, 10 faculties, 25 academic departments, and 18 research centres foster innovative research with practical and theoretical applications. We are committed to cultivating the potential of our 16,000 students and supporting their health and well-being. We take learning beyond the classroom through work and volunteer experiences to develop career-ready graduates.
Let's go far, together.