The University of Regina and Royal Bank of Canada (RBC) celebrated the recipients of the RBC Neekaneewak Leadership Initiative Awards at a ceremony held at the U of R on Friday.
The Neekaneewak (they are leading) Leadership Initiative is an Elder-based leadership program run out of the ta-tawâw Student Centre at the U of R. The Initiative enhances cultural awareness and develops leadership skills in student participants through traditional and current ways of knowing. The awards recognize Indigenous students who have demonstrated leadership in their academic, personal, and professional lives. 
Every year, four students are selected as winners of the RBC Neekaneewak Leadership Awards. The award categories are Academic Development, Personal Development, Professional Development, and Cultural Development.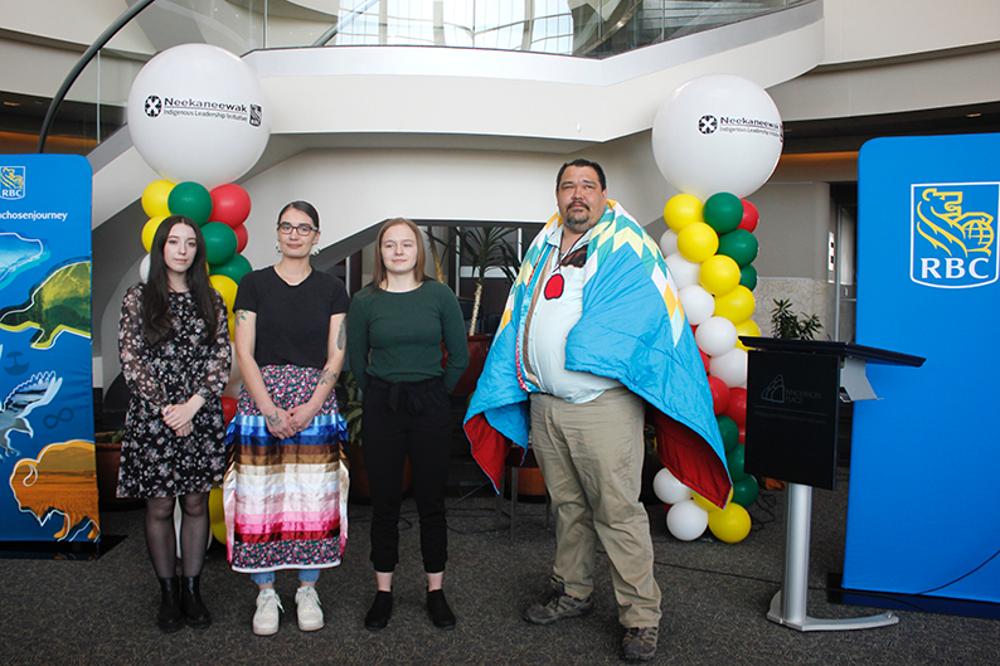 "I am very pleased to help celebrate the achievements, as well as the leadership of these four students," said U of R President and Vice-Chancellor Dr. Jeff Keshen. "The Neekaneewak Awards rightfully recognize these students for their commitment to excellence in their communities, their support of their families, and their eagerness to celebrate their culture."
 U of R education student Shalene Bird was named the Cultural Leadership winner due to her commitment to her traditions and ceremonies. She endeavoured to learn from elders and knowledge keepers, and is now taking the opportunity to pass that knowledge down to future generations in her community.
I would like to thank RBC for the scholarship and giving me this platform to tell my story in hopes that I could inspire other Indigenous teachers to revitalize the language and revitalize the culture.
Shalene Bird, U of R education student
"It really fills my heart to hear little voices being able to introduce themselves in Cree or being able to count and create and it motivates me to learn more so I can be able to teach them more," Bird said. "Anything that I can grasp from the language or culture or traditions from my Elders I'm able to give that back to the kids. They'll remember those things and hopefully they'll practise those things. I would like to thank RBC for the scholarship and giving me this platform to tell my story in hopes that I could inspire other Indigenous teachers to revitalize the language and revitalize the culture."
As an environmental biology student at the First Nations University of Canada, Vernon Burns believes it is his responsibility to be a steward of the land and speak for the things that can't, such as the land and water. His dedication to his studies and being a role model for his family are why he is this year's winner of the Personal Leadership award. 
U of R biochemistry student and Cougars hockey player Trinity Grove is the winner of the Academic Leadership award. Despite the challenges being a student-athlete can present, Trinity has flourished and was named a USPORTS Academic All-Canadian in 2021-22.
Paige Schmaltz, a business administration student at the U of R, is the recipient of the Professional Leadership award. Throughout her tenure at the University, Paige has worked for Student Awards and Financial Aid, as well as Enrolment Services, all while making it a priority to connect, network, and learn from professionals in the fields of finance, marketing, and human resources. 
 Joining Dr. Keshen, Knowledge Keeper kokum Brenda Dubois and several representatives from RBC at the event were friends and family members of the award recipients, who each received a $2,500 award, and a gift box from RBC, as well as a Star Blanket from the ta-tawâw Student Centre.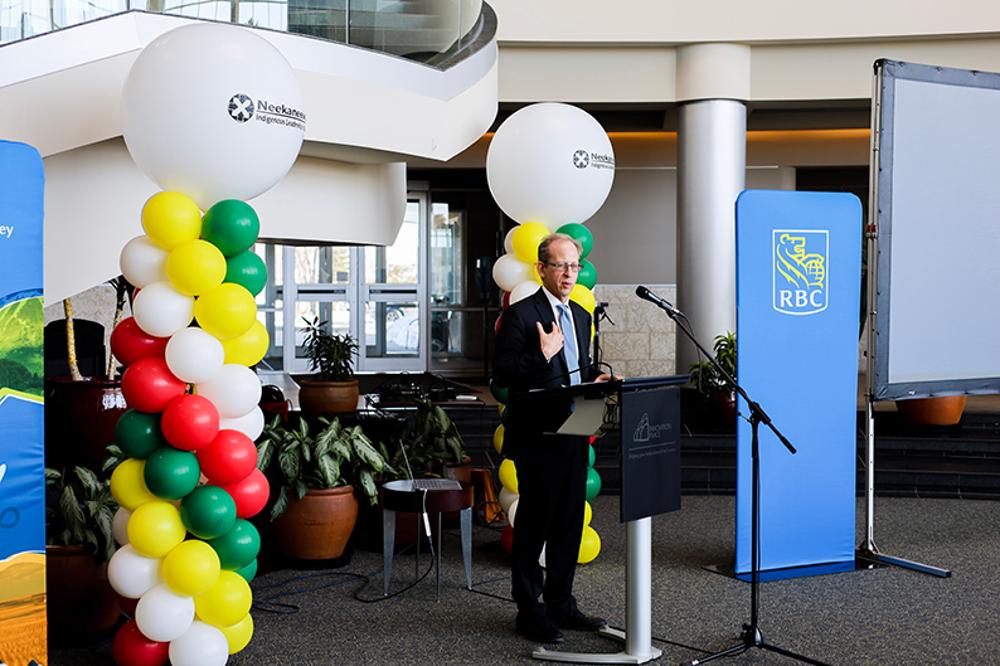 "Each student's deep commitment to their development is impressive, and we are inspired by how culture and community is close at heart while guiding their way," said Jon Barth, RBC Regional Vice President, Southern Saskatchewan. "We are delighted to celebrate this year's RBC Neekaneewak Leadership award winners and wish them continued success in all that they choose to pursue."
Banner photo credit: Yegi Zargar
About the University of Regina
Set in the heart of the Canadian prairies we are a comprehensive, mid-sized university where the opportunities are as limitless as the horizon. Our campuses are on Treaty 4 and 6 - the territories of the nêhiyawak, Anihšināpēk, Dakota, Lakota, and Nakoda peoples, and the homeland of the Michif/Métis nation. It is our responsibility to strengthen relationships with Indigenous communities to build a more inclusive future for all. Our three federated colleges, 10 faculties, 25 academic departments, and 18 research centres foster innovative research with practical and theoretical applications. We are committed to cultivating the potential of our 16,000 students and supporting their health and well-being. We take learning beyond the classroom through work and volunteer experiences to develop career-ready graduates.
Let's go far, together.
Related Posts
Teaching & Learning,
Truth & Reconciliation
Teaching & Learning,
Truth & Reconciliation,
Campus Life