The University's annual Spring Convocation ceremonies take place June 14, 15, and 16. Almost 2,400 graduates will receive 2,545 degrees, diplomas, and certificates.
"I would like to congratulate all of our graduates on their academic accomplishments," said Dr. Jeff Keshen, the U of R President and Vice-Chancellor. "These ceremonies are the culmination of years of hard work and sacrifice by our students. I wish each graduate all the best as they embark on new paths, set new goals, and achieve new heights."
The ceremonies begin each day at 2 p.m. in the Main Gym in the Centre for Kinesiology, Health and Sports on the University's main campus.
"One of my most treasured experiences at the University is the opportunity to participate in the convocation ceremonies and recognize the outstanding accomplishments of our graduating students, and to look forward to their ongoing success in the future," said University of Regina Chancellor Pam Klein. "It is also an honour to welcome these new graduates to our growing family of now more than 88,000 alumni."
A live stream of each day's ceremony will be available on the University's Facebook page, and a recording also posted, so students, family, and friends unable to attend in person, can view the celebration online. 
The University bestows, on June 14, its highest accolade – an Honorary Degree – on Mark McMorris. McMorris is an incredible athlete and one of the most successful competitive snowboarders in the history of the sport. He also gives his time and energy to the community through the McMorris Foundation, established to help disadvantaged Canadian children participate in sports. McMorris will receive an honorary Doctor of Laws.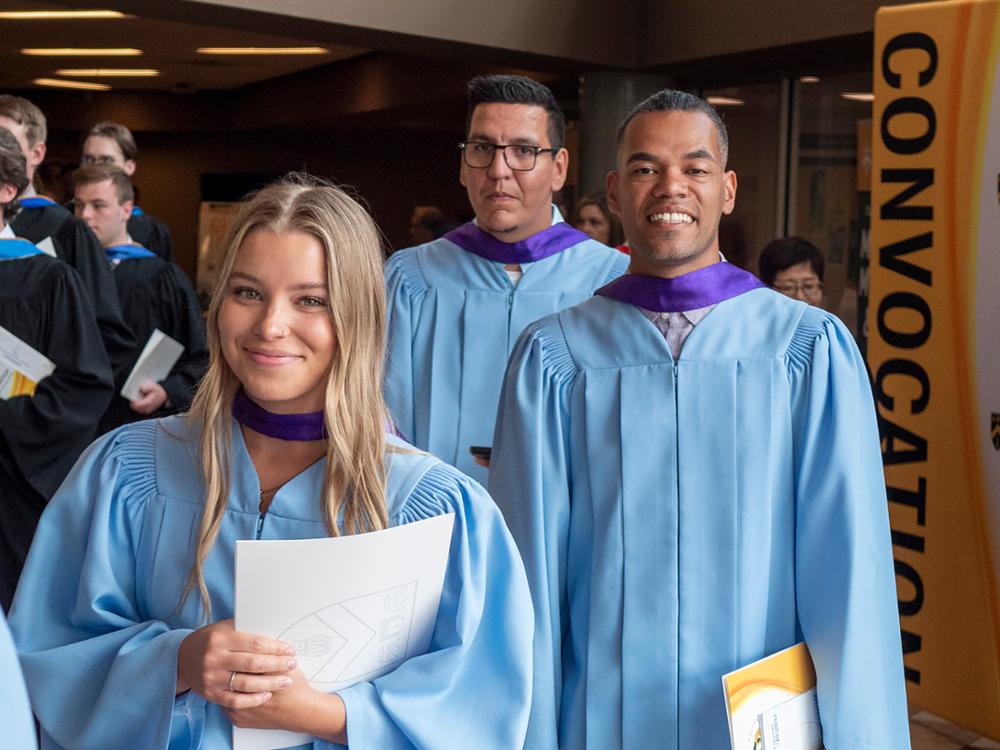 On June 15, the University bestows on Gloria Mehlmann an Honorary Degree. She is recognized for a lifetime of outstanding achievements as a teacher in the Regina Public School system, director of Aboriginal Education for Saskatchewan, and an accomplished author. Mehlmann's work in education has always focused on students, while reflecting her own experience as an Indigenous person growing up and living in Saskatchewan. Mehlmann receives an honorary Doctor of Letters.
Unfortunately, due to unforeseen circumstances, Gary Drummond is unavailable to accept his Honorary Degree from the University at its June 16 Spring Convocation ceremony. The U of R hopes to bestow the Honorary Degree on Mr. Drummond at a future date.
The 2023 Spring Convocation also recognizes our best and brightest graduates with numerous academic awards. They include:
The Governor General's Academic Gold Medal
The Governor General's Academic Gold Medal is awarded to Dr. Nicole Lerminiaux who is earning her PhD in Biology. The Governor General's Academic Gold Medal recognizes the outstanding academic performance of a graduate student. Dr. Lerminiaux's research for her doctoral thesis focused on how the mobility of bacterial genes contributes to antimicrobial resistance, microbial community dynamics, and virulence traits; addressing fundamental questions in ecology using bacterial species in lab-controlled ecosystems. Dr. Lerminiaux has published numerous papers from her research, including one of the most cited in the Canadian Journal of Microbiology from 2019-2022. 
The Governor General's Academic Silver Medal
The Governor General's Academic Silver Medal, as well as the S.E. Stewart Award in Arts, are awarded to Nolan Clarence Grad who is earning his Bachelor of Arts in Linguistics with Great Distinction. He is also earning a minor in Psychology with Great Distinction. The Governor General's Academic Silver Medal recognizes the most distinguished undergraduate student receiving a first degree over the past academic year. Nolan is also the recipient of the S.E. Stewart Award in Arts, which is awarded by the Faculty of Arts to the most distinguished graduate receiving a first degree.
President's Medal and Faculty of Nursing and School of Nursing Deans' Medal
The President's Medal and Faculty of Nursing and School of Nursing Deans' Medal are awarded to Caitlyn Marie Spurr who is earning a Bachelor of Science in Nursing with Distinction. The University of Regina President's Medal is awarded at each Spring and Fall Convocation to a student receiving a first undergraduate degree who has shown academic excellence, as well as major leadership in and commitment to extra-curricular activities. She is also the recipient of the Faculty of Nursing and School of Nursing Deans' Medal, which is awarded to a graduate of the Saskatchewan Collaborative Bachelor of Science in Nursing program receiving a first degree with a minimum cumulative grade point average of 80 per cent. The award also considers a student's leadership skills and their commitment to extra-curricular activities.
The University Medal
The University Medal is awarded to Saeid Hooshyar who is currently a student in the Faculty of Science. The University Medal is presented annually at Spring Convocation to the most distinguished student who has demonstrated academic excellence in the past year. Saeid is pursuing a Bachelor of Science Honours degree in Mathematics with a minor in Psychology with a cumulative grade point average of 96.77 per cent.
Watch the U of R Spring 2023 Convocation on the University's Facebook page following each ceremony.
Other academic award recipients include:
Bronwyn Heerspink - Faculty of Arts Dean's Medal
Serra Yasemin Al-Katib – Leon Goldman Award from the Faculty of Business Administration
Jessica Nicole Goebel - Faculty of Business Administration Dean's Medal
Ryder Varga - Association of Professional Engineers and Geoscientists of Saskatchewan Gold Medal in Engineering
Ariana Doucet - Faculty of Engineering and Applied Science Dean's Medal
Michelle Haug - Saskatchewan Teachers' Federation Award
Jennifer Kehoe - Bachelor of Education After Degree Convocation Prize
Shakib Dire - University Prize in Kinesiology and Health Studies
Muhammad Shafiq - Faculty of Kinesiology and Health Studies Dean's Medal
Alexander Ranger - W.A. Riddell Award in Fine Arts and Faculty of Media, Art, and Performance Dean's Medal
Keaira Kopec - Saskatchewan Registered Nurses' Association Gold Medal for Excellence in Clinical Practice
Mackenzie Evans - University Prize in Science
Andreea Ababei - Faculty of Science Dean's Medal
Jennifer Billington - University Prize in Social Work and Faculty of Social Work Dean's Medal
The University of Regina's Fall Convocation takes place on October 20, 2023.
About the University of Regina
Set in the heart of the Canadian prairies we are a comprehensive, mid-sized university where the opportunities are as limitless as the horizon. Our campuses are on Treaty 4 and 6 - the territories of the nêhiyawak, Anihšināpēk, Dakota, Lakota, and Nakoda peoples, and the homeland of the Michif/Métis nation. It is our responsibility to strengthen relationships with Indigenous communities to build a more inclusive future for all. Our three federated colleges, 10 faculties, 25 academic departments, and 18 research centres foster innovative research with practical and theoretical applications. We are committed to cultivating the potential of our 16,000 students and supporting their health and well-being. We take learning beyond the classroom through work and volunteer experiences to develop career-ready graduates.
Let's go far, together.