University of Regina student-athletes are always quick to acknowledge the role their teammates and coaches play in their success, supporting them in their drive to excel.
This summer two standout Cougars student-athletes will put their training to the test as they represent Canada on the court and on the field.
Jade Belmore: From Cougar Basketball to Canada's U23 Team
Coming off an incredible season for the women's basketball team – capped off when she won the University of Regina's Female Athlete of the Year award – third-year Kinesiology & Health Studies standout Jade Belmore was named to Canada's U23 team that competed at GLOBL JAM in Toronto.
Team Canada U23 GLOBL JAM 2023 Summary
July 12/23 - Canada's U23 team defeated Team Africa's BAL Selects with the final score coming in at 98 to 42, with forward Jade Belmore earning 5 points for her 10 minutes on court.
July 13/23 - Team Canada beat its perennial rival Team USA with a final score of 74 to 71. Belmore added an impressive 6 points during her 10 minutes on court.
July 15/23 - Canada's U23 team went up against Puerto Rico to win 81 to 66. Belmore gave her all for 13 minutes on court adding 6 points.
July 16/23 - The gold-level match-up between Team USA and Team Canada was a close one, with Team USA inching ahead with a final score of 68 to 66. Belmore shone in her 11 minutes on court, contributing 3 points for Canada's U23 team final match of the GLOBL JAM and bringing home the silver medal.
"My experience at the Global Jam tournament was incredible!" says Belmore. "The national level of play and the efficiency of the international tournament run by Canada Basketball helped showcase the rise of many athletes."
View this post on Instagram
Belmore is grateful for the opportunity to represent Canada and credits the U of R community for supporting her journey as a student-athlete.
"The U of R has given me ample opportunities and has not only supported me in my athletic journey, but also academically," says Belmore. "I have been given the necessary supports from coaches, professors, teammates and staff to push me academically and help me perform at a national level."
Women's basketball coach Dave Taylor was quick to pass the credit right back to Belmore.
"Jade has earned this opportunity with not only her talent, but also her work ethic and passion for the game," said Taylor. "Jade is a great example of how the U of R is set up to support athletes' dreams."
"Jade stayed in her hometown and has excelled in both academics and sport, being named to All-Canadian and national teams."
Storm Zablocki: From Cougars Track & Field to Team Canada at U20 Pan Am Games
After an electrifying season at the track, which included matching Andre De Grasse's Canadian U20 record in the 100-metre dash, sprinter and Business Administration student Storm Zablocki was selected to represent Canada at the 2023 U20 Pan American Games in August in Puerto Rico. Zablocki is the first ever U of R student-athlete to compete in the U20 Pan American Games.
The U of R has really helped me in becoming the athlete I want to be and is helping shape the future I want to have. Storm Zablocki, Cougars Track & Field student-athlete
Like Belmore, Zablocki is relishing the opportunity to wear the maple leaf in international competition and reflects on his experience as a U of R student and how it prepared him for the big stage.
"The tight-knit community at the U of R provides the comfort and support you may not get at a larger university," said Zablocki. "I've developed great relationships with my teammates, coaches, professors, and classmates, which has made it easier to balance my school work with my busy track schedule."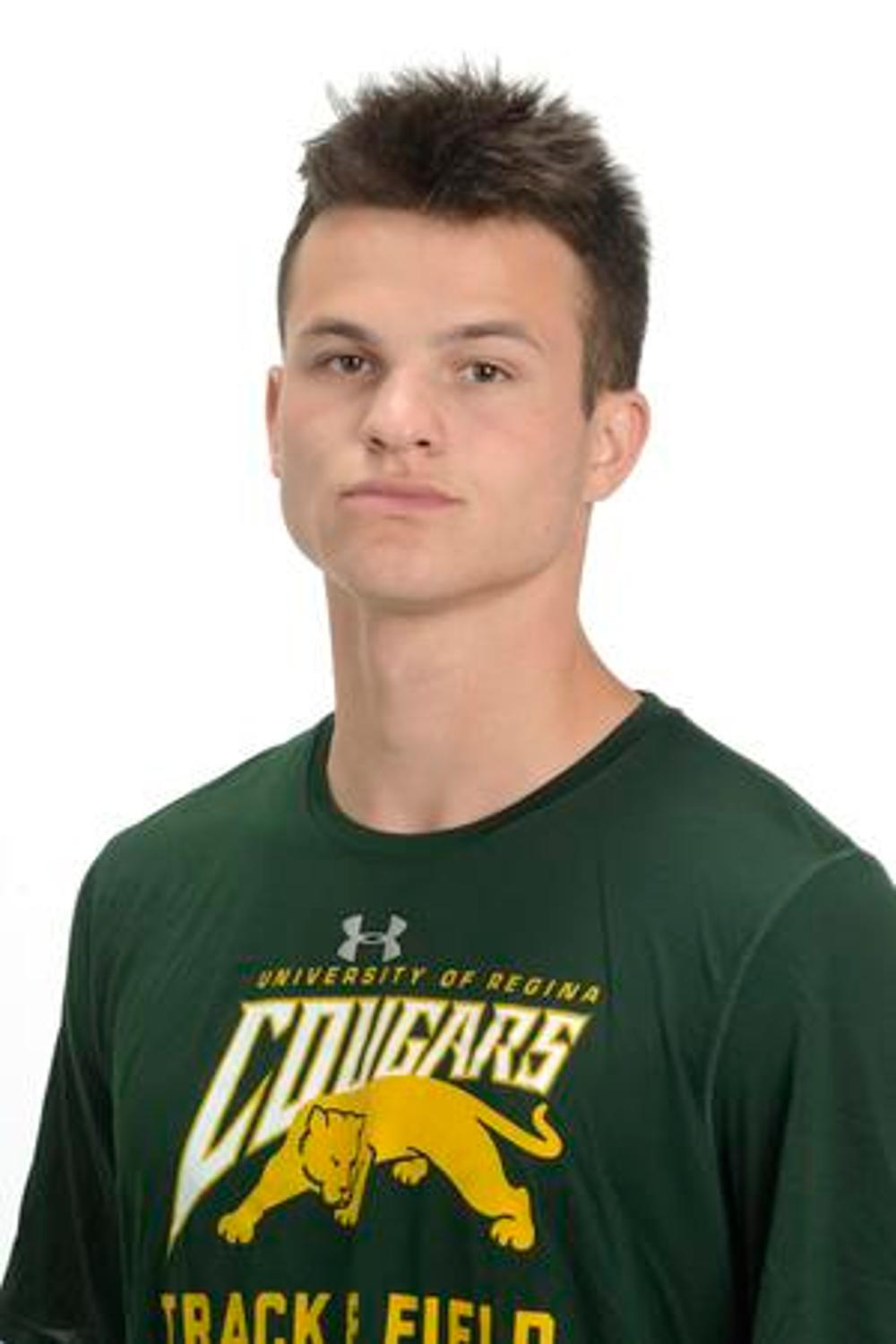 Zablocki will compete in the 100-metre dash at the meet, which will be held from August 4-6 in Mayagüez, Puerto Rico.
"Storm is an excellent student athlete, standing out both on the track and in the classroom," said former Track and Field Head Coach Chad Kichula. "Being a U of R varsity athlete means Storm is not on his own in achieving success – he has great teammates, a great coach in Alger Seon, and the full support of U of R Athletics, which gives him the ability to perform at a high level in sport and in his education."
Find out more about U of R Athletics.
Supporting students like Jade and Storm – helping them excel at whatever paths they choose – is part of what makes the U of R an incredible place to learn, grow, and prepare for whatever their futures may hold. 
"The U of R has really helped me in becoming the athlete I want to be and is helping shape the future I want to have."
About the University of Regina
Set in the heart of the Canadian prairies we are a comprehensive, mid-sized university where the opportunities are as limitless as the horizon. Our campuses are on Treaty 4 and 6 - the territories of the nêhiyawak, Anihšināpēk, Dakota, Lakota, and Nakoda peoples, and the homeland of the Michif/Métis nation. It is our responsibility to strengthen relationships with Indigenous communities to build a more inclusive future for all. Our three federated colleges, 10 faculties, 25 academic departments, and 18 research centres foster innovative research with practical and theoretical applications. We are committed to cultivating the potential of our 16,000 students and supporting their health and well-being. We take learning beyond the classroom through work and volunteer experiences to develop career-ready graduates.
Let's go far, together.
Related Posts
Teaching & Learning,
Campus Life,
Community
Teaching & Learning,
Community,
Campus Life
Community,
Alumni,
Campus Life