Over the past year, a dedicated team of individuals has been working to restore the College Avenue Frog to its former glory.
Toad-ally transformed, the Frog - from its pad on the University of Regina's College Avenue Campus Green - is ready to share some little known details about its rebel begins and colourful life.
My grandfather used to take me to the Frog when I was little. He passed away close to 20 years ago. I remember getting so excited for grandpa to take me to the Frog and then when he passed, I went with my sister - whom he had never met - and visited and snapped a photo with the Frog. I love this little guy! - Kaylee Delorme, U of R Facebook
"The College Avenue Campus Frog is more than a work of art – it is a cultural icon in Regina. It has served as a generational touchstone for so many in our city – bringing back memories of time spent on campus, and in the park with friends and family," said Dr. Jeff Keshen, President and Vice-Chancellor of the U of R, at the August 9, 2023 unveiling event. "As an artwork, it has achieved what every artist hopes for – to create meaningful connections with the people who encounter it. The Frog certainly has done that for more than five decades, and thanks to this refurbishment, will continue to do so for decades to come."
Intrigued? Here are five things you didn't know you needed to know about the College Avenue Campus Frog
1. The Frog was created as a collaborative class project
The Frog was created in 1971 by beloved Saskatchewan artist Joe Fafard (1942 – 2019) in collaboration with his art class [Margaret Anderson, Louise Blashill, Anna DeCelles, Cathy Ellis, Borghild Keith, Joan Kot, Wendee Kubik, June Mayhew, Ann Noble (McKay), and Margaret Patterson] in 1971. Representing her classmates some 50 years later, Wendee Kubik BA'75 BAHons'92 MA'97 PhD'04, was part of the crowd on hand at the August 9 event to herald the latest incarnation of the Frog and was clearly delighted with the result.
Fafard's class voted on the design, constructed the body, and produced ceramic tiles to create Frog's mosaic exterior. In its early days, Frog was joined by a reclining cow, sasquatch, green woolly mammoth and a bust of local lawyer and art collector, Norman MacKenzie.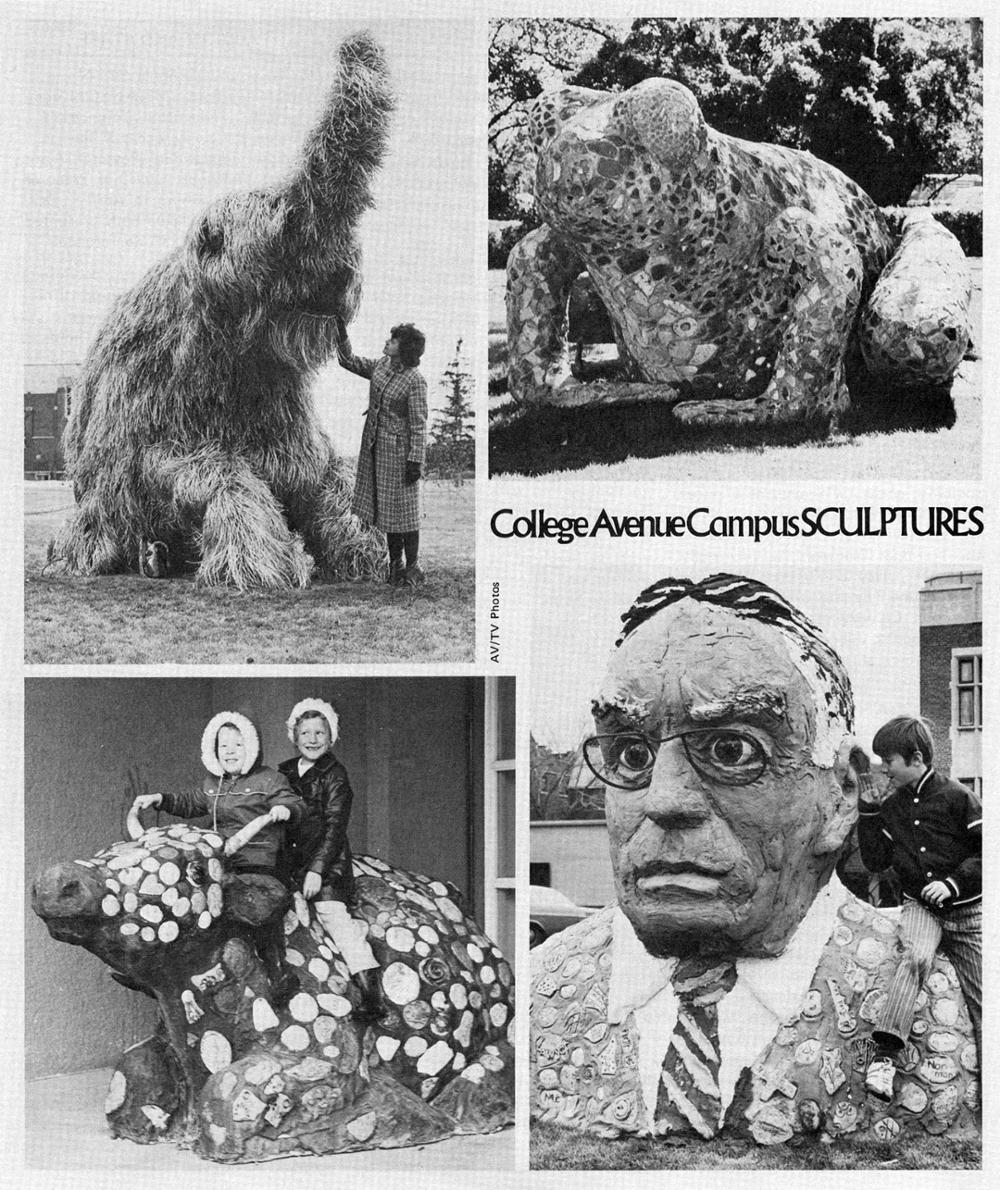 2. The Frog was a cheeky homage to another art instructor
David Gilhooly (1943 – 2013), originally from California, was an influential Funk artist and teacher admired by students, as well as fellow artists and art instructors during the 1960s. He was recognized primarily for his ceramic sculpture of food, plants, and frogs. His Frog World series explored cultural figures, ancient civilizations, and even food through a surreal, satirical world of his creation.
When Joe Fafard, a colleague of Gilhooly's, was assigned to instruct an Art 100 class in the 1971 winter term, Fafard and his students decided to honour Gilhooly by constructing a frog to commemorate his time in Regina. The result – a delightful and quirky creation – has charmed generations of Regina's children.
3. The Frog survived a kidnapping attempt
The Frog wasn't even in place for a full year before University of Saskatchewan Engineering students attempted to kidnap the Frog one weekend, with a plan to take it back to Saskatoon.
The group was unsuccessful, and the attempt was humourously condemned by Joe Fafard and John Nugent, the Art Department Director at the time, in this October 1971 article in The Carillon.
4. The Frog is one of the most popular and beloved sculptures in Regina
Many people have fond memories of the Frog, especially from their childhood.
"My grandfather used to take me to the Frog when I was little. He passed away close to 20 years ago. I remember getting so excited for grandpa to take me to the Frog and then when he passed, I went with my sister – whom he had never met – and visited and snapped a photo with the Frog. I love this little guy!" shared Kaylee Delorme in a comment on Facebook.
5. The restoration of the Frog was a team effort
A generous donation from long-time Fafard friends and supporters, Gordon and Leslie Diamond made the rehabilitation possible. Once ECO Levelling Ltd. provided the concrete foundation that the sculpture rests on, work on the Frog itself got underway.
Read more about the history of the Frog in the Campus Art Guide.
Phillip Tremblay led a team of talented artists (including Frans Lotz and Jay Kimball) through the meticulous restoration. Ruth Chambers and Darcy Zink from the U of R Faculty of Media, Art, and Performance also provided input and expertise. In addition, Joe Fafard's wife, Alyce Hamon provided much-valued guidance, encouragement, and support throughout the entire restoration process.
At the unveiling event, Alex King, Curator/Preparator of the President's Art Collection, reminisced on her first time seeing the Frog, and meeting with Fafard.
"He told me very candidly, over coffee, and with very clear memory, his memories of the 1960s and 1970s," said King. "This spirit of counterculture was in the air, a spirit of rebellion, and that was very much part of the Frog's origin story."
Banner image credit: U of R Photography
About the University of Regina
Set in the heart of the Canadian prairies we are a comprehensive, mid-sized university where the opportunities are as limitless as the horizon. Our campuses are on Treaty 4 and 6 - the territories of the nêhiyawak, Anihšināpēk, Dakota, Lakota, and Nakoda peoples, and the homeland of the Michif/Métis nation. It is our responsibility to strengthen relationships with Indigenous communities to build a more inclusive future for all. Our three federated colleges, 10 faculties, 25 academic departments, and 18 research centres foster innovative research with practical and theoretical applications. We are committed to cultivating the potential of our 16,000 students and supporting their health and well-being. We take learning beyond the classroom through work and volunteer experiences to develop career-ready graduates.
Let's go far, together.
Related Posts
Community,
Alumni,
Campus Life
Alumni,
Teaching & Learning,
Community
Alumni,
Community,
Teaching & Learning
Teaching & Learning,
Alumni,
Community