In June of 2021, the Government of Canada enacted legislation proclaiming September 30 a federal statutory holiday - the National Day for Truth and Reconciliation (NDTR).
This declaration addressed Call to Action 80 of the Truth and Reconciliation Commission (TRC): "to establish, as a statutory holiday, a National Day for Truth and Reconciliation to honour survivors, their families, and communities, and ensure that public commemoration of the history and legacy of residential schools remains a vital component of the reconciliation process."
 The University of Regina's 2020-2025 Strategic Plan – All Our Relations kahkiyaw kiwâhkômâkaninawak recognizes our commitment to reconciliation through teaching, research, learning and service efforts across our campuses and throughout the province. This includes taking significant action on the TRCs Calls to Action relevant to post-secondary education.
 The University also observes this day as a specific time set aside each year to honour First Nations, Inuit, and Métis Survivors and their families and communities and commemorate their history and legacy of residential schools. As September 30 falls on a Saturday this year, NDTR is being observed on Friday, September 29, and no University classes will be held and most offices will be closed that day.
Wearing orange and so much more
Discover a few of the many opportunities and events members of the University can participate in leading up to and on September 30: 
Participate in the National Centre for Truth and Reconciliation's adult lunch and learn sessions being held September 25 -29. These virtual sessions will feature a range of speakers and will provide audience members with the opportunity to ask questions and engage in further conversations. More information and free tickets are available on eventbright.  
Attend the Zoom lecture entitled "Indigenous Identity and Colonization: Who Counts, Who Decides, and Why" by Dr. Joyce Green, Professor Emerita of Political Science from the University of Regina, on September 25, 1:30-2:30 p.m. Dr. Green is nationally recognized as a key leader in Indigenous feminist research. This talk is part of a symposium on "Expressions of Métis Spirituality and Religion Across the Homeland." Please click here to join the webinar: Password: 791208.  
Attend the Regina Public Library TRC presentation by Cadmus Delorme, Chair of the University of Regina Board of Governors and former Chief of Cowessess First Nation. Mr. Delorme was Chief of Cowessess when an estimated 751 unmarked graves where located near the former Marieval Indian Residential School. 
Details:
Cadmus Delorme: National Day for Truth and Reconciliation
In-person
Thursday, September 28, 2023
1:00 p.m.
Central Library
2311 12th Avenue
The event can be watched live online here (registration required). More information on this and other TRC Day events being held by the Regina Public Library can be found here.  
Attend the free Lifelong Learning Lecture TNF-Perspectives on Reconciliation and Life from a Nêhiyaw-iskwêw (Cree Woman) at 1:30 p.m. on September 28. This lecture is presented by Jamie Lerat who been working towards truth and reconciliation long before the terms were widely known, and has been a trailblazer for sharing and bringing Indigenous knowledge into her professional workplaces including the Saskatchewan School Boards Association, Ministry of Education and Ranch Ehrlo Society. More information and registration is available here.  
Participate in the First Nations University of Canada Community Smudge Walk and Lunch on September 28. The day will include a traditional pipe ceremony at 8:30 a.m., the Smudge Walk around FNUniv and the U of R campus from 9:30 to 11 a.m., drumming, singing, and presentations at 11 a.m., and the free community lunch at Noon. 
Attend the National Day for Truth and Reconciliation event hosted by Lieutenant Governor Russ Mirasty from 10 a.m. - noon on September 30 at Government House. Lieutenant Governor Mirasty will provide welcoming remarks, Elder John Stonechild will deliver a blessing followed by a performance of hip hop music and storytelling by Brad Bellegarde. 
September 30 is also designated Orange Shirt Day to raise awareness of the individual, family, and community inter-generational impacts of residential schools, and recognize "Every Child Matters". This year the University of Regina Bookstore is selling orange shirts designed by artist Peggy Pitawanakwat, a former chief of the Wiikwemkoong Unceded Territory on Manitoulin Island. All profits from the sale of these shirts will be donated to two deserving organizations: half will go to the Orange Shirt Society and the other half will go to the Education Program of the First Nation of Wiikwemkoong Unceded Territory.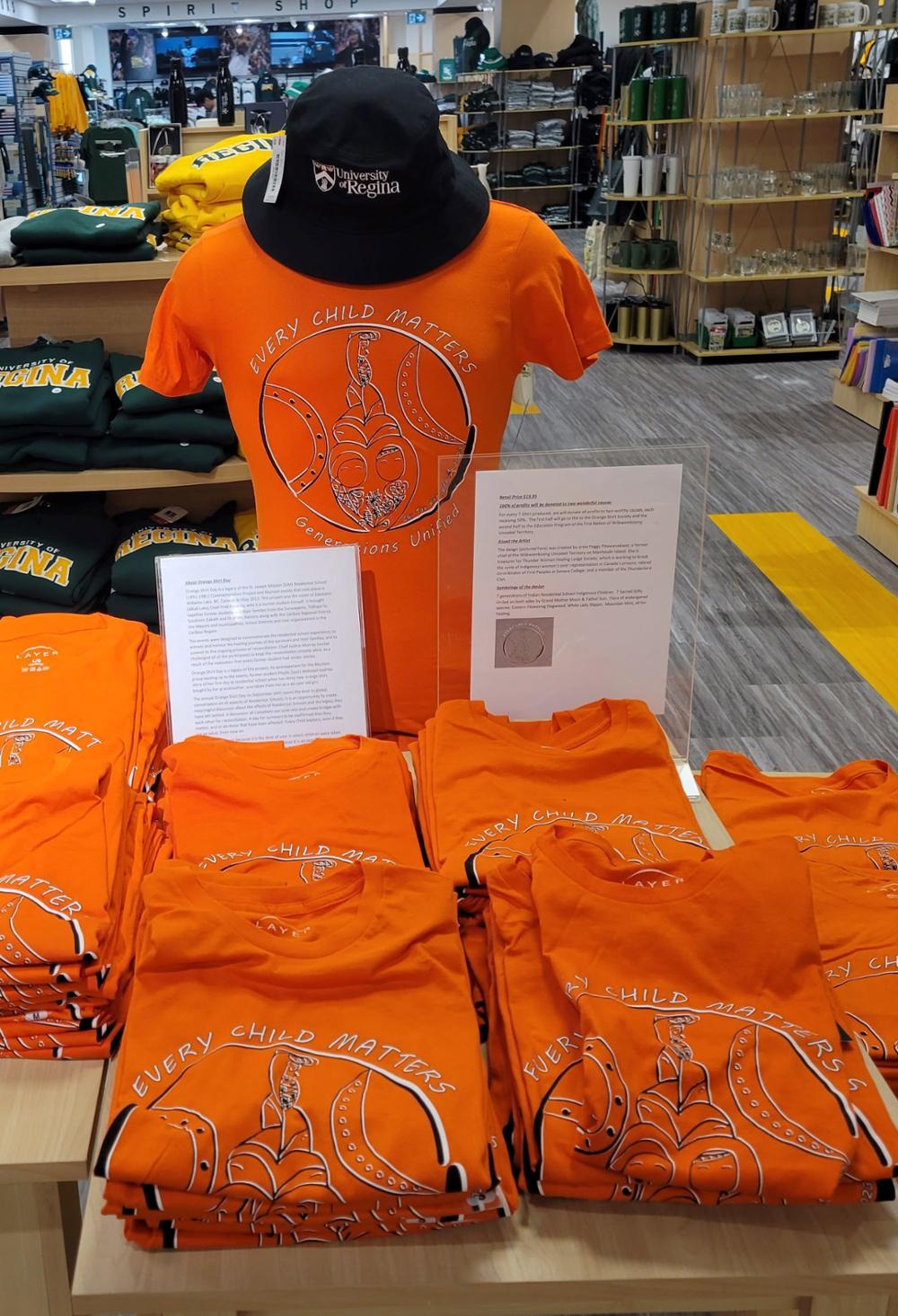 The Equity Diversity Inclusion Network is hosting an Orange Shirt Day Walk and BBQ on September 30 at the mâmawêyatitân centre. Presented by Reconciliation Regina, the event begins with a pipe ceremony at 8:30 a.m., a short program with feature speaker Kerry Benjoe, Indian residential school Survivor and editor of Eagle Feather News, occurs at 10 a.m., with the walk starting at 11 a.m. and free BBQ at noon. 
The Culture Days website lists other events, learning opportunities and resources from across the province and country recognizing the National Day for Truth and Reconciliation.
Banner image photo credit University Advancement & Communications.
About the University of Regina
Set in the heart of the Canadian prairies we are a comprehensive, mid-sized university where the opportunities are as limitless as the horizon. Our campuses are on Treaty 4 and 6 - the territories of the nêhiyawak, Anihšināpēk, Dakota, Lakota, and Nakoda peoples, and the homeland of the Michif/Métis nation. It is our responsibility to strengthen relationships with Indigenous communities to build a more inclusive future for all. Our three federated colleges, 10 faculties, 25 academic departments, and 18 research centres foster innovative research with practical and theoretical applications. We are committed to cultivating the potential of our 16,000 students and supporting their health and well-being. We take learning beyond the classroom through work and volunteer experiences to develop career-ready graduates.
Let's go far, together.
Related Posts
Teaching & Learning,
Truth & Reconciliation
Teaching & Learning,
Truth & Reconciliation,
Campus Life