Why do we have pronouns? How do different cultures approach the topics of sex and gender? What does science say? Dr. Shannon Dea is the Dean of Arts and Professor of Philosophy at the U of R, and the author of Beyond the Binary: Thinking about Sex and Gender. Her book aims to answer these questions and others with a multi-disciplinary approach from history, gender studies, philosophy, literature, religion, and science. 
The revised and expanded second edition of Dea's book was released in the fall of 2023. She invites students and readers from all walks of life to learn more about gender, sex, and pronouns from sources other than social media or the news.  Drawing upon source texts that range from 950 BCE to the present day, Dea hopes the conversational style, as well as the 10-page glossary of terms and suggested supplemental resources help cultivate care and respect, as well as humour. 
We caught up with Dea to find out more about how this part textbook/part toolkit came to be and why the information it shares matters to students and our communities now more than ever. 
What inspired you to write this book in the first place? 
The book grew out of my enthusiasm for the fascinating materials my students and I were working on together. Back in 2007, I was assigned to teach a class on gender studies at the University of Waterloo and I couldn't find a textbook that covered topics relating to categories of sex, gender, male, female, and so on.  So, I pulled my own course pack together and brought in diverse materials from across the disciplines. My goal was to help students think about the many ways that human beings have sought to understand sex and gender. We kept finding and sharing interesting and cool information from literature, religion, philosophy, and biology. 
Over the years, I fell in love with all of these readings and wanted to share with people outside of my classroom. I really wanted to connect it all together to offer a well-rounded examination of sex and gender. The result was the first edition of the book which came out in 2016. 
What are examples of the "cool" information you uncovered during your research? 
The book encompasses source materials from 950 BCE up to the present. So much has changed in our thinking about sex and gender over the centuries!
For example, Aristotle pondered the question of how the sexes came to be some 2,500 years ago when science was very young – when there was no understanding of DNA or even of the male and female reproductive systems. They also lacked modern scientific instruments, like thermometers and microscopes. Aristotle came up with a theory that females and males produced the same kind of reproductive fluid and that the combination produced offspring. He thought that the temperature of the parent affected the effectiveness of the reproductive fluid, which was key to determining which parent – mom or dad – the child took after in terms of appearance.
We've engaged in deep thinking and inquiry about sex and gender across the disciplines for centuries - from the Bible and Darwin, to Shakespeare and Hip Hop. — Dr. Shannon Dea, Dean of Arts
For many centuries afterwards, Aristotle's view continued to influence scientific thought, leading to some very strange 16th to 18th century medical and anatomical theories that I discuss in the book. Looking back can underscore the importance of context when discussing concepts like sex and gender that might seem to call for a straightforward approach, but have, in fact, been in flux for centuries. 
Why did you write a second edition? 
I needed to update some of the terminology and clinical information because those things have shifted a lot since the first edition. At the same time, I wanted to do a better job of respecting the adage "nothing about us without us." When I wrote the first edition, I didn't know what I didn't know about some of the very people I was writing about. It was really important for me to centre much more on the work of trans, intersex, Indigenous, and racialized scholars when writing about those groups. I also really wanted to thread those more diverse voices through all of the chapters rather than just confining them to "their" chapters.
Honestly, this is a book that I'll need to keep updating, both to reflect state-of-the-art terminology and scholarship, and to reflect and respond to changing attitudes about sex and gender. I'm already thinking about the third edition. 
How have pronouns, language, and terminology changed in the last seven years? 
The language around sex and gender is quickly evolving and has changed a lot since the first edition. It's easy to understand why it can be confusing and frustrating for people.  I have overheard people referring to 2SLGBTQ+ (Two Spirit, Lesbian, Gay, Bisexual, Trans, Queer, and more) people as "alphabet people." I find that unnecessarily cruel, but I do get that it's hard to keep up when the terms and acronyms evolve so quickly. 
In the past century, the dominant terminology relating to trans people has changed from "transsexual" to "transgender" to "trans" to "trans*" and back to "trans". The trans community isn't monolithic, so there isn't even perfect agreement in that community regarding which terms to use. Chapter 8 focuses on trans terminology. I also include definitions for "trans", "transfeminism", "transsexual", and "transvestism" in the glossary. 
Meanwhile, some words that some trans people used previously for themselves are now considered hurtful slurs. Trans scholar and activist Julia Serano calls this the "activist language merry-go-round." She points out that members of groups that regularly experience hatred and discrimination are especially attuned to the ways in which words can promote stereotypes and be hurtful. So their terminology can change more quickly than terminology used for dominant groups. You can also see that in the evolution of language relating to race. 
Over and above terminology and acronyms, there has been a lot of controversy about pronouns, and about using the pronoun "they" to refer to a single person without using a gendered pronoun like "he" or "she". We use pronouns all the time and the singular "they" is centuries old. Without thinking about it, we say, "Oh no! Someone forgot their wallet here. I hope they come back for it," and not think twice about the neutral pronouns used in the sentence – "someone", "their", and "they". 
Saskatchewan Connections
What are the connections to Saskatchewan in the new edition? 
As part of including writing by Two Spirit scholars in the book, I was really excited to be able to discuss a recent publication by Associate Vice-President Indigenous Engagement, Lori Campbell, in which she describes what being Two Spirit means to her. Lori says that, for her, being Two Spirit means refusing whiteness and colonialism as the default. That's a really important perspective that needed to come from a Two Spirit Indigenous scholar.
As well, as I was finishing the new edition, I was really lucky to meet Two Spirit researcher, Tiberius Fayant-McLeod, at the What Are Universities For? conference hosted at the U of R in the spring of 2023. Tiberius told me about So They Know We're Here, the groundbreaking 2022 Trans Sask Community Report on which they were the lead researcher. The report, which surveys hundreds of Two Spirit, trans, non-binary, and gender non-conforming people, is the first of its kind in the province. I was so pleased to learn about the report in time to include it in the book.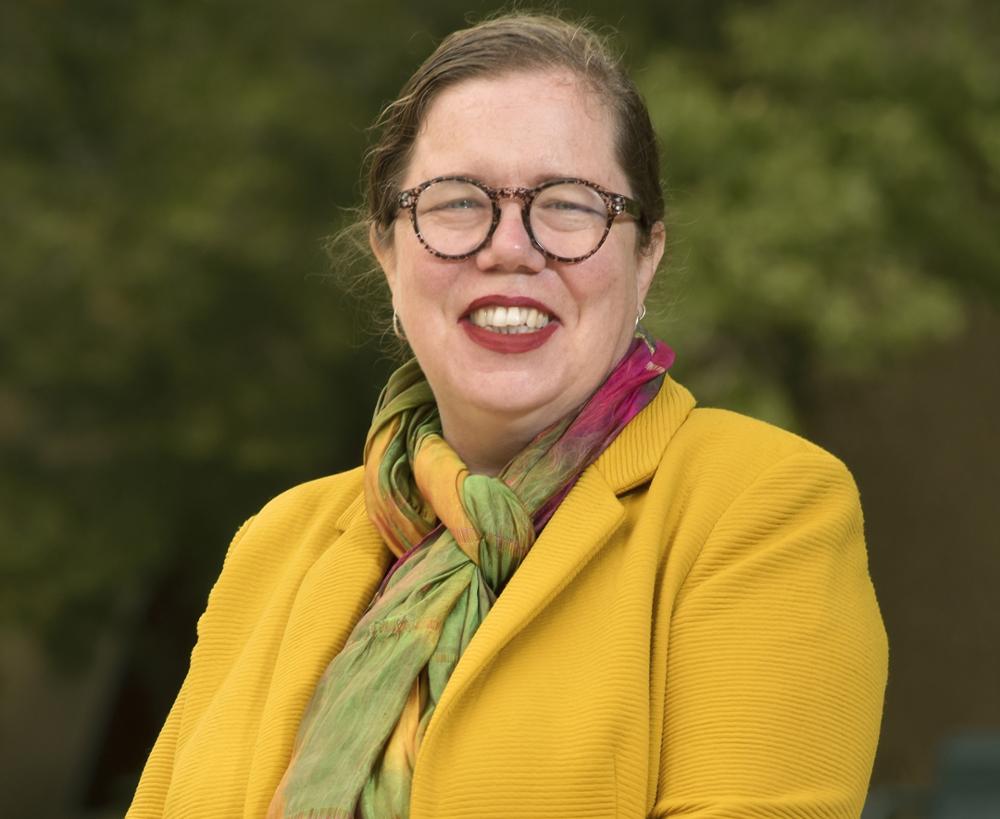 Who can gain something from reading this book? 
The first edition was more geared towards being a textbook, but I kept hearing from people who bought it for family members who found it helpful. For example, one friend gave it to a grandparent because a grandchild in the family had recently come out as trans and the grandparent was struggling to understand what that meant. 
With the second edition, I tweaked things to make it clear that this is a book for anybody, that it's more than a textbook. It offers information that's not readily accessible in daily life for lots of people and helps readers to explore and uncover what can be unfamiliar or uncomfortable topics with perspectives from science, philosophy, literature, religion, popular culture, and more. There is something in this book for you whether you are into sports, cars, marine biology or history. 
Each chapter raises questions for reflection and discussion, as well as suggests additional readings and resources for digging deeper. The glossary at the end of the book is 10 pages long and has up-to-date terminology. Even though I wrote the book, I find myself looking stuff up in it from time to time because it just is really handy and practical. 
What advice do you have for readers? 
The book invites readers to think critically and not look for any one right answer. I hope what people take away is that these questions and debates are not something that gender studies scholars invented in 2010. We've engaged in deep thinking and inquiry about sex and gender across the disciplines for centuries - from the Bible and Darwin, to Shakespeare and Hip Hop. 
Sex and gender are close to peoples' core values and sense of self. I think that's why it can be really challenging for people to think differently about sex and gender. And people are almost always afraid of change and difference. But among the younger generations, I think we are seeing more people viewing difference as beautiful, exciting, and positive. My best advice is to be careful, kind, and open to learning more. 
What feedback have you heard? 
The book is used in courses at more than 20 universities in Canada, the US, and the UK. Colleagues who teach from (or use the book in their teaching) the book or who discuss it in reading groups tell me that it always gets people laughing, which is important. 
They say it helps lighten a heavy subject and that students laugh out loud. Students, especially 2SLGBTQ+ students, have shared with their teachers that they can see themselves reflected in the book with respect and care. 
U of R offers courses on sex and gender, the environment, climate, and so much more. Take a Find Your Direction Quiz or talk with an Enrolment Counsellor today.
Professor Dea is planning a free community lecture covering a variety of the information, terminology, and resources from her book. Check the
Calendar of Events
in early 2024 for information about the event slated to take place at the College Avenue Campus.
About the University of Regina
Set in the heart of the Canadian prairies we are a comprehensive, mid-sized university where the opportunities are as limitless as the horizon. Our campuses are on Treaty 4 and 6 - the territories of the nêhiyawak, Anihšināpēk, Dakota, Lakota, and Nakoda peoples, and the homeland of the Michif/Métis nation. It is our responsibility to strengthen relationships with Indigenous communities to build a more inclusive future for all. Our three federated colleges, 10 faculties, 25 academic departments, and 18 research centres foster innovative research with practical and theoretical applications. We are committed to cultivating the potential of our 16,000 students and supporting their health and well-being. We take learning beyond the classroom through work and volunteer experiences to develop career-ready graduates.
Let's go far, together.
Did You Know?
The terms BIPOC and Two Spirit originated in Canada.