Some problems are just plain wicked. They are complex, interconnected social or cultural issues that are extremely difficult and seemingly impossible to resolve. 
Take, for example, the concerns people living with mental health issues can face – low income, potential addiction, lack of adequate employment, no access to healthy food, and homelessness. 
Trying to get to the root of societal problems is a challenge for even the most seasoned social scientists, but for 31 U of R students at last weekend's 24-hour Innovation Challenge it meant realizing early on that working to solve one problem may provide a clue to solving many others. 
"If you are able to solve part of a wicked problem, eventually you'll be able to start to solve the others, because they're all linked together. I would participate again for sure as often as the opportunity comes," said Deborah Afolabi, first-year Science student. 
The Innovation Challenge, hosted by the Hill and Levene Schools of Business at the U of R, was a new experience for several of the student-participants who started the Challenge as strangers and ended as close collaborators working to innovate real-world solutions to wicked problems. 
"It was my first time doing this kind of thing, but I learned a lot about how to work with people, how to put your ideas together and try to find a solution that will actually help and is feasible. I got to meet new people and make new friends," shared Benita Bosco-Abiahu, first-year Engineering student. 
Innovation Challenge kicked off with words from Victor Roman Morrow, Manager of Community Impact at the South Saskatchewan Community Foundation. Next up, students were inspired to hear from a panel of community leaders - Valerie Sluth, Praxis Consulting Ltd.; Andrew Stevens, Ward 3 Councillor and Associate Professor, Faculty of Business; and, Melissa Coomber-Bendtsen BEd'02, CEO, YWCA Regina. 
"I was expecting that it would be really clear what to do as soon as we got the challenge, but I was feeling really overwhelmed," said Veronica Exner, a fourth-year English student. "But working together with the team and the mentors helped get us focused, and I learned that every problem has a solution. Working together we were able to find some sort of a solution to at least part of the problem and that makes me really excited." 
Each team chose a part of the wicked problem to tackle during the 24-hour Challenge, after which they had exactly five heart-racing minutes to present and explain why their solution was the most effective and viable. 
The six creative solutions brought forward by the teams were wide-ranging, including:
Team 1 - Mind Ride - a mobile mental health therapy van;
Team 2 - Preserve UR Food - a food preservation and education service;
Team 3 - Quick 'n' Easy - a low-cost healthy meal service that would deliver nutritious meals to low-income homes based on a selection of options via an app;
Team 4 - Our Sitka - a central hub for addressing the housing crisis by providing housing services, skills training, daycare, and more;
Team 5 - The Hope Initiative - a mobile app that would create community support and educational services for those with Opioid addictions; and,
Team 6 - SharePlate - a mobile app to connect communities in need with individuals who have an excess amount of food they are willing to share. 
And the winner is…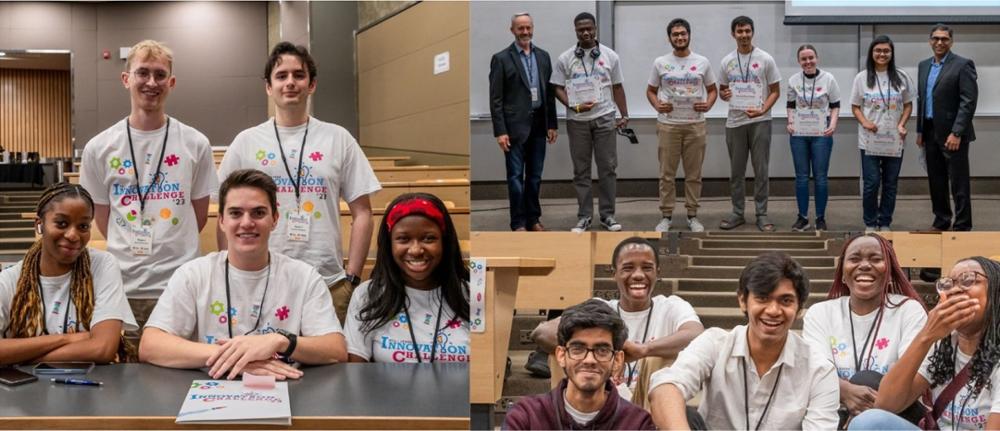 First place and a scholarship prize of $3,000 went to Team #3 for their solution Quick'n'Easy. Team #1 who developed Mind Ride won second place and a prize of $1,500. Third place and a prize of $1,000 went to Team #6 for their solution SharePlate.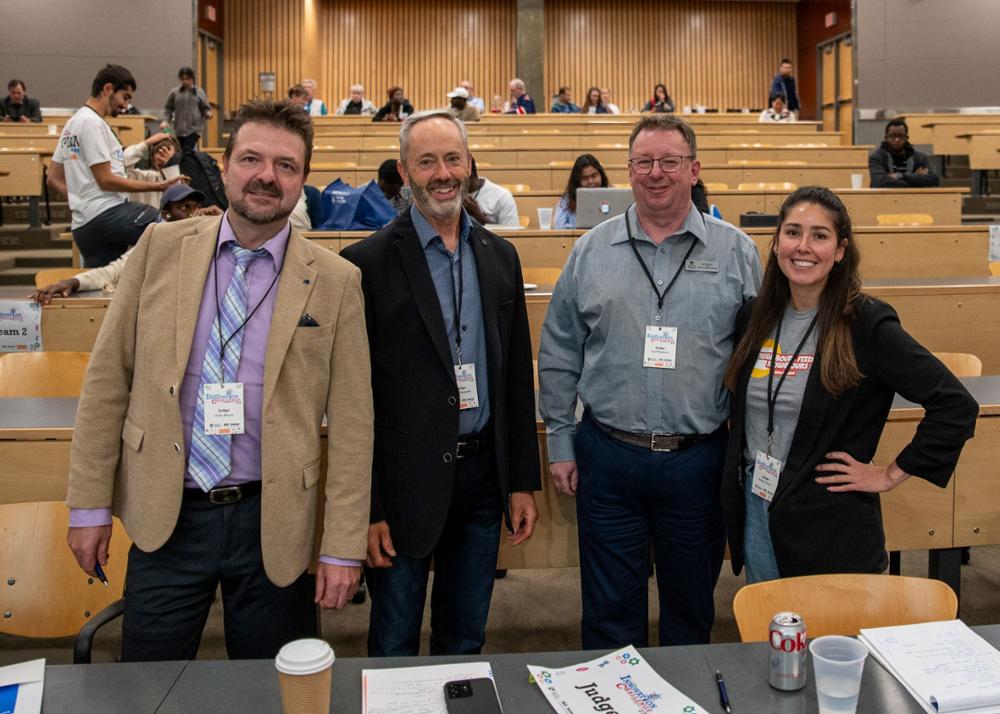 Dr. Peter Moroz, a professor from the Faculty of Business and Innovation Challenge judge, stressed the difficulty that social entrepreneurs face as they try to create a solution that will be effective in meeting the needs of those accessing the services and being viable.
Bonus! 
Opportunities for participation in group challenges are most common in areas such as business and engineering. By opening up this event to students from all disciplines and all levels of study at the U of R, student-participants not only got to know other students they wouldn't have otherwise, but also found themselves surrounded by a broad range of academic expertise and perspectives, as each student contributed towards solving the wicked problem. 
"I don't think that I would ever have met them as classmates," said Chukwuebuka Igbo, a second-year Science student, gesturing to the members of his team. "I'm in bio chemistry, she's in English, and he's in computer science. It was just so diverse. And now it feels like we've known each other for a long time because the atmosphere in the room, the understanding that developed between each other, and the fact that we were able to carry each other along was really special."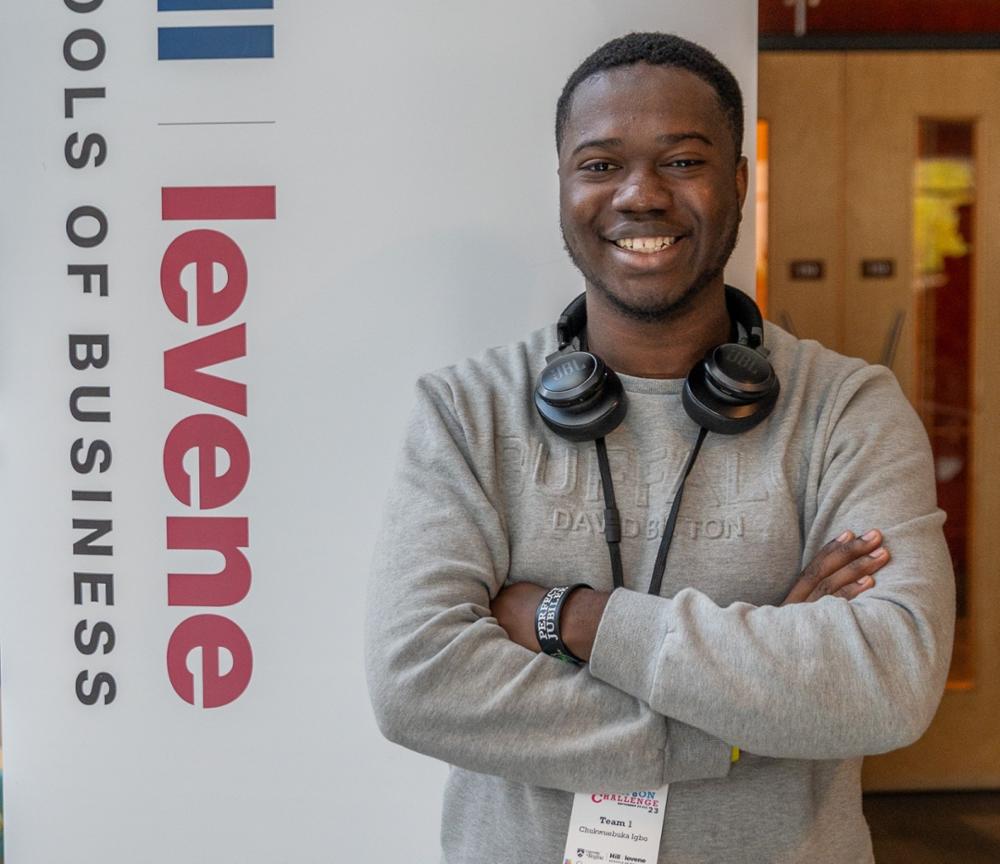 The energy generated by the six teams was incredible – even as time stretched towards the 24-hour mark. Clearly U of R students are uniquely prepared to tackle the wicked problems facing our world today and tomorrow. 
Find out more about the U of R's Faculty of Business Administration and the Hill and Levene Schools of Business.
"I am very proud that the Hill and Levene Schools of Business at the University of Regina are able to offer programming where students from across our faculties can come together and work to tackle these big issues," said Dr. Saqib Khan, Interim Dean, Hill-Levene Schools of Business. "From what I saw at the competition, I am very optimistic that our future is in good hands."
Banner photo credit: Peter Scoular Photography
About the University of Regina
Set in the heart of the Canadian prairies we are a comprehensive, mid-sized university where the opportunities are as limitless as the horizon. Our campuses are on Treaty 4 and 6 - the territories of the nêhiyawak, Anihšināpēk, Dakota, Lakota, and Nakoda peoples, and the homeland of the Michif/Métis nation. It is our responsibility to strengthen relationships with Indigenous communities to build a more inclusive future for all. Our three federated colleges, 10 faculties, 25 academic departments, and 18 research centres foster innovative research with practical and theoretical applications. We are committed to cultivating the potential of our 16,000 students and supporting their health and well-being. We take learning beyond the classroom through work and volunteer experiences to develop career-ready graduates.
Let's go far, together.
Related Posts
Community,
Teaching & Learning,
Campus Life
Teaching & Learning,
Truth & Reconciliation,
Campus Life
Campus Life,
Community,
Alumni,
Teaching & Learning
Teaching & Learning,
Campus Life,
Community