Earn while you learn
Co-operative Education and Internships
Co-operative Education (Co-op) alternates practical, career-related, paid work terms with semesters in class, giving you 12-16 months of supervised work experience by the time you graduate. If you successfully complete the required number of work terms, you will receive the Co-op Designation on your degree. You will have attained the kind of valuable experience that will get you hired!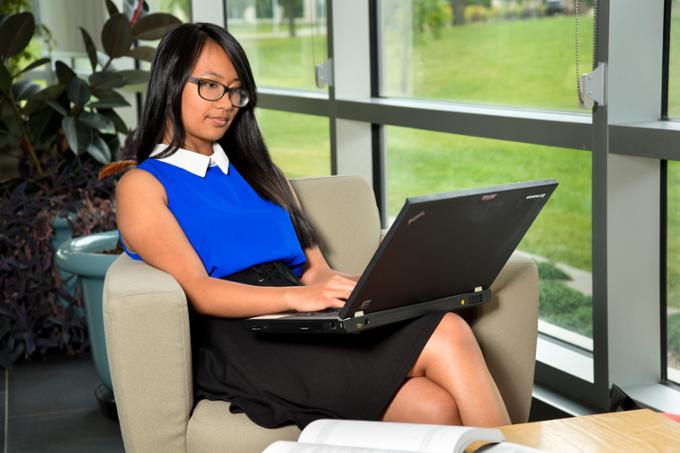 Why should you consider Co-op/Internships? In a word: experience. You will kick-start your career. Earn while you learn-typical salaries range from $12,000-$14,000 per semester - as you sample different career choices, work environments, and locations. You will notice that your grades will go up too, because you are integrating classroom theory with practical experience on the job.
Are you thinking that working during summer is the same as working as a Co-op student? Wrong! Co-op students receive better pay and get jobs that require more responsibility. If you want to get the best work experience possible while in undergraduate study, you need to be a part of Co-op education!
We are accredited by Co-operative Education and Work-integrated Learning (CEWIL) Canada, so we meet the standards for commitment and quality set by our national governing body.
Internships
Internships are very similar to the Co-op work terms, but have a few small differences:
While Co-op allows you to work for a semester at one employer, then go back to class, then work again for another employer, etc., an internship only allows you one placement for either twelve or sixteen months with only one employer. You are able to work for a longer period of time to fully recognize the nature of the job in various seasons, allow for completion of projects, etc. 
Senior students, or students who have completed their third year of their program, are eligible for an internship.
Engineering Internship
Engineering Internships are available for either 16 months (starting in May) or 12 Months (starting in September) to gain longer, more in-depth experience with a single employer. Internship applications are accepted in November each year for both lengths, and are advertised through the Faculty directly.
Actuarial Science Internship
Senior Level (3rd year) Actuarial Science students are encourage to participate in the 16 month Actuarial Science internship and gain work experience in Casual, Life, and Consulting firms before completing their undergraduate degrees. Information sessions are offered mid-late Fall prior to the Winter semester for interested students, and work terms start in May of each year.  This is a valuable opportunity to gain vital work experience and earns students four credit hours towards their program.
Contact Us
Co-operative Education & Internships
Advising & Career Education
Riddell Centre, Room 163
3737 Wascana Parkway,
Regina, SK   S4S 0A2
306-585-4600
Coop.office@uregina.ca
Frequently Asked Questions
How do I get into the Co-operative Education and Internship Program?
Eligibility requirements for Co-operative Education and Internship placements vary by faculty. In addition to completing and submitting the Co-operative Education and Internship Program application, eligibility requirements typically include:
A minimum grade point average for your specific academic program
A minimum and maximum number of credits earned
I am an International Student. Do I need a work permit?
Yes, International students need a valid co-op work permit before applying to the Co-operative Education and Internship Program.
Due to lengthy processing times with Immigration, Refugees, and Citizenship Canada (IRCC), International students must have applied for a permit at least six months prior to applying for Co-op. NO EXCEPTIONS! (You will need to attach your work permit when you submit your application to the Co-op/Internship program)
Our Co-operative Education and Internship Program team, in connection with UR International, can help you with the permit application process, and help answer any questions you may have regarding working in Canada.
Do the different faculties handle co-op and internship placements differently?
Yes. Some faculties and departments overseeing specific degree programs outline rules and restrictions:
How much does it cost to be in the Co-operative Education and Internship Program?
Most placements are non-credit, so you will not pay any associated credit hour fees. However, co-op students and interns pay a placement fee per semester of $957.75.
Note: Some graduate-level co-op placements, such as for master's degree students, do have 6 credit hours associated with placement, so credit hour charges apply. 
What happens when I'm admitted to the Co-operative Education and Internship Program?
We send written notices to students accepted for co-op or internship work experience placements. Then, you must attend our required workshops — resumes, interviewing and the placement process. Please make sure to follow the proper schedules and deadlines for all required action on your part. After getting placed, all that is left is to go to work!
How do I get a co-op job?
Use our PlacePro website to find co-op job opportunities for which you can apply, or find jobs using your own job search.
Find the ones that feel like a good match and apply.
Co-op placement employers develop shortlists of top candidates and interview them.
If you're a good match for their needs, they may offer you the job.
The job search, application and hiring cycle happens three times every year for co-op placements and once a year for internships.
Am I guaranteed a co-op or internship job each work term?
No. However, if you take your job search seriously and invest time and energy toward your goal, you can typically find a position for each work term. How do we know that? Because most active co-op or internship students do.
Where will I work?
Because U of R's Co-operative Education and Internship Program functions nationally and even internationally, you'll have access to many work experience opportunities.
Broaden your horizons by working and living somewhere different than where you grew up. That may mean working in a large city, a rural community or maybe even overseas through study or work abroad opportunities.
While more than half of the available Co-operative Education and Internship placements are located near our main campus in Regina, Saskatchewan, in Western Canada, we encourage you to be mobile. In fact, if you are willing to relocate, your chances of securing a work term improve.
How much will I earn?
It depends. However, our Co-op and Internship students' average pay is $3,200 per month, typically totaling $12,800 for each four-month placement.
How will I be evaluated?
Co-operative Education and Internship employers evaluate the job performance of each student they hire. In addition, your faculty requires you to prepare a work term report according to their guidelines. The faculty will evaluate your report.
You must receive a passing grade from both your employer and your faculty.
Does completing the Co-op and Internship Program increase my chances of employment after graduation?
Yes.
Many co-op and internship students receive permanent job offers before they graduate — often with a previous co-op / internship employer.
Others typically find permanent employment soon after graduation.
What does the Co-op office do for me?
The goal of the Co-op and Internship Program is simple:
To help you get career-related work experience while going to school
Our office advocates for students to get chances to participate in paid experiential learning through as many avenues as possible.
We remain ready to help you before, during and after your work term experience.
The only restrictions you may face stem from rules set in place by specific faculties or degree program leadership.
$3200
Average salary per month
$13.3M
Salaries earned in 2020
90%
Placements in Saskatchewan