Learn by doing
Co-operative Education and Internships
Co-operative Education (Co-op) alternates practical, career-related, paid work terms with semesters in class, giving you 12-16 months of supervised work experience by the time you graduate. If you successfully complete the required number of work terms, you will receive the Co-op Designation on your degree. You will have attained the kind of valuable experience that will get you hired!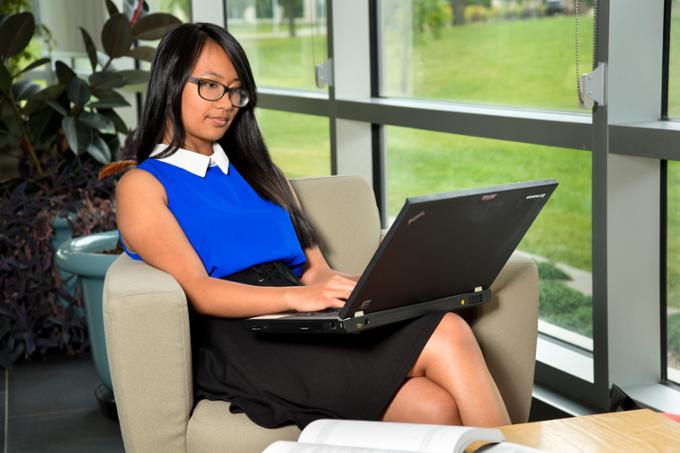 Why should you consider Co-op/Internships? In a word: experience. You will kick-start your career. Earn while you learn – typical salaries range from $12,000-$14,000 per semester – as you sample different career choices, work environments, and locations. You will notice that your grades will go up too, because you are integrating classroom theory with practical experience on the job.
Are you thinking that working during summer is the same as working as a Co-op student? Wrong! Co-op students receive better pay and get jobs that require more responsibility. If you want to get the best work experience possible while in undergraduate study, you need to be a part of Co-op education!
We are accredited by Co-operative Education and Work-integrated Learning (CEWIL) Canada, so we meet the standards for commitment and quality set by our national governing body.
Internships
Internships are very similar to the Co-op work terms, but have a few small differences:
While Co-op allows you to work for a semester at one employer, then go back to class, then work again for another employer, etc., an internship only allows you one placement for either twelve or sixteen months with only one employer. You are able to work for a longer period of time to fully recognize the nature of the job in various seasons, allow for completion of projects, etc. 
Senior students, or students who have completed their third year of their program, are eligible for an internship.
Engineering Internship
Engineering Internships are available for either 16 months (starting in May) or 12 Months (starting in September) to gain longer, more in-depth experience with a single employer. Internship applications are accepted in November each year for both lengths, and are advertised through the Faculty directly.
Actuarial Science Internship
Senior Level (3rd year) Actuarial Science students are encourage to participate in the 16 month Actuarial Science internship and gain work experience in Casual, Life, and Consulting firms before completing their undergraduate degrees. Information sessions are offered mid-late Fall prior to the Winter semester for interested students, and work terms start in May of each year.  This is a valuable opportunity to gain vital work experience and earns students four credit hours towards their program.
Contact Us
Co-operative Education & Internships
Riddell Centre, Room 163
3737 Wascana Parkway,
Regina, SK   S4S 0A2
306-585-4600
Coop.office@uregina.ca
Frequently Asked Questions
$3200
Average salary per month
$13.3M
Salaries earned in 2020
90%
Placements in Saskatchewan