Alertus Stand-Alone Client for Windows 10 for students and staff non-Novell University-managed workstations.
Note: Alertus has not been tested at the UofR on any operating systems other than Windows 7/10. However, it should work on Vista as well.
1. Ensure you are logged into your workstation with an account that has administrator privileges.
2. If you haven't already done so download alertussa.exe
3. Find the alertussa.exe on your computer and double click it. If you see a "Windows protected your PC" message, please see instructions for handling this message.
4. You may receive a UAC prompt. As long as the Verified Publisher says University of Regina, then click 'Yes' to continue, otherwise click 'No' and contact the IT Support Centre for instructions.
5. This is the first screen you will see. Click Next.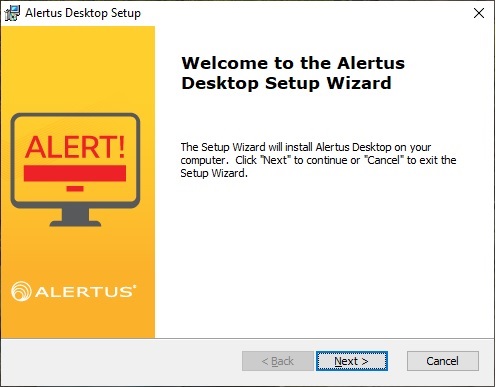 6. The second screen will appear. Ensure "I accept the terms..." is selected and click Next.
7. Screen 3. Read the information and click Next.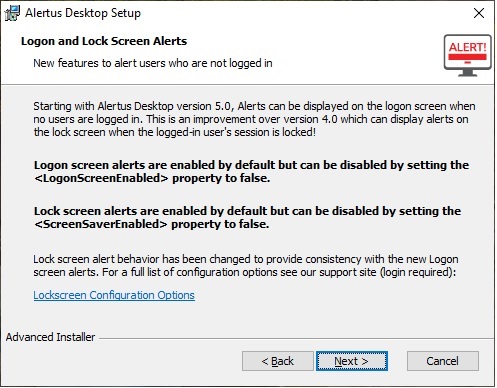 8. Screen 4. Click Next.
9. Screen 5. Click Install.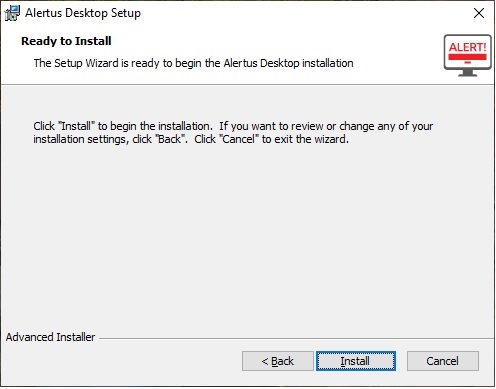 10. After a few moments screen 6 will appear. Click Finish.
11. Alertus is now running and the Alertus icon will show up in the Windows Notification area.
12. Right click the Alertus icon to see your options (s/b as shown).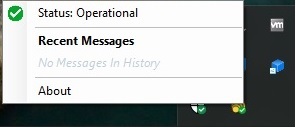 On Mac OS X version 10.7.5, 10.8 and later versions users may be warned that the Alertus installer is from an untrusted publisher. The appearance of this warning is entirely dependent on the security settings on the workstation where the Alertus software is being installed. Information Services is aware of the warning message but due to technical issues is not able to immediately resolve the issue.
If the installer was downloaded directly from the
UofR downloads
site, it is safe to install. 
For more information on why Mac users may receive this message and how to force the installation of the Alertus software, please visit the following Apple Support page at
https://support.apple.com/kb/HT5290