What do Brazil and Canada have in common when it comes to business?
Clare Acoose, a third-year First Nations University of Canada (FNUniv) Health Studies student, was one of 15 FNUniv students to take part in a 10-day study tour as part of their Business and Public Administration: Business in Brazil course. As a member of the Zagime Anishinabek (Sakimay) First Nations, Acoose was eager to understand how the Indigenous people of Brazil approach business and how Indigenous cultures can be woven into business practices.
"It was quite the learning experience," said Acoose. "It was something that I've heard elders tell me throughout my lifetime, how we are all connected to one another. So we're worlds apart, but we're all connected. More importantly the environment, the world that we live in, needs to be taken care of. Sustainability was the one word that was continuously heard throughout all the excursions I participated in.
 "If we are not able to look after one another, if we are not able to look after ourselves, the land that we live on, the world that we live in, if that goes away. What's going to happen to us if we are not able to sustain ourselves? If the Mother Earth doesn't provide for us, what happens then?"
These questions, and Indigenous ways of knowing, can form the foundation for how business is done – in Brazil and here in Canada – and can have implications on business practices on everything from hiring practices to procurement of goods.
Both countries were colonized and Indigenous peoples in both countries have resisted generations of marginalization and discrimination at the hands of the colonizers, the government, and industry.
Today, Indigenous people in Brazil and Canada are often at the forefront of the fight for sustainability, land conservation, and better education, health, and living conditions – moved in no small part by their shared sense of the interconnectedness with each other, nature, and the land itself. The above-mentioned Indigenous values and beliefs have strong implications for business – in both countries.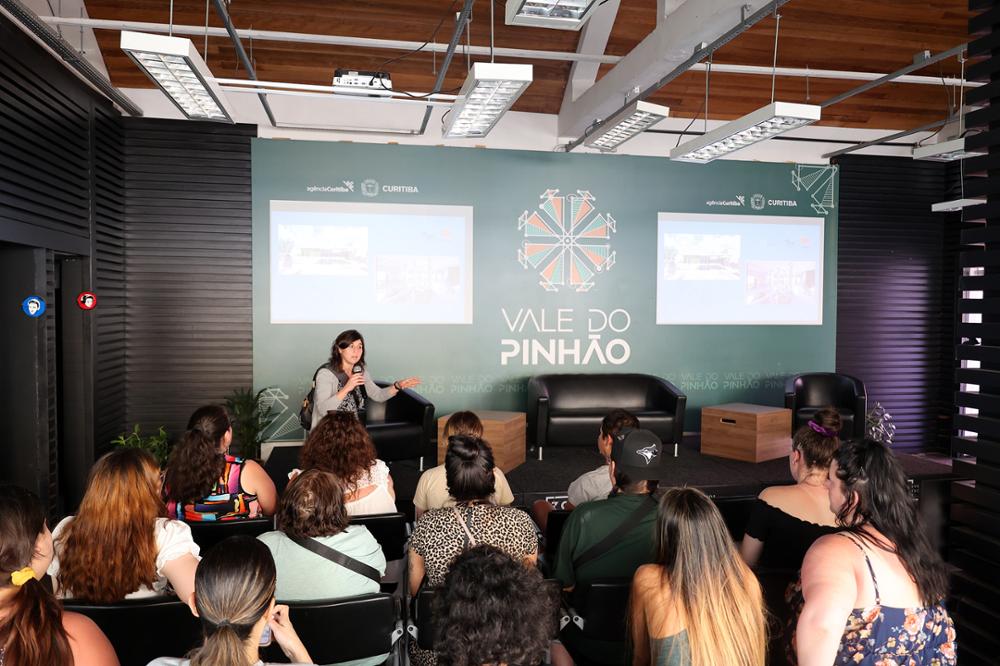 Bettina Schneider, Associate Professor of Indigenous Business and Public Administration and Associate Dean in Community Research and Graduate Programs at FNUniv, first began thinking about this course after being approached by Dr. Caroline Cordeiro, a Professor at Brazil's International University Centre (Uninter) who is currently a visiting Professor in Political Science at the U of R, and Jason Dyett, Vice-President of the Uninter Global Hub.
"Both FNUniv and Uninter wanted to explore the shared colonial experience between the two countries, and the commonalities and differences that exist, that provided students with a study-abroad opportunity," said Dr. Schneider. "Through the incredible support received from FNUniv, Uninter, UR International, the Study Abroad team, and the U of R, Faculty of Business Administration, I was able to develop the new course, which paved the way for a unique experiential learning tour in the state of Paraná, Brazil."
All 15 of the FNUniv students were successful recipients of a Government of Canada's Global Skills Opportunity (GSO) scholarship, which helped make the study tour a reality. The GSO program, operated in partnership with participating post-secondary institutions, is designed to increase the participation of young Canadians, particularly underrepresented students, in international learning opportunities.
The University of Regina and the Government of Canada have contributed a total of $1 million to the program to enable undergraduate-level students to acquire global skills abroad while completing their studies at the U of R, including our three federated colleges. The program targets groups for whom international experiences have traditionally been less accessible (including Indigenous students, students from low-income backgrounds and students with disabilities).
Fourth-year FNUniv Arts student Tyrone Perreault of Cowessess First Nation said, "The trip was amazing, I mean it was life changing, from the things we experienced, from the food, to the Indigenous cultures, even just the Brazilian culture, it was just a complete culture shock.
"I had the opportunity to gift tobacco at each of the Indigenous communities we visited, and that was very special to me because I got to share my culture with them. To share tobacco with them was me showing respect for them sharing their knowledge with us.
"This was an amazing experience that changed my entire outlook on many things."
Dr. Schneider accompanied the students and said of the inaugural study tour to Brazil, "It was an absolute success. The students, from my perspective, had an incredible experience, a powerful experience. Every day was jam-packed with different activities, and we visited and met with many different communities, organizations, and businesses, Indigenous and non-Indigenous."
Audrey Dreaver, a FNUniv faculty member in Indigenous Fine Arts and the Program Coordinator of Indigenous Communication and Fine Arts, and Taylor Chetty, FNUniv's Student Engagement Officer, also accompanied the students and contributed a great deal to the trip's success. In addition to the FNUniv team, Dr. Cordeiro, Jason Dyett, and other Uninter staff and professors accompanied the FNUniv students throughout the tour and worked hard to create a great experience for the students.
"Both the FNUniv and Uninter staff were a great team. This strong partnership between FNUniv and Uninter was a key reason why the study tour was a success," says Dr. Schneider.
During their time in Brazil, the FNUniv students were also accompanied by 15 Uninter students and several of those students will be applying to come to the U of R and FNUniv through the Emerging Leaders in the Americas Program (ELAP).
"There was a great exchange between the 15 FNUniv students and the 15 Uninter students. I think there was incredible learning from both groups and what they shared with each other. I knew that would come from the course, but it had a far greater impact than what I could have imagined," said Schneider.
"It was an incredible example of the power of cultural exchange and what can happen when you bring different people together sharing their stories, sharing their histories, sharing their values," said Dr. Schneider. "I think many good things will come of this trip.
"A number of academic projects are being discussed between FNUniv and Uninter faculty, including an interview with Chief Laercio Wera Tupã, a leader in the Araçaí village, located in Piraquara, Paraná, Brazil. The interview will be conducted by Amber Bear, an Indigenous Journalism and Business and Public Administration student at FNUniv, who attended the study tour. The interview will be shared on FNUniv's pîkiskwêwin.ca website and is linked to FNUniv's pîkiskwêwin language project.
"Chief Laercio speaks Guaraní as his first language, in addition to speaking fluent Portuguese, and spent nearly the entire study tour with the FNUniv and Uninter students. The FNUniv staff and students also hope to have a winter clothing drive for Chief Laercio's community so they can send clothing there by June."
Be sure to find out how you, too, can study abroad with URInternational.
Since returning from the study tour, Uninter is also considering the establishment of several scholarships for Indigenous students in Brazil. Dreaver is expanding FNUniv's Indigenous Art History courses to include Central and South America. Both Dreaver and Schneider hope this trip is the beginning of a greater focus on the interconnectedness of Indigenous people in North, Central, and South America in FNUniv's courses, programming, and research.
"It is something we hope will continue for years to come," Dr. Schneider said. "We look forward to one day hosting the students from Uninter and sharing more of our culture and business practices with them!"
This before and after Business in Brazil study tour video features some of the study tour participants. 
About the University of Regina
Set in the heart of the Canadian prairies we are a comprehensive, mid-sized university where the opportunities are as limitless as the horizon. Our campuses are on Treaty 4 and 6 - the territories of the nêhiyawak, Anihšināpēk, Dakota, Lakota, and Nakoda peoples, and the homeland of the Michif/Métis nation. It is our responsibility to strengthen relationships with Indigenous communities to build a more inclusive future for all. Our three federated colleges, 10 faculties, 25 academic departments, and 18 research centres foster innovative research with practical and theoretical applications. We are committed to cultivating the potential of our 16,000 students and supporting their health and well-being. We take learning beyond the classroom through work and volunteer experiences to develop career-ready graduates.
Let's go far, together.
Related Posts
Teaching & Learning,
Community,
Truth & Reconciliation