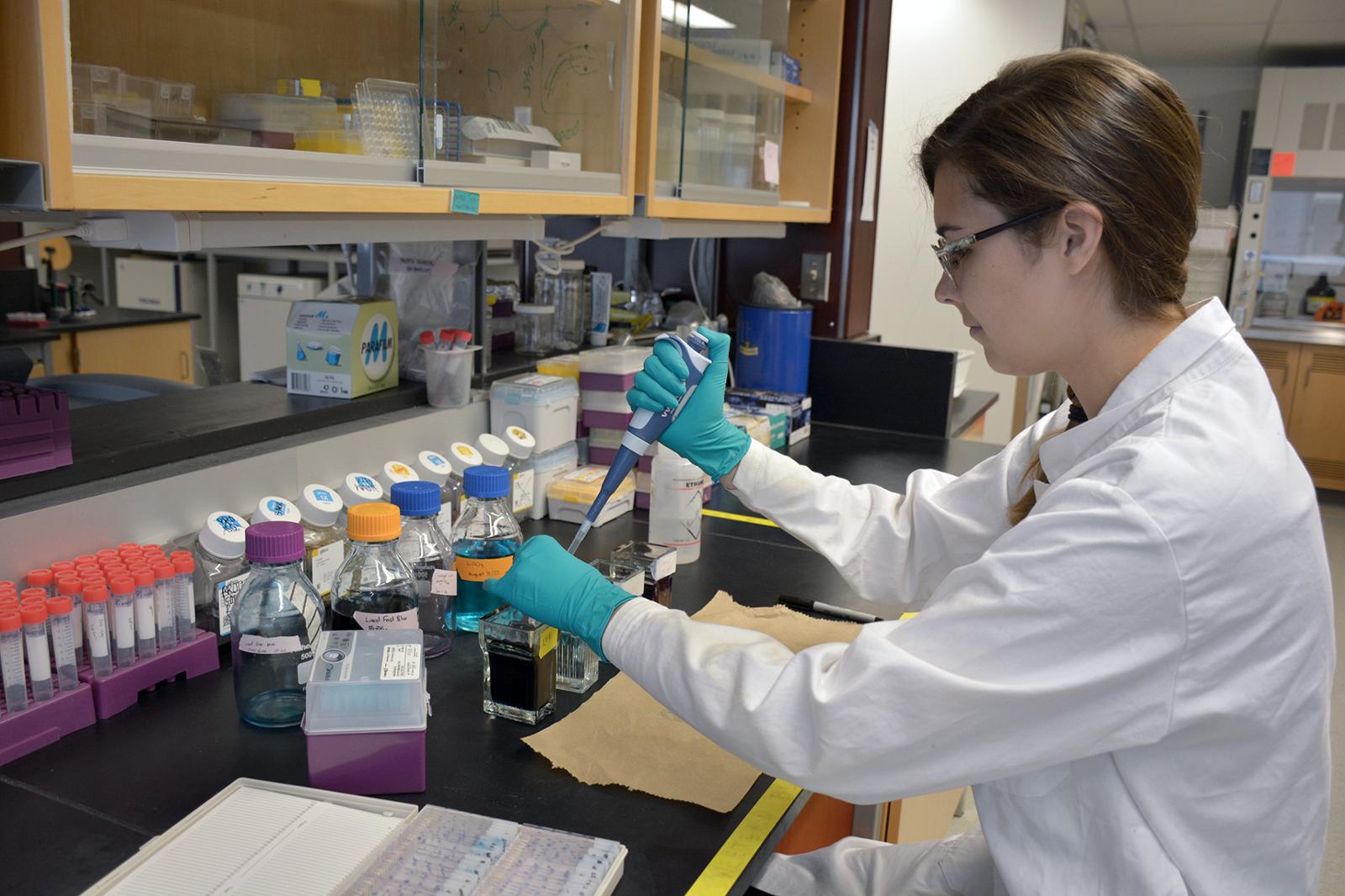 Bachelor's Degree Programs
Chemistry and Biochemistry
Chemistry and biochemistry help you discover and explore the physical world in new, deeper ways.
Chemistry touches almost every aspect of our existence. It is the foundational science for biology, medicine, and earth and environmental sciences.
Chemistry explains the physical world and its processes, and chemists study the composition, structures, properties, and reactions of substances.
Biochemistry focuses on the study of life at the molecular level. It explores the chemistry of living organisms and the molecular basis for the processes that occur in living cells.
In chemistry and biochemistry, you will learn how the arrangements of atoms in chemical structures lead to their observed properties. You will use synthetic approaches to discover new chemical compounds that can impact in industries like pharmaceutical design and catalysis. You will learn how to quantify the amounts and concentrations of chemicals in the environment in areas such as air, water, and soil quality.
You will also learn how the chemicals in biological systems interact with one another on the molecular level, and in their environment. Chemistry and biochemistry are both rooted in solid physical and mathematical foundations.
Chemistry is one of only six subjects that has been taught since the University of Regina began as Regina College in 1911.
What is Chemistry and Biochemistry?
Chemistry is concerned with the properties of, and interactions between, all physical substances. Chemists develop, test, and regulate many parts of our everyday lives, including the creation of pharmaceuticals, food, and energy. Chemists are key to environmental monitoring and remediation, helping to protect public health and safety. They can also contribute to solving the world's energy and environmental problems. Chemists want to better understand the underlying nature of the physical world.
Biochemistry is concerned with the properties of substances, but only as they relate to living organisms. Generally, biochemists are interested in the parts of chemistry that directly affect life. Biochemistry also focuses on the functions of genetic material: DNA and various types of RNA that are coded to perform any number of tasks in the cell. Biochemistry is both a life science and a chemical science.
Some courses in chemistry and biochemistry at the U of R include:
Physical Chemistry I
Physical Chemistry I explores equilibrium and chemical thermodynamics, and includes a lab component with experiments in equilibria and thermodynamics.
Quantum Chemistry
Quantum Chemistry studies the fundamental principles of quantum mechanics and the application of quantum mechanics to chemical and spectroscopic problems. This course includes an introduction to computational chemistry.
Medicinal Plants and Culture
This course introduces students to key Indigenous bioactive (medicinal) plants, their biologically active compounds, and their importance in Indigenous culture. Students will use multidisciplinary and cross-cultural approaches to understanding plants and their medicinal properties.
Enzymes
The Enzymes course discusses the fundamentals of enzyme chemistry: kinetics, inhibition, structure and mechanism, activity control, protein folding and evolution.
Chemical Biology
Chemical biology is an interdisciplinary science where chemistry is applied to problems in biology. Topics include protein engineering/directed enzyme evolution, chemical genetics, genomics/proteomics, DNA/protein microarrays, catalytic antibody, ribozyme/DNAzyme, metabolic engineering, combinatorial biosynthesis, DNA nanotechnology, chemical ecology, bio-mimicry, biosensors, membrane transporters, and more.
Quick Facts
Program:
Bachelor of Science in Chemistry
Bachelor of Science Honours in Chemistry
Bachelor of Science in Biochemistry
Bachelor of Science Honours in Biochemistry
Offered Through:
University of Regina
Campion College
First Nations University of Canada
Luther College
Request Information
Connect with us
Chemistry and Biochemistry
Meet Your Faculty
Why Study Chemistry and Biochemistry at the University of Regina?
You will learn how to critically analyze and interpret data, develop models at various levels of detail (such as molecular models and bulk system response models), and sharpen your problem-solving and analytical skills.
Many of our core courses have a lab component, which gives you hands-on experience in different areas of chemistry and biochemistry.
You will also benefit from small class sizes and modern research facilities.
Co-op education program
Co-op work terms provide you with career-related work experience, job search skills, and a higher chance of obtaining full-time employment upon graduation.
Research experience course
This course is for students who wish to gain experience in biochemical research under the direction of a Biochemistry/Chemistry faculty research advisor. You will carry out an independent research project, and will develop an appreciation for experimental preparation, methods, analysis, and scientific report writing.
Facilities
Chemistry and Biochemistry's facilities include:
Laboratory for Computational Discovery
Proteomics and Genomics Core Facility
Expert professors and research
Many of our professors are leaders within their areas of research. The research we do is diverse, from medical applications to published studies. One of our professors was awarded nearly $1 million for COVID-19 treatment research.
One professor's research group is involved in searching for environmental toxins with the aim to reduce health and environmental risks. Another professor is part of a researcher group working to develop new antibiotics.
Our faculty members also work closely with other institutes, such as the Max Planck Institute.
Our interdisciplinary research areas include:
Biochemistry
Biophysics
Computational chemistry
Environmental analytical chemistry
Photochemistry
Synthetic chemistry
Systems biology
Our research has an impact in Saskatchewan and resonates throughout the international scientific community.
My personal interests lie very strongly in the field of medical microbiology with a focus on chemogenomics. My aspirations lie in aiding drug development research with hope of finding new and exciting ways to develop antibiotics and other drugs.
Tyler Hamelin
BSc, Biochemistry major
4th year student
Chemistry and Biochemistry Frequently Asked Questions
What's the difference between chemistry and biochemistry?
The difference between chemistry and biochemistry comes down to what they each focus on, the different systems they study, and how they investigate those systems.
Chemistry includes several specialty areas of study including physical chemistry, inorganic chemistry and organic chemistry. Chemistry is concerned with the structure and behaviour of substances and the types of reactions compounds can undergo. Generally, chemists are interested in designing useful new materials, finding better ways to combine existing materials to make something new, or understanding why substances have the properties that they do.
Biochemistry studies the chemistry of life—how life works at the molecular level, what kinds of chemical reactions occur in cells, and how these reactions give an organism its characteristics. Biochemistry overlaps with subjects like molecular biology and genetics. Biochemists need to know a lot about organic chemistry, since most of the important reactions that take place in organisms involve carbon compounds. Biochemistry is more focused than chemistry, and has applications to biology and medicine. Biochemists use chemistry to understand why and how certain processes take place in living organisms.
What's the difference between a Bachelor of Science and a Bachelor of Science Honours?
The honours programs have higher academic requirements. To graduate with a Bachelor of Science Honours degree, you must have an overall average of at least 70 per cent, and an average of least 75 per cent in chemistry and biochemistry courses and other required science courses.
If you are interested in one of the honours programs, you must get permission from the chemistry and biochemistry department.
What clubs, campus events, and networking opportunities do chemistry and biochemistry students participate in?
Can I transfer into a chemistry or biochemistry program?
You can transfer from another U of R program, or from other college and university programs, as long as you meet the admission requirements for the Faculty of Science.
Do you offer scholarships?
Yes! We offer the following scholarships to undergraduate chemistry and biochemistry students:
Faculty of Science 10th Anniversary Entrance Scholarships
Faculty of Science Indigenous Scholar Award
Allan Smith Chemistry Prize
Dean of Science Scholarly Achievement Award
SaskPower Award in Chemistry
B'Nai Brith-M.D. Brownstein Scholarship
Wallace McConnell Memorial Scholarship
Use our online Student Awards Management System (SAMS) to find other awards and scholarships for which you may be eligible.
Chemistry and Biochemistry Programs Concepts and Goals
U of R chemistry and biochemistry majors have gone on to work in positions including forensic scientist, process research chemist, lead researcher, research chemist, research director, professor, and scientist.
Study
In chemistry, you will conduct chemical analyses, design, synthesize, and test new chemical products, and measure pollutants in the air, water, and soil. You will also develop analytical, problem solving and data interpretation skills through hands-on work.
In biochemistry, you will learn biophysics, molecular genetics, and complex biological processes. You will study the biosynthesis of natural products as well as living cells at the molecular level. You will also learn statistics, and how to use your skills in a laboratory setting.
Get experience
Co-op work terms provide you with practical, hands-on learning experience in your field and help you develop professional competency skills. You can also get experience through research opportunities.
Get jobs
Chemists have multiple career options in industry, government, and academia ranging from research and development, quality control and manufacturing support to environmental and health law, policy and enforcement, education, activism and management.
Biochemists have multiple career options including research, teaching, health care, and policy making.
Our graduates have gone on to work in biotechnology, forensics, pharmaceuticals, pollution control, research, and more.
What Can You Do With a Chemistry or Biochemistry Degree?
Upon successfully completing your bachelor's program in chemistry or biochemistry, you will be ready for the next step of your career. The Roy Romanow Provincial Laboratory in Regina has hired many of our graduates for their academic and lab skills. Some of our students go on to graduate studies and professional programs like Medicine or Pharmacy.
To explore minors that may be available in this program area, please visit the Academic Calendar or meet with your faculty advisor in the Academic Advising Office after you are admitted.
The jobs graduates go on to include:
Analytical Chemist
Biochemist
Environmental Chemist
Immunologist
Industrial Chemist
Pharmaceutical Chemist
Professor
Toxicologist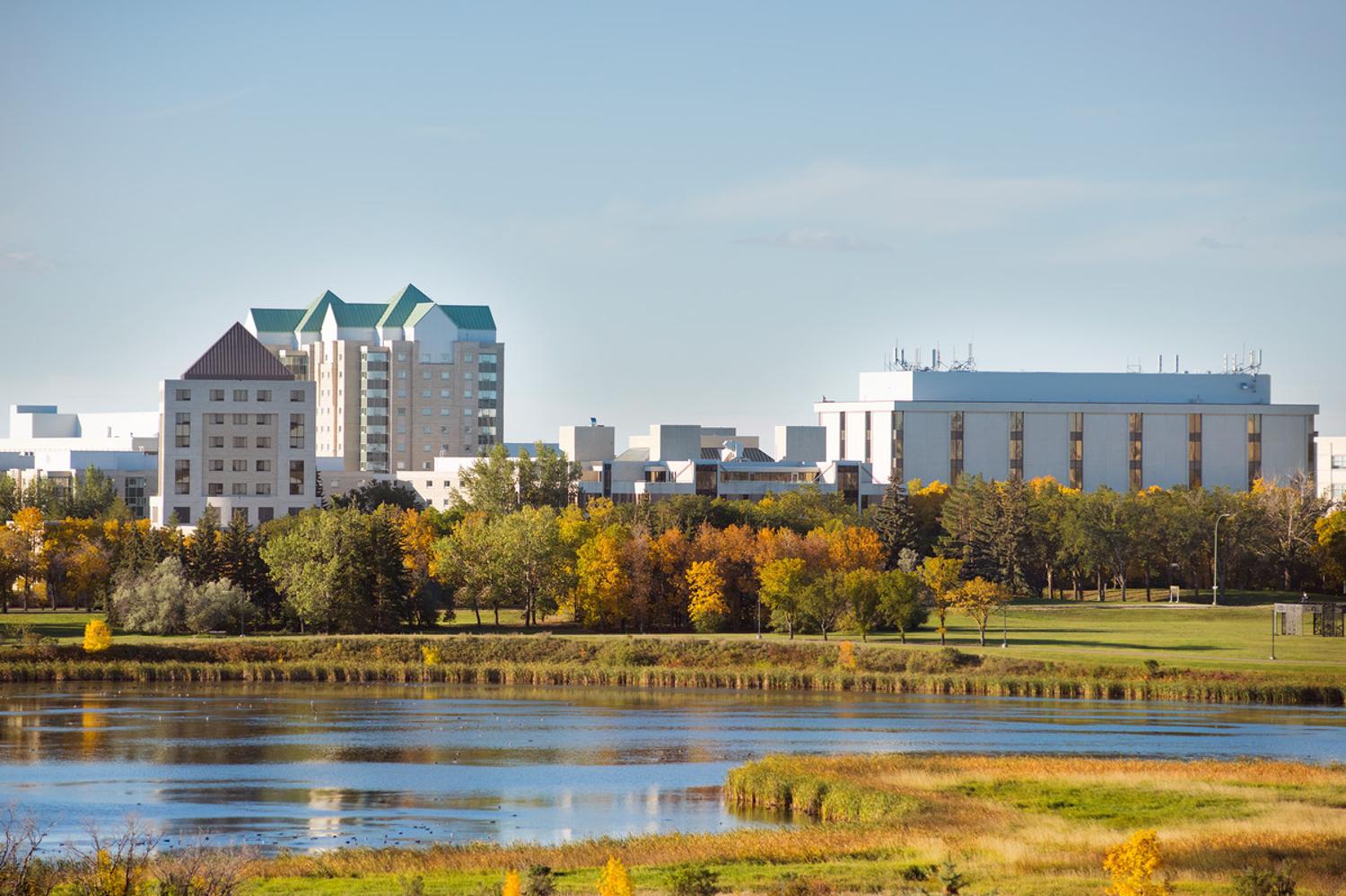 Request More Information
Loading...