Kaltura Mediaspace Server
Introduction
Kaltura is the primary video streaming service used at the University of Regina, where videos can be stored and viewed by users. Users are able to interact with Kaltura through 'My Media' in UR Courses or mediaspace.uregina.ca.
My Media Overview
Kaltura My Media gives the following capabilities:
Upload video, audio, images, documents (PDF, etc.)
Auto captioning based on audio in uploaded videos.
Quizzes and interactive videos can be created.
Analytics on video viewing are provided.
Browser based video editing.
Record video using a web browser or a desktop capture tool for either Windows and Mac.
YouTube integration.
A Mobile app is available for iPhone and Android devices.
Live event streaming/webcasting.
There is no media size upload limit.
Use Cases
Sharing media or using media in your class
Sharing media with an on campus community or publicly.
Use the MediaSpace portal to share media publicly, or share with only specific uregina.ca users/groups.
Logging In
To login to the mediaspace portal goto https://mediaspace.uregina.ca/ and then click on the Guest icon in the top right corner and choose Login. You will be redirected to the UofR idp.uregina.ca server to login: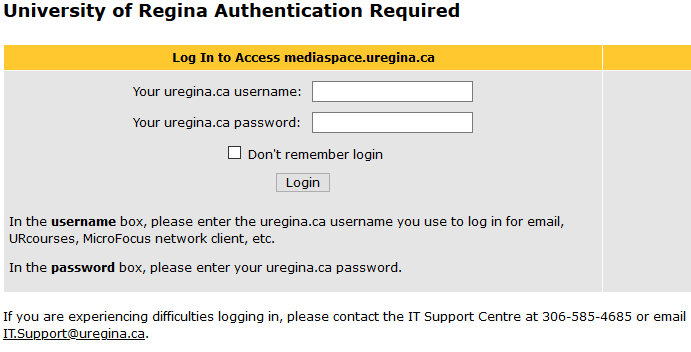 Troubleshooting Alert
UR Courses Videos 3rd party Cookie Errors with some Browsers
Some users accessing videos in urcourses.uregina.ca are receiving errors, such as "It seems your browser is blocking 3rd party session cookies which are required for the Kaltura application."
To resolve this issue, please update your settings to allow 3rd party cookies. Instructions are at https://support.panopto.com/s/article/How-to-Enable-Third-Party-Cookies-in-Supported-Browsers
Acceptable Content
Personal use of this service is not allowed as the University incurs incremental costs for video storage and viewing.
Content stored on the mediaspace server must comply with the Respectful University Policy
UofR content and zoom recording Legal and Privacy guidelines should be followed.
Deleted Files
When a video in Kaltura is deleted it is gone - there is no undelete function so please be careful.
Learning Resources
UR Specific Learning Resources Interactive Video
Kaltura (vendor) Learning Resources
Most of the videos listed below can be easily watched in the Mediaspace Basic Workflows playlist which contains 17 videos organized in increasing complexity, or you can pick out specific videos of interest from the list below.
Kaltura Introductory Videos
KMS GO iPhone/Android App related:
 Kaltura Intermediate Videos
Kaltura Advanced Videos
Guides/Manuals
FAQs
Where is My Media hosted?
The servers and data are hosted by the vendor (Kaltura) in the Amazon Canadian cloud. Note: When videos are auto captioned, the processing for this is done in the USA.
Do Mediaspace and UR Courses work together?
https://mediaspace.uregina.ca/ is the server where videos are stored. The use of MediaSpace is transparent to UR Courses users who just see My Media integrated into UR Courses. My Media in MediaSpace shows the same files as My Media in UR Courses.
How does this relate to Kaltura Community Edition (CE)?
UR Courses My Media previously used the open source Kaltura Community Edition (CE), which did not have a MediaSpace component. Kaltura (CE) Legacy Media will be made available under the My Media Legacy tab in UR Courses until April 30, 2021.
Are videos optimized to work on desktop and mobile devices?
Yes, adaptable bit rate viewing/streaming is used.
What's the difference between MediaSpace public sharing and posting on YouTube?
When you delete a video file it immediately deletes, whereas on YouTube there can be delay.
Support
If you have questions please contact IT Support
Conclusion
The benefits of the University's mediaspace video server have been described and resources provided to assist with using the mediaspace server to upload videos, create channels and playlists, etc.