Saving/Importing Files for NVivo on RDP Computers
Introduction
The UofR provides computers you can access remotely to run specialized licensed software only available on computers at the University. When accessing a remote computer, files on your local computer are not generally accessible. In addition files saved on a remote computers are not guaranteed to be there later, even if you remember the name of the computer you were on when you created the file. It is recommended that you store files created by the software on the remote computer on your UofR provided personal I: drive so that they are available no matter which remote computer you connect to. You can also access your I: drive from your home computer via FILR etc. (see Network Drives and Access) if you need a copy at home.
Example
The screenshots below show running Nvivo software on a remote UofR computer and saving the output file to your I: drive.

The following is an example of how to create or open a saved NVivo project file on a public lab computer using Windows 10. 
To ensure the NVivo project file or saved file is located correctly:
STEP 1
Launch NVivo from AppsAnywhere

Note that 'Please wait while NVivo loads' can take 15 seconds if it is the first time it has been launched on the system

Please fill in user name: University of Regina user name
Please fill in Initials: XX
Select OK
STEP 2
Creating a new project:
New Project Window will Pop up, click 'Browse' and Select Drive (:I) (Usually named by your URegina user ID)
Select Drive: I and Select Save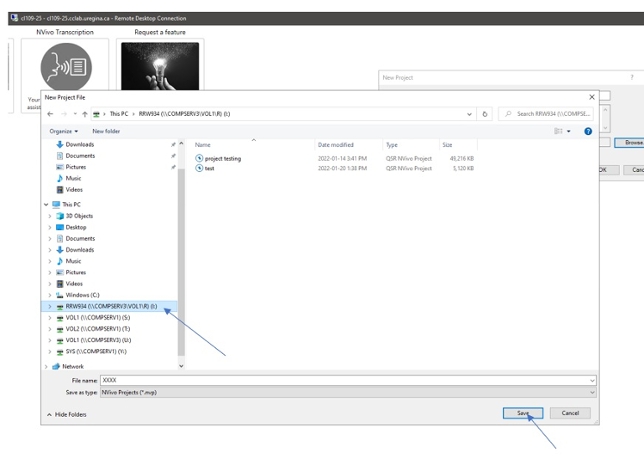 Detailed instructions on accessing the I: drive from other locations can be found at: https://www.uregina.ca/is/student/network-storage-backups/
Conclusion
Saving files on your I: drive when using software on a remote computer at the UofR is illustrated. This guarantees that you will be able to access the file later on other remote computers and/or your home computer. This protects against losing your work by saving it on the remote computers disk (you may not remember which remote computer you were on and the remote computers are wiped/re-imaged periodically).